Heritage Days: September 30 - October 5, 2018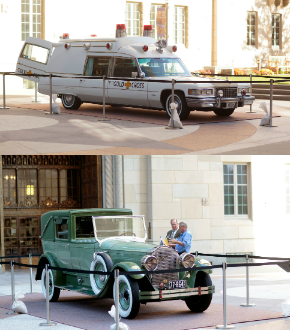 Heritage Days is a week-long event at Mayo Clinic locations in Florida, Arizona and Minnesota, as well as the Mayo Clinic Health System. Its mission is to thank employees and volunteers for their service to patients, and to present Mayo Clinic values and history as an inspiration for our work today.
Join us to celebrate the history and culture of Mayo Clinic at these events in Rochester:
Organ Concert at Saint Marys Chapel - Sunday, September 30, 3 - 4 p.m., honoring the Sisters of Saint Francis and the anniversary of Saint Marys Hospital, which opened on September 30, 1889. Guest organist: Jeffrey L. Daehn, assisted by bass trombonist Michael G. Cizek. Free admission; all are welcome to attend.
Noontime entertainment in lobbies and public spaces on our campuses
Vintage vehicles on Annenberg Plaza, between the Mayo Building and Plummer Building, October 1-5 from 9 a.m. to 4 p.m. (weather permitting)
Heritage Exhibits at Mayo Civic Center - 30 Civic Center Drive SE, Rochester. In a special project funded by Mayo Clinic and developed in partnership with Mayo Civic Center, existing spaces have been renamed to honor the Mayo family. New exhibits celebrate the origins of Mayo Civic Center -- a gift to the community from Dr. Charles H. Mayo and Mayo Properties Association in 1938 -- and trace the center's colorful history from past to present.
Where Healing Begins: The Mayo Clinic Experience
Geffen Auditorium, Gonda Building, subway level
Length: 35 minutes
Film Showing Schedule – Mayo Clinic in Rochester
These are the film showings that are open to the public.
Monday, October 1
10 am, 2 pm
Tuesday, October 2
9 am, 10 am, 12:15 pm, 2 pm, 4 pm, 7 pm
Wednesday, October 3
10 am, 2 pm
Thursday, October 4
10 am, 12:15 pm, 2 pm, 4 pm, 7 pm
Friday, October 5
9 am, 10 am, 2 pm