Rochester Carillon: Enhanced Chimes and Music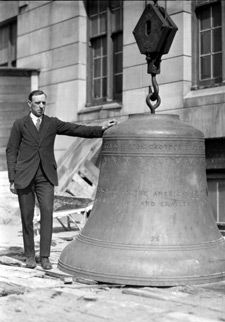 Since its dedication on Sept. 16, 1928, the Rochester Carillon has become a Mayo Clinic landmark. In honor of its 85th anniversary in 2013, long-lost chimes and songs returned to the carillon and many new musical selections became available, all through a new computerized clock function, made possible with a generous gift from Mayo Clinic benefactors.
The computerized clock enables automatic playing of the Westminster ("Big Ben") chimes at the quarter-hour, which William J. Mayo, M.D., originally requested for the carillon. In addition, the clock is programmed to play Sicilian Mariners ("Lord Dismiss Us with Thy Blessing") at 6 p.m., and St. Clement ("The Day Thou Gavest Lord Is Ended") at 9 p.m. Like the chimes, these songs were part of the carillon's original repertoire, but were "lost" when the previous clock function (a mechanical device installed in 1953) went out of service. Computerization of the clock now makes it possible to program a wide range of additional songs and chime settings, significantly extending the carillon's musical selection.
The Rochester Carillon, with 56 bells spanning a 4.5 octave range, is one of the most extensive carillons in the United States. The smallest bell weighs 19 pounds; the largest bell, nearly 6 feet tall, weighs 7,840 pounds. The Rochester Carillon is dedicated to "The American Soldier."
There have been three carillonneurs or bell masters in the history of the Rochester Carillon: James Drummond, Dean Robinson and, currently, Jeff Daehn. Mayo Clinic has long recognized that the arts can play a key role in the healing process.
Rochester, Minn.
Annenberg Plaza, Plummer Building
Chimes on the quarter-hour daily
"Big Ben" clock strikes at the quarter-hour.
Hymn, "Lord, Dismiss Us with Thy Blessing" (Sicilian Mariners), 6 p.m. daily.
Hymn, "The Day Thou Gavest Lord Is Ended" (St. Clement), 9 p.m. daily.
Concerts performed throughout the year.