Mayo Clinic Peregrine Falcon Program – Celebrating 32 Years
Since 1987, falcons have found a home on top of the tall buildings of Mayo Clinic in Rochester, Minnesota.
During nesting season (approximately mid-March to late June), this page features a live camera with 24/7, real-time views of where they live and raise their young. Throughout the year, this page features a film about peregrine falcons and their activities at Mayo Clinic.
Meet the Nesting Pair
In 2018 the adult peregrine falcons were Hattie and Orton. They were the same pair that had occupied this nest box in 2017. Hattie was 3 years old and Orton was 4 years old in 2018.
March 25: This photo was taken around noon, showing Hattie and the male (Orton?) at the nest box. We could see the first egg any day.
March 19: It appears that there are now only two birds on territory. Jackie Fallon from the Midwest Peregrine Society has confirmed that the female is Hattie. We believe that the male we've been seeing is Orton, but Jackie has been unable to read the entire band on the bird's leg to confirm that. We will share updates as soon as we have more information.
February 20: Three birds were observed on territory. Hattie and Orton were both back and actively defending the site from a third bird.
2019 Calendar
In addition to this website, here's how you can find out more about the falcons:
Monitor and informational display in the subway (below-ground) level of the Mayo Building in Rochester, Minnesota, next to the patient cafeteria.
Channel 199 and 706 (HD) on the Mayo Clinic Television Network for patients on our Rochester campus. Changes are coming to the Mayo Clinic Television Network, so by mid-spring 2019, look for the falcon channel under the "Relaxation/Music" category.
Look up! In spring and summer, falcons are a frequent sight in the skies over Rochester.
As winter turns to spring, we will follow the falcons throughout their nesting season: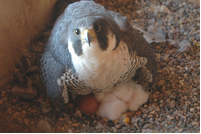 Early February: Settling In – One male and one female falcon take up residence in the nest (actually, a special box we built for them) on the roof of the 20-story Mayo Building. Between late March and mid-April, the female lays 2 to 4 eggs.
Early to mid-May: A New Generation – Eggs typically hatch 35 days after they are laid. They grow rapidly and fledge (make their first attempt at flight) at about 6 weeks of age.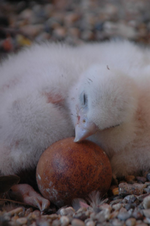 Meet the Falcon – From 9 to 11 a.m. on the Mondays in the late spring/early summer, a naturalist from the Midwest Peregrine Society visits Mayo Clinic with an adult falcon.
Please note that this program is intended for Mayo Clinic patients while they are on campus to receive care and Mayo employees. Due to issues of privacy and security, we cannot accommodate tour groups and members of the public.
2019 Dates

April 1, 8, 15, 22 and 29
May 6, 13 and 20
June 3, 10, 17 and 24
May: Name those Chicks – After the eggs are hatched, it's a Mayo Clinic tradition to name the baby chicks.
Late May/Early June: Banding Day – We announce the names and young falcons receive their identification bands. Please note that this program is intended for Mayo Clinic patients while they are on campus to receive care and Mayo employees. Due to issues of privacy and security, we cannot accommodate tour groups and members of the public.
Summer-Fall: Follow the Falcon – The young falcons progressively develop under the watchful eyes of their parents, until they take flight to pursue independent lives. The parents, which mate for life, depart as well.
Year-Round: Check the online database of all banded Midwest peregrine falcons at http://midwestperegrine.umn.edu/?vw=search. Type "Mayo Clinic" in the search field to find falcons that were banded at Mayo.
2019 Name the Falcon and Banding Day
Banding Day is a very special event in the lives of the young chicks. Naturalists working with the Mayo Clinic team carefully remove the falcon chicks from the nest box on top of the Mayo Building and bring them to Geffen Auditorium. There, they are given a quick physical assessment and a metal identification band is placed around each fledgling's leg. Each band is uniquely lettered and numbered so that if the falcons are observed later, they can easily be identified. Before returning the bird to the nest box, their official names are announced.
Details about the 2019 event will be shared when available.
2018 in Review
The spring of 2018 looked promising for the Mayo Clinic Peregrine Falcon Program.
On March 21, Jackie Fallon from the Midwest Peregrine Society confirmed that Hattie and Orton, the 2017 nesting pair, were in residence in downtown Rochester. By April 2, Hattie had laid four eggs, and she and Orton took turns incubating them in the nest box atop the Mayo Building. All four eggs hatched in early May. Hattie and Orton diligently cared for them, providing food and keeping them warm. However, on May 11, the four chicks appeared to be struggling, and by early evening each one had died. The remains were removed from the nest box the next day and sent to a wildlife diagnostic lab in Madison, WI, for study.
The lab's report was received on June 18, indicating that one suspected cause of death was poisoning. The source of the potential toxin is unknown; Mayo Clinic does not use poisons for pest control on the Rochester campus.
Jackie Fallon of the Midwest Peregrine Society said, "Although the loss is hard to watch, death occurs frequently in nature. With toxicity as a suspected cause of death, it is a reminder how poisons are an indiscriminate killer and, if used, the wide range of effect they can have on species in the area."
Another concern was the health of Hattie and Orton. However, they continued to remain in the area and appeared to be healthy.

We are now looking forward to a successful effort in 2019.
Falcon Facts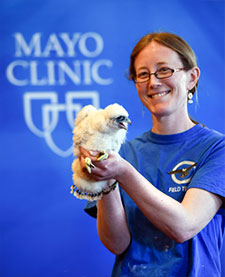 The peregrine falcon is a raptor – a bird of prey that hunts and feeds on other animals, typically birds.
The peregrine falcon is a crow-sized bird (1-2.5 lbs.) with long, pointed wings. Young birds, which are brown and cream colored, are heavily marked with streaks. Adults have a blue-gray back with a light, striped underside and

a dark-colored head.

Its Latin name, Falco peregrinus, means "wanderer."
The male is about one-third to one-half smaller than the female.
The birds typically mature at two years and can live to nearly 20 years old.
Peregrine falcons can migrate more than 15,000 miles per year.
The peregrine falcon is the fastest member of the animal kingdom, able to reach speeds over 200 mph in spectacular dives called a "stoop." It lives on every continent except Antarctica.
The falcon has long been associated with European and Middle Eastern royalty. Records of the sport of falconry (using a trained raptor to hunt wild game) date back more than 4,000 years.
Historically, the peregrine falcon preferred to nest on high cliffs near water. Today, the bird is also found on towers, bridges, and tall buildings such as those found on the Mayo Clinic campus in downtown Rochester.
Where are they now?
You might be wondering what has happened to some of the falcons that fledge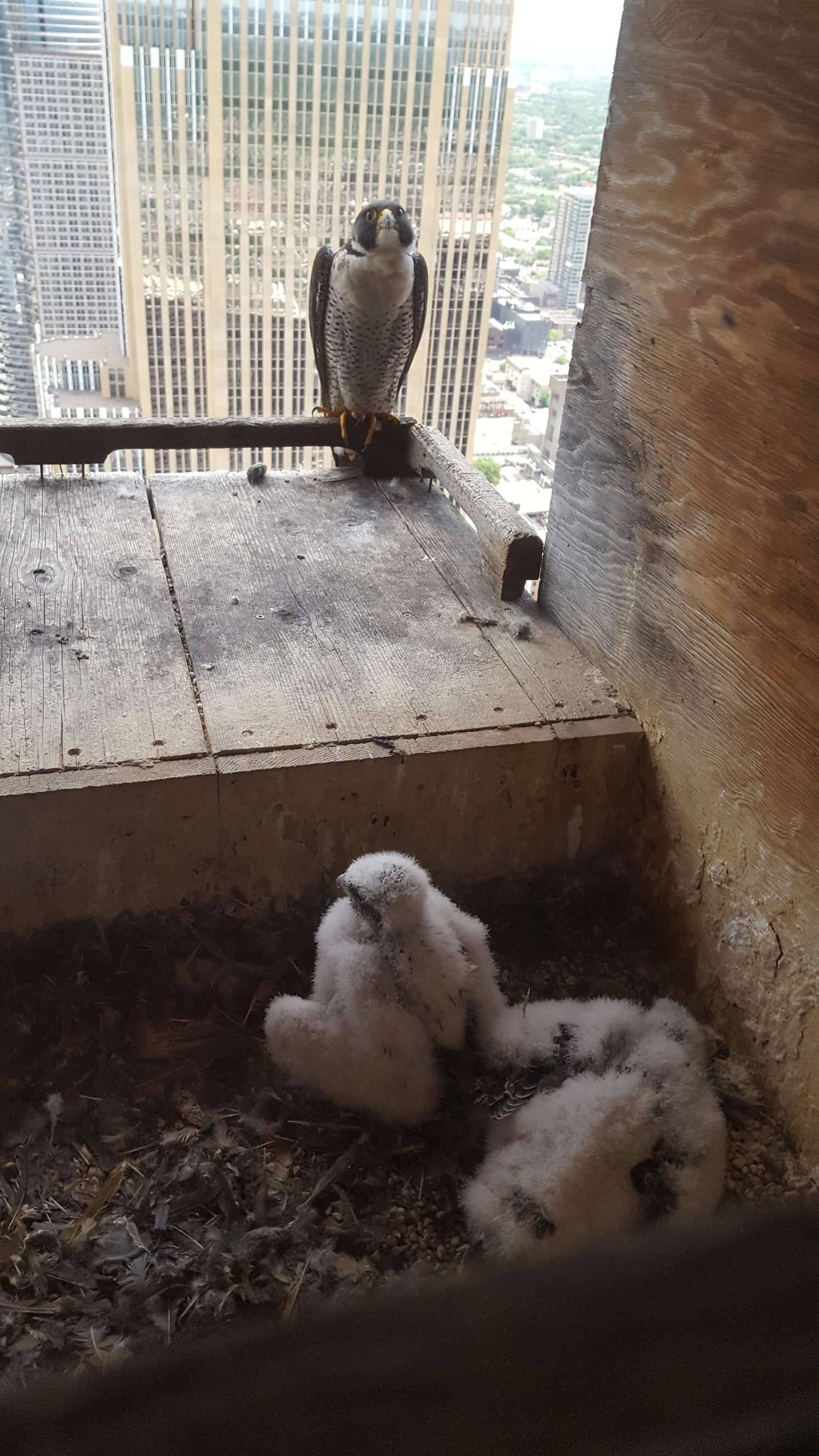 d from Mayo Clinic.
June 4, 2018: Triumph, a male that fledged at Mayo Clinic in 2013, is the father of three chicks (shown at right).The nest box is located at 33 South Sixth Street Tower (formerly International Multifoods Tower) in Minneapolis. You may recall that Triumph was spotted in downtown San Antonio, Texas, during the winter, and then he journeyed back to Minneapolis, where he and Genie have nested since 2016. Congratulations, Triumph and Genie!

February 20, 2018: We have learned that Generose, a 2017 fledge, was found deceased in Marshalltown, Iowa, in October 2017.
Check the online database of all banded Midwest peregrine falcons at http://midwestperegrine.umn.edu/?vw=search. Type "Mayo Clinic" in the search field to find falcons that were banded at Mayo.
Mayo Clinic and the Stewardship of Nature
The Mayo brothers, Dr. Will and Dr. Charlie, often said they grew up in medicine "the way farm boys are taught to farm." All their lives, they shared a deep appreciation of nature. Dr. Will was an early advocate of efforts to clean the Mississippi River. Dr. Charlie made Mayowood, his country home, a preserve for many species of wildlife. The Sisters of St. Francis, who founded Saint Marys Hospital and are active in many activities at Mayo Clinic and beyond, uphold a reverence for nature.
When DDT was banned in 1973, recovery efforts began for many threatened species, including the peregrine falcon. In a program that has grown steadily over the years, captive-bred chicks are released, monitored and tracked as they learn to fly and become independent.
At the invitation of the not-for-profit Midwest Peregrine Society, Mayo Clinic began hosting the falcons in 1987. Mayo's Peregrine Falcon Program is a popular annual activity, involving the support and collaboration of many colleagues. Some patients tell us they schedule their medical appointments in order to be on campus when the falcons are in residence!
Enjoy this film about the falcons of Mayo Clinic: