Mayo Clinic Model of Care
The Mayo Clinic Model of Care is a set of principles that have guided our organization since its earliest days. They are the reason patients come to Mayo. Many health care facilities offer high-quality care, but these are the principles that set Mayo Clinic apart.
The Mayo Clinic Model of Care is defined by high quality, compassionate medical care delivered in a multispecialty, integrated academic institution.  The primary focus, meeting the needs of the patient, is accomplished by embracing the following core elements (attributes) as the practice continues to evolve.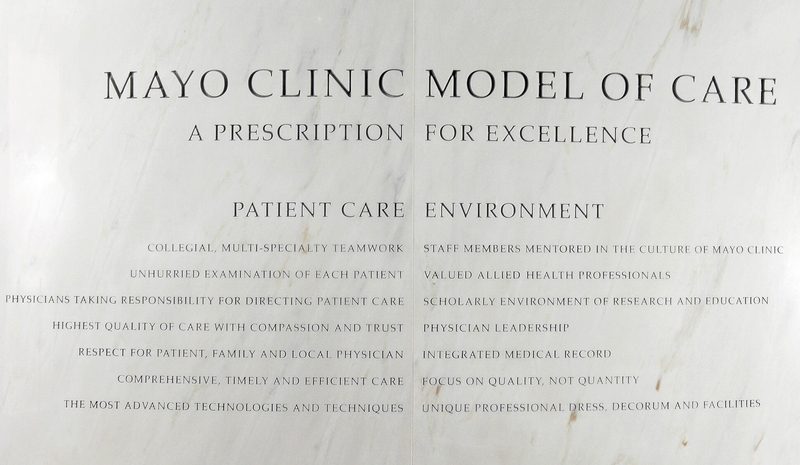 Collegial, cooperative staff teamwork with multispecialty integration. A team of specialists is available and appropriately used.
An unhurried examination with time to listen to the patient.
A physician takes personal responsibility for directing patient care over time in a partnership with the local physician.
Highest-quality patient care provided with compassion and trust.
Respect for the patient, family and the patient's local physician.
Comprehensive evaluation with timely, efficient assessment and treatment.
Availability of the most advanced, innovative diagnostic and therapeutic technology and techniques.
Highest-quality staff mentored in the culture of Mayo and valued for their contributions.
Valued professional allied health staff with a strong work ethic, special expertise and devotion to Mayo Clinic.
A scholarly environment of research and education.
Physician leadership.
Integrated medical record with common support services for all outpatients and inpatients.
Professional compensation that allows a focus on quality, not quantity.
Unique professional dress, decorum and facilities.