Henry Plummer, M.D., was a man of many talents. Physician … scientist … engineer … lover of the arts, he established systems and principles that define Mayo Clinic today.
Dr. Plummer was born in 1874, graduated from Northwestern University in 1898 and worked with his father, a physician and Civil War veteran, for several years. He joined the fledgling Mayo medical practice in 1901 and left his mark in wide-ranging ways.
Dr. Plummer and his colleague, Mabel Root, designed the numeric registration system and unified medical record that forms the core infrastructure of Mayo Clinic. From patient number one on July 1, 1907, to the present, Mayo has registered more than 8 million patients. The medical record, originally a paper dossier, contains the patient's medical history in one convenient location. For many years, the medical record was transported via pneumatic tubes and mechanical systems similar to the way department stores used to move dry goods. Today, Mayo Clinic is a world leader in the electronic medical record.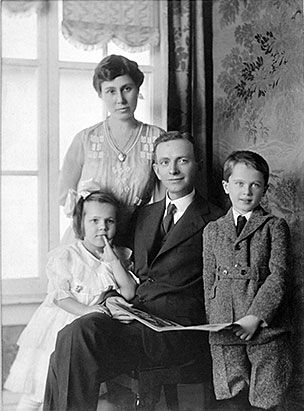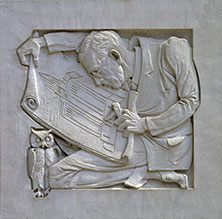 In 1910, working closely with the Mayo brothers, Dr. Plummer devised an organizational structure known as the "integrated multispecialty group practice." What that means is that teams of specialists, representing diverse skills, join forces to provide optimal care to each patient. This model remains Mayo's greatest contribution to medicine.
Dr. Plummer was equally adept at designing physical structures. This illustration shows him studying the plans for the building that opened in 1928 and now bears his name. Dr. Plummer set the standard that Mayo Clinic facilities continue to follow: well-coordinated, efficient services in patient care, education and research, coupled with pleasing design and aesthetics.
A superb diagnostician, he suffered a blood clot in the brain on December 31, 1936, and recognized the fatal nature of his condition, which enabled him to get home and spend his final hours with his family.
Among many tributes to his work, perhaps most meaningful is the remembrance of Dr. Will Mayo, who said that hiring Dr. Plummer was "the best day's work" he ever did.