Mayo Clinic Peregrine Falcon Program
Celebrating 35 Years of Recovery!
Since 1987, falcons have found a home on top of the tall buildings of Mayo Clinic in Rochester, Minnesota.
---
From approximately mid-February to early August, this page features a 24/7 live camera with two real-time views of the nest box where the peregrine falcons live and raise their young. Throughout the year, this page features a film about peregrines and their activities at Mayo Clinic. Questions about the program may be submitted to Peregrines@mayo.edu
---
Table of Contents
---
News from the Nest Box
---
---
Past Year Recaps
2022 Meet The Falcon Episodes
with Jackie Fallon from the Midwest Peregrine Society
Catch our monthly Meet The Falcon Episodes Live on Facebook, or view the recordings of past episodes posted below.
---
---
2021 Meet The Falcon Episodes
with Jackie Fallon from the Midwest Peregrine Society
Because of COVID-19 restrictions, the weekly "Meet the Falcon" programs on the Rochester campus have been replaced by short video segments and Facebook Live events, posted below.
---
2020 Meet The Falcon Episodes
with Jackie Fallon from the Midwest Peregrine Society
Falcon Facts
---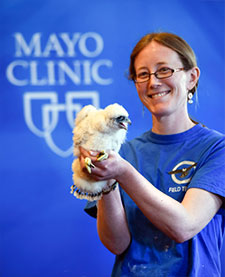 The peregrine falcon is a raptor – a bird of prey that hunts and feeds on other animals, typically birds.
The peregrine falcon is a crow-sized bird (1-2.5 lbs.) with long, pointed wings. Young birds, which are brown and cream colored, are heavily marked with streaks. Adults have a blue-gray back with a light, striped underside and

a dark-colored head.

Its Latin name, Falco peregrinus, means "wanderer."
The male is about one-third to one-half smaller than the female.
The birds typically mature at two years and can live to nearly 20 years old.
Peregrine falcons can migrate more than 15,000 miles per year.
The peregrine falcon is the fastest member of the animal kingdom, able to reach speeds over 200 mph in spectacular dives called a "stoop." It lives on every continent except Antarctica.
The falcon has long been associated with European and Middle Eastern royalty. Records of the sport of falconry (using a trained raptor to hunt wild game) date back more than 4,000 years.
Historically, the peregrine falcon preferred to nest on high cliffs near water. Today, the bird is also found on towers, bridges, and tall buildings such as those found on the Mayo Clinic campus in downtown Rochester.
Where are they now?
A look at some friends from the Mayo Clinic Peregrine Falcon Program
---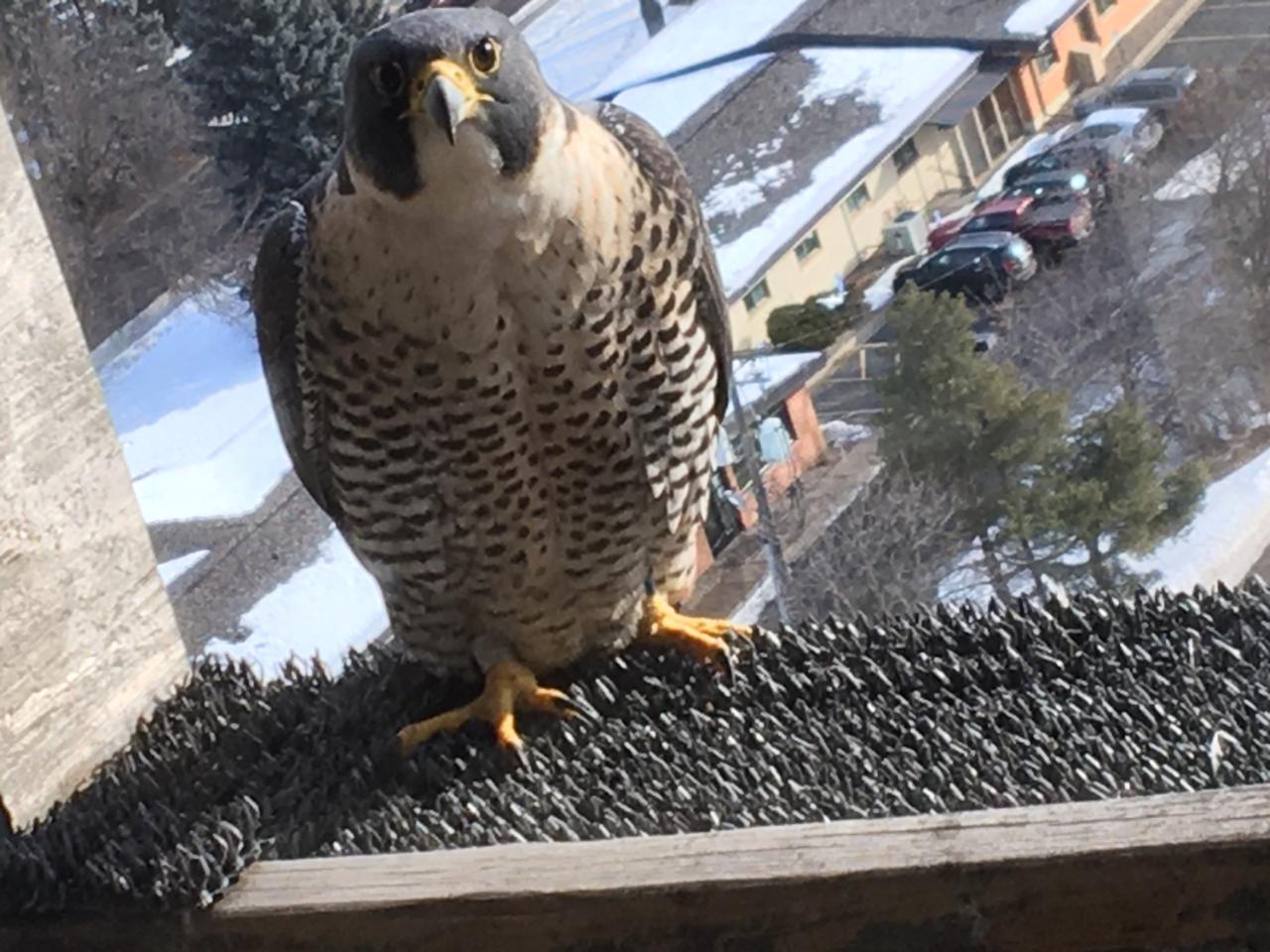 Epic - Epic is one of two females that hatched from Mayo Clinic in 2017. (The male was named Lucky Lindy.) Epic was seen at The Colonnade in Golden Valley, Minnesota, in February 2020 but was displaced when the resident female (unbanded, approximately 7-8 years old) returned on March 1. Epic is now nesting at the Anoka-Champlin Mississippi Bridge in the Twin Cities area.
---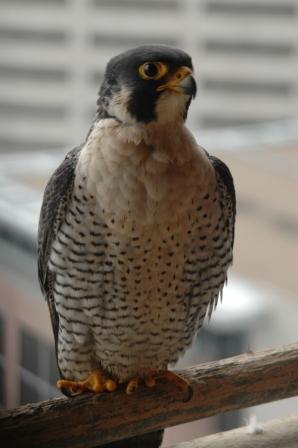 Sota - Hatched from Mayo Clinic in 1994, Sota was found in downtown St. Paul, Minnesota, in 1998, nesting with a female named Meg. They stayed together until 2005. Then Sota partnered with Jill from 2006-2012. In his lifetime, Sota produced 34 chicks. Along with being a prolific father, he was quite a survivor, since when he was found in 1998 he was missing four of his eight toes (and doing just fine).
We suspect that frostbite caused the loss of the toes since he was known to spend winters in the city. The loss of the digits didn't cause him any difficulties. He was an excellent provider to his mate and offspring. Sota lived to be nearly 19 years old. (Photos copyright Midwest Peregrine Society and used with permission.)
---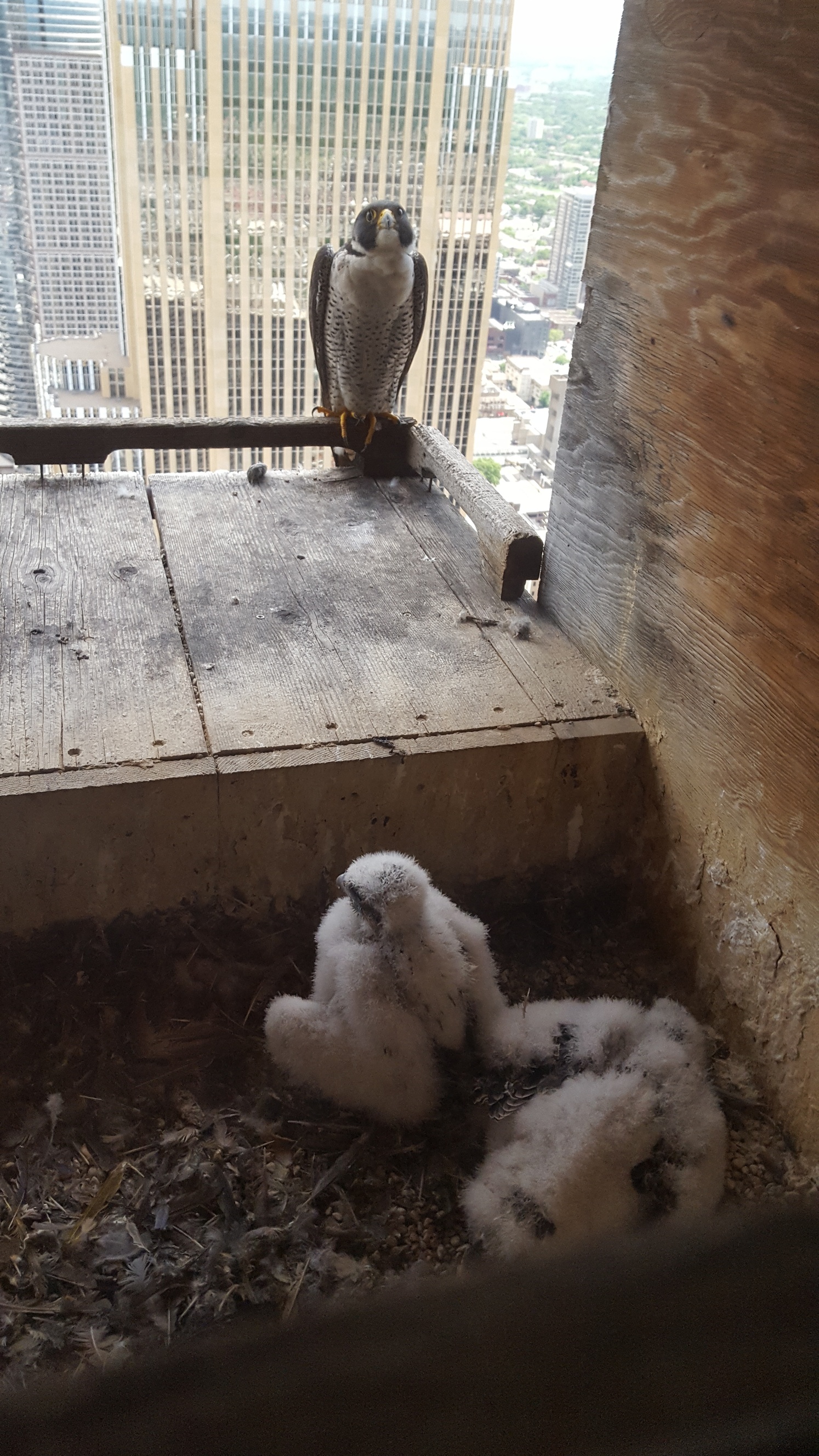 Triumph - Fledged at Mayo Clinic in 2013, Triumph was the father of three chicks in 2018 in the nest box at 33 South Sixth Street Tower (formerly International Multifoods Tower) in Minneapolis. Triumph had been spotted in downtown San Antonio, Texas, during the winter of 2017, and then he journeyed back to Minneapolis, where he and Genie had nested since 2016.
---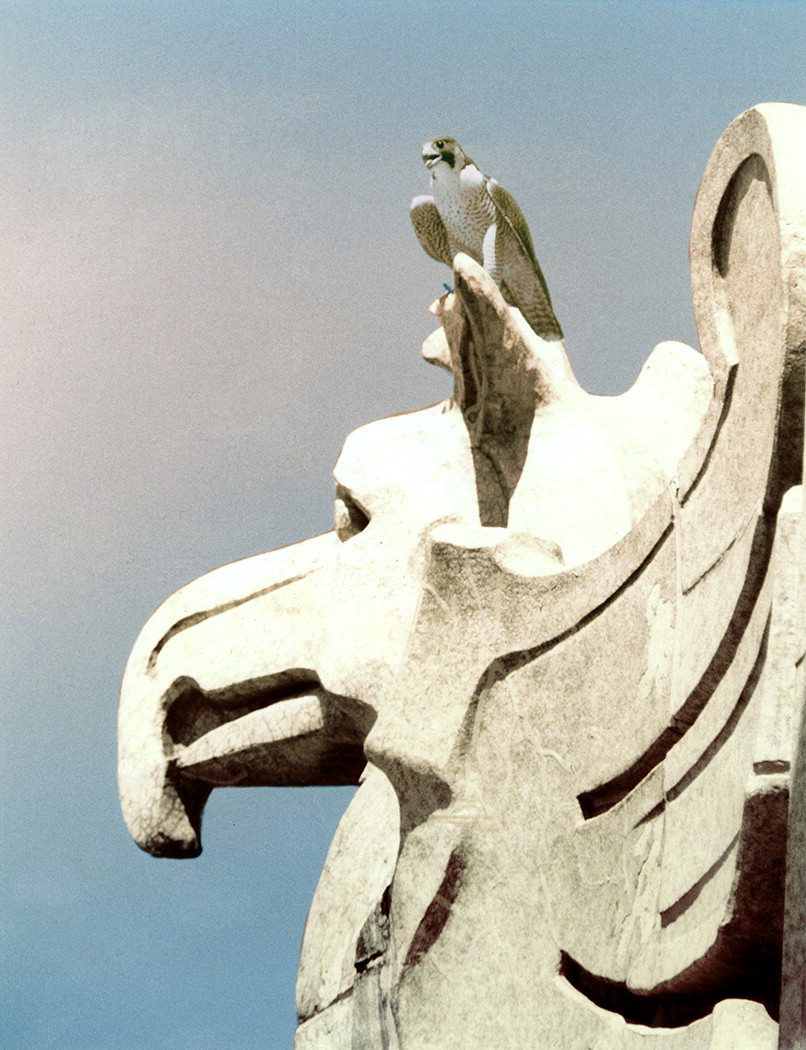 Chase - Chase was a male peregrine that also had strong ties to Mayo Clinic. In 1988, Chase was one of eleven captive-bred peregrines which were released on top of the Mayo Building. He continued to stay in Rochester, attempting to attract a mate, but was unsuccessful. He traveled to St. Paul, MN, in the fall of 1990, and suffered from a fractured wing during a territorial dispute with another peregrine falcon. Thankfully, he was rescued and transported to The Raptor Center at the University of Minnesota, St. Paul, MN. His injuries healed nicely, although he always had a slight bend in the outer portion of his wing. He was returned to Mayo Clinic in April 1991, and quickly attracted a female peregrine named Minnsoar. Chase paired with several females in his lifetime, and produced 15 young from 1991-1998. Many biologists of the falcon team consider Chase an "icon of peregrine recovery" in the state of Minnesota.
---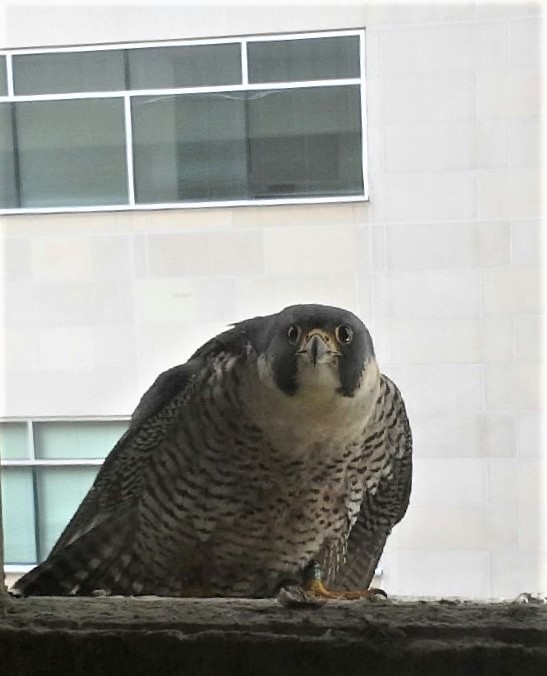 Aurora - Fledged in 2008, Aurora has been the female on territory at the Washington University Medical Campus in St. Louis, Missouri since 2015. She has produced 21 young between 2015-2021. The researchers in Missouri tell us that Aurora is an exceptionally large and defensive female. Aurora was named for the aurora borealis or northern lights, which are quite an amazing display of nature in northern areas of the world.
---
Stewardship of Nature
---
The Mayo brothers, Dr. Will and Dr. Charlie, often said they grew up in medicine "the way farm boys are taught to farm." All their lives, they shared a deep appreciation of nature. Dr. Will was an early advocate of efforts to clean the Mississippi River. Dr. Charlie made Mayowood, his country home, a preserve for many species of wildlife. The Sisters of St. Francis, who founded Saint Marys Hospital and are active in many activities at Mayo Clinic and beyond, uphold a reverence for nature.
Following World War II, the widespread use of pesticides, especially DDT, put many species of wildlife at risk. When DDT was banned in 1973, recovery efforts began for many threatened species, including the peregrine falcon. At the invitation of the not-for-profit Midwest Peregrine Society, Mayo Clinic began hosting the falcons in 1987. Mayo's Peregrine Falcon Program is a popular annual activity, involving the support and collaboration of many colleagues. Some patients tell us they schedule their medical appointments in order to be on campus when the falcons are in residence!
Downloadable Content
---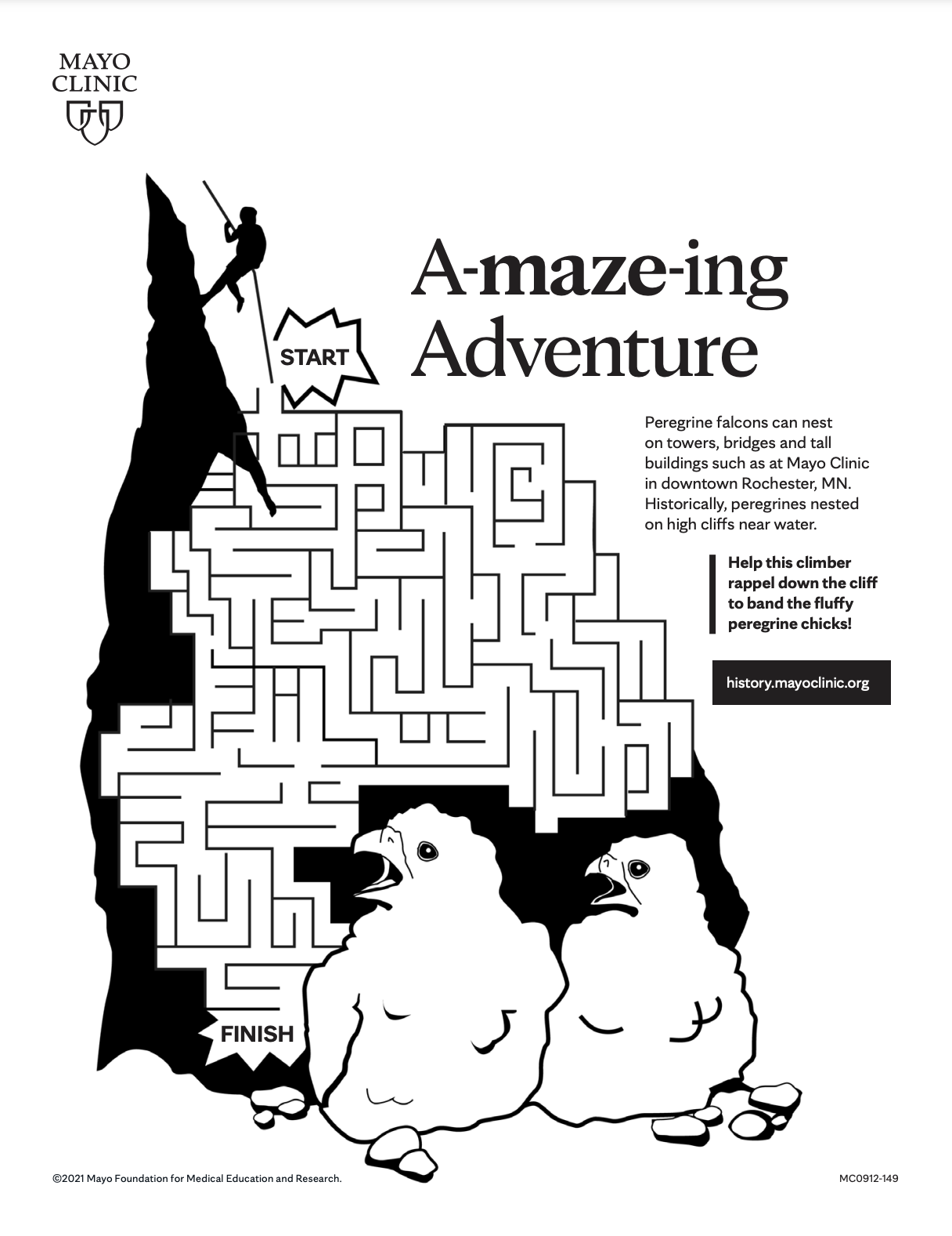 MazesDownload the PDFs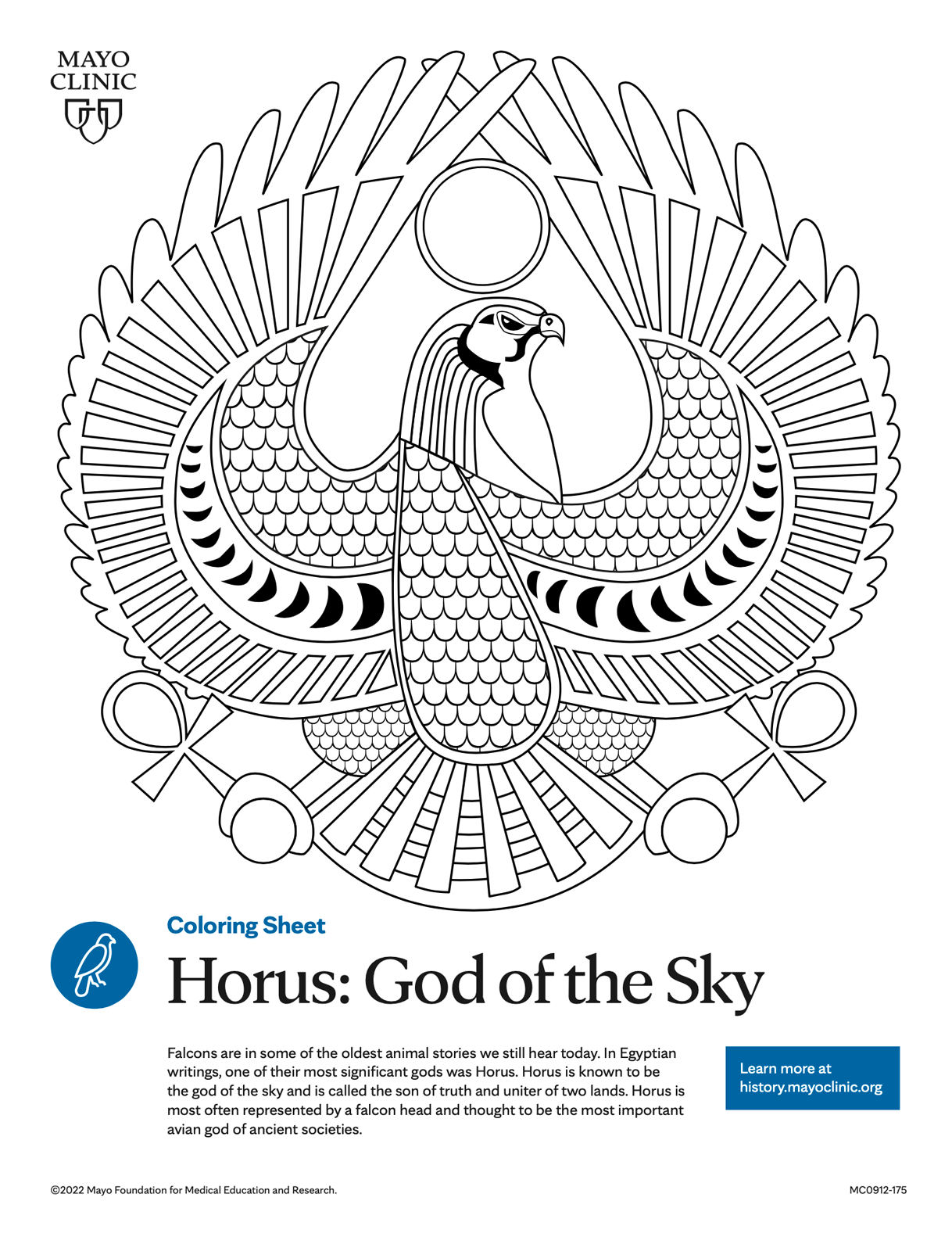 Coloring PagesDownload the PDFs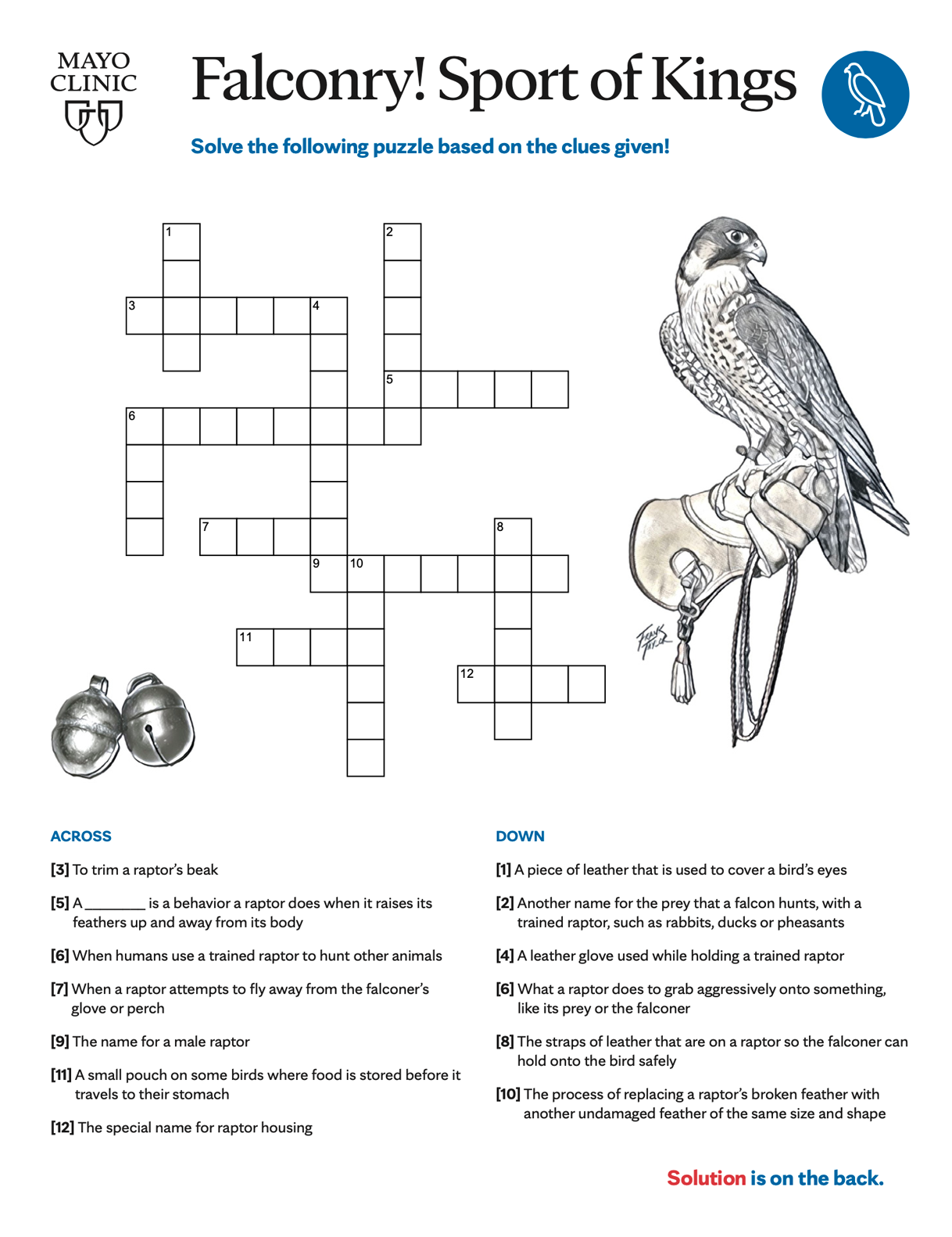 CrosswordsDownload the PDFs
---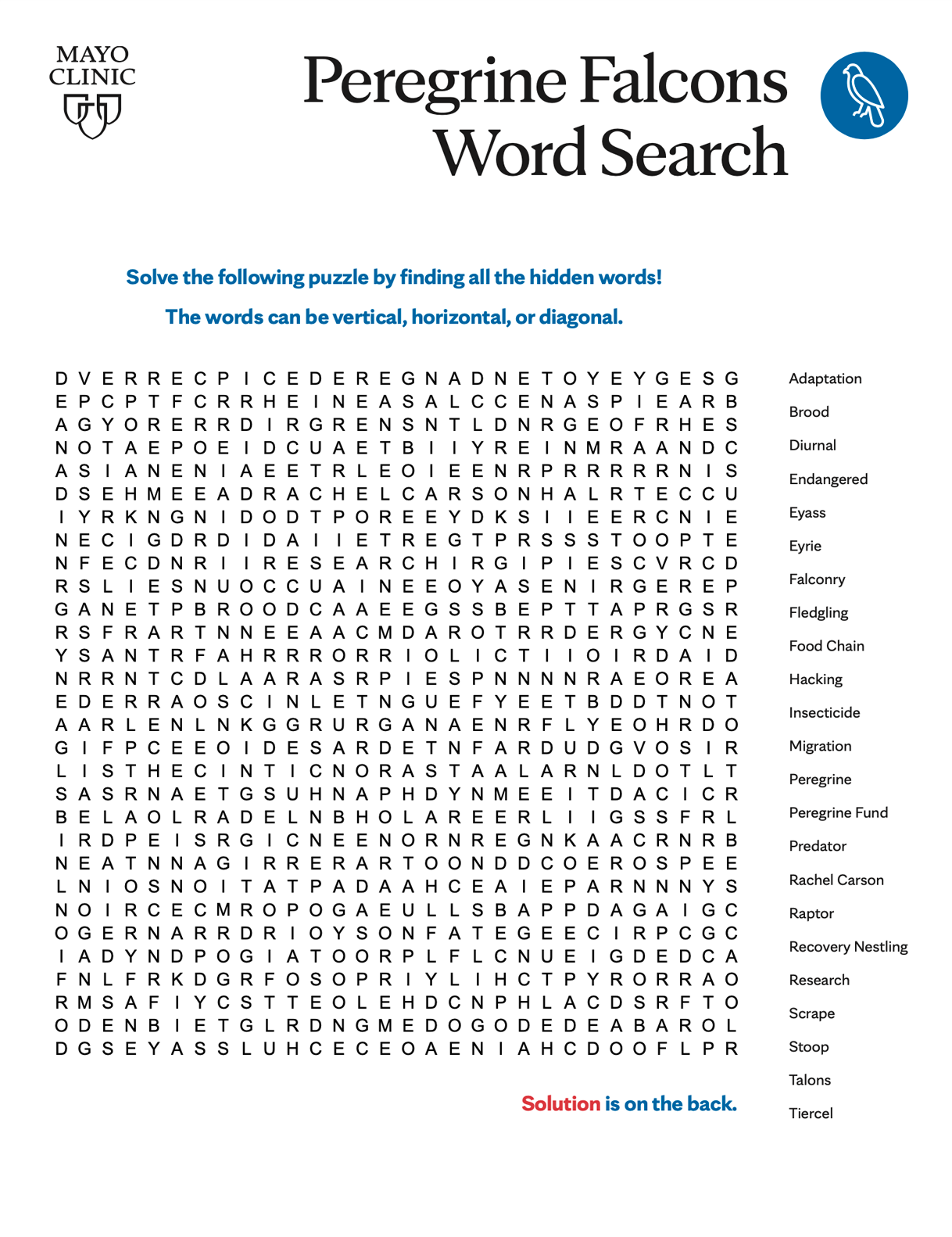 Word SearchesDownload the PDFs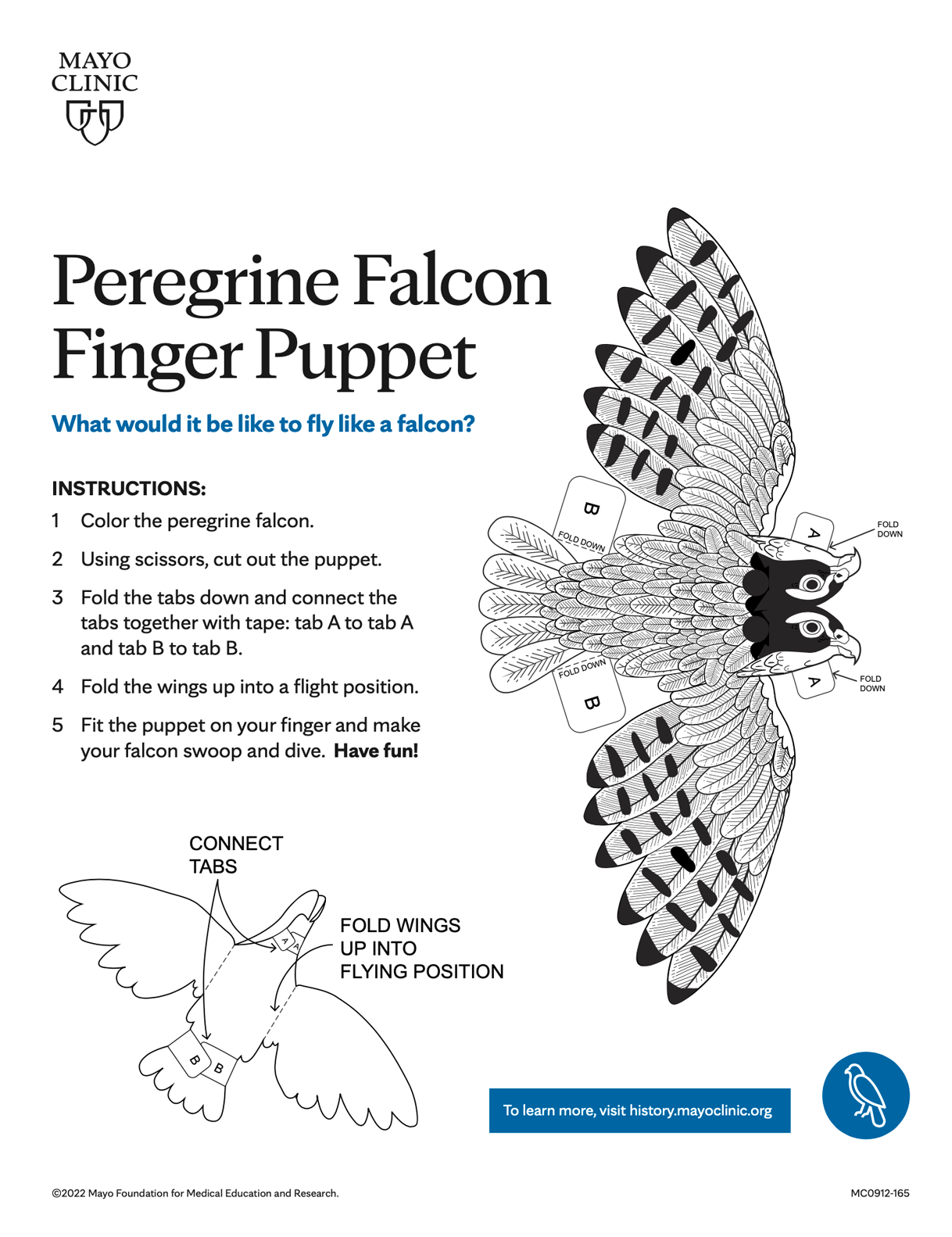 Other Activity PagesDownload the PDFs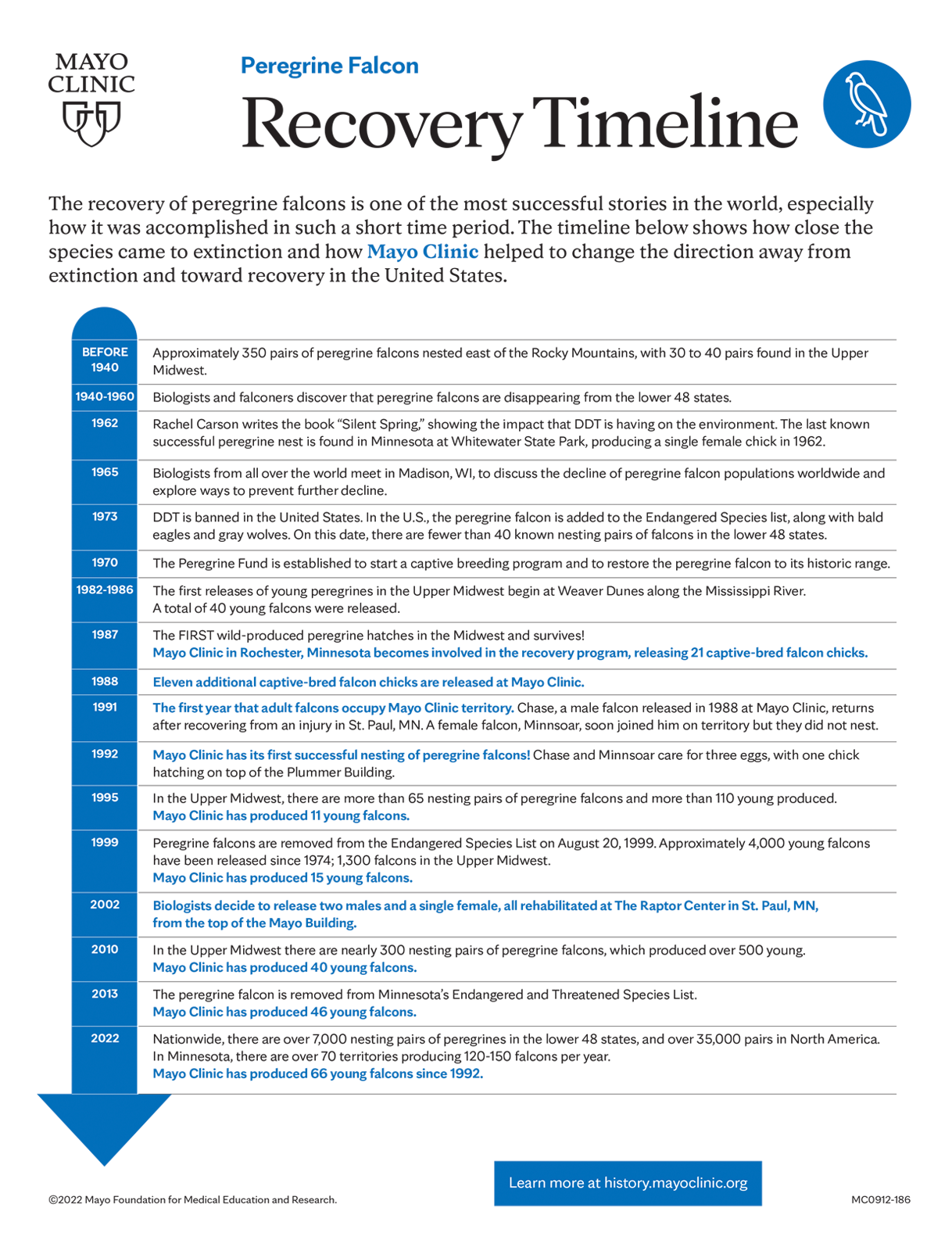 Facts & ResourcesDownload the PDFs
2022 Calendar
Mayo Clinic is proud to offer these educational programs which highlight our involvement with peregrine falcon recovery.
---
October 9 - Live Peregrine Falcon Presentation, SPARK! Children's Museum, Rochester, MN. 10 a.m.-12 p.m. Central Time FREE
October 29 - Live Peregrine Falcon Booth Presentation, River Bend Nature Center, Faribault, MN. 2-5 p.m. Central Time FREE
April 1, 2023 - Live Peregrine Falcon Presentation, SPARK! Children's Museum, Rochester, MN. 11 a.m.-1 p.m. Central Time FREE
2022 Banding Day
---
LATEST NEWS!!!
Banding Day 2022: This year's event was broadcast through Facebook LIVE! at the following links and times. Everyone had the unique opportunity to observe the Midwest Peregrine Society team and Mayo staff retrieve the nestlings from the box atop the Mayo Building. The filming was in two separate events: Part 1 (12-12:10 p.m.) https://bit.ly/38s2KDM Part 2 (12:20-12:50 p.m.) https://bit.ly/3Lj8Q6G (Central Time)
The date of the banding day is dependent on when the eggs hatch. Since chicks are nearly fully grown at three weeks old, this is the perfect age for biologists to band them as part of a peregrine monitoring program. Banding is a way for biologists to identify individual birds by placing a band on its leg with a unique number that distinguishes it from others — kind of like how each person has unique fingerprints. Biologists use these band numbers to monitor peregrine falcons in Minnesota and other states, so that we can learn more about the birds. Some of the things that banding helps track are the distances birds travel, how long they live, who they mate with and how many chicks they have.
There are a number of challenges when it comes to banding chicks. The biggest is safety for the biologists and their teams as well as the birds. When removing the birds from the nest, biologists try to create as little stress as possible on the peregrine parents and the chicks. Adult falcons are protective of their young and don't know that a team of biologists isn't a threat, so they will attack to protect their nestlings. Field team members need to wear protective helmets, and sometimes use objects like brooms and shields to keep the parents from hitting the biologists while they are trying to do their work.
Biologists carefully examine the chicks, lifting them one at a time from the transport box to check each chick's health and determine its sex. Even at this age, the female chicks are much larger than the males. The chick is then placed on a special scale, and its weight and measurements are recorded in a notebook. Finally, a biologist secures a metal band around each of the chick's legs with special pliers and rivets. The right leg band is a federal band for tracking — it's silver, with eight or nine numbers on it. The chick's left leg band is colored and has large letters and numbers that can be read by a biologist from up to 700 feet away. Each bird's band information is entered into both the federal bird banding and the Midwest Peregrine Society databases so the chicks can be tracked after they leave the nest box.
Banding doesn't hurt the chicks — the bands fit the chicks' legs just like an ankle bracelet. At this age, the chicks' legs are fully grown, so the band will not squeeze or constrict them at all. After chicks are banded, they are given names from the many suggestions people have sent in to Mayo Clinic. With their new bands and names, the chicks are returned to the transport box. Then, they are carried back to the rooftop nest box, where their anxious parents are waiting for their return. There is no risk of the adults abandoning the chicks, since they have invested over five weeks of care during incubation and nearly three weeks since the chicks have hatched.
Hattie and Orton both hatched in Minneapolis, Minnesota, and were banded as part of the research program for the Midwest Peregrine Society.
If you missed the live event, you can view it online in two parts:
Part 1 https://bit.ly/38s2KDM
Part 2 https://bit.ly/3Lj8Q6G
Learn more about the person behind the chick named "Tom":
https://intheloop.mayoclinic.org/2022/05/27/falcon-banding-brings-special-honor-for-tom-behrens/