Postage Stamp Commemoration
In 1964, the U.S. Postal Service honored the Mayo brothers by issuing a stamp in their honor.
This recognition was the result of several years of planning and advocacy from stamp enthusiasts in Rochester, Minnesota, who contacted Eleanor Roosevelt and other leaders for support. Issuance of the stamp was a focal point of the Mayo Centennial Year, 1964.
The stamp is green, a color traditionally associated with medicine, and features the staff of Aesculapius, the Greco-Roman god of medicine. The portrait of the Mayo brothers is adapted from a statue by James Earle Fraser, now located at Mayo Civic Center in Rochester, Minnesota. Mayo medical artist John Hutcheson designed a special envelope, known as a first day cover, for the stamp.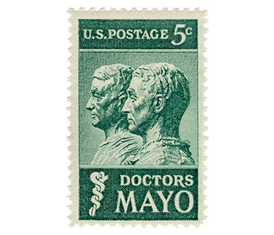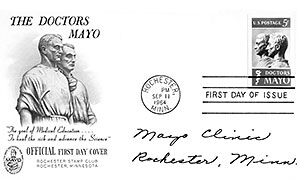 John Gronouski, postmaster general of the United States, was the guest of honor when the stamp was issued on September 11, 1964. The lobby of the Mayo Building became a temporary postal station to accommodate the crowds.
In recognizing the symbolism of the stamp and the significant contributions of the Mayo brothers, Postmaster Gronouski said: "they left us a medical legacy of genius and generosity."