Barbara Woodward Lips Patient Education Center
Become an effective partner in your health care by exploring the center's resources
Location:
Siebens Building, Subway Level, Mayo Clinic, Rochester, Minn.
Available to:
Mayo Clinic patients and their companions; employees
Open:
8 am-5 pm Central Time, Monday, Tuesday, Wednesday and Friday; 9 am-5 pm, Thursday; closed on Mayo Clinic holidays
Contact:
Call 507-284-8140. Patients can receive materials free of charge by providing their Mayo Clinic Registration Number.
Become an effective partner in your health care by using the resources of the Barbara Woodward Lips Patient Education Center. The center has a library with patient-friendly informational materials as well as models, exhibits and classes taught by patient education specialists.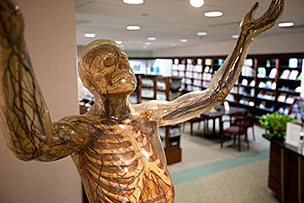 Mayo Clinic commissioned the "Transparent Man" model from Germany for the 1933 Chicago World's Fair.