The Carillon at Mayo Clinic
Music plays an important part in the healing mission of Mayo Clinic. Since 1928, our campus in Rochester, Minnesota, has featured a large instrument of cup-shaped bells known as a carillon, located in the tower of the Plummer Building. Now you can enjoy the carillon from any place in the world by watching live performances as they stream on camera, above, or by visiting our library of recorded carillon music, below. Open other tabs for additional information, and please send us your comments and suggestions.
What is a Carillon?
What is a Carillon?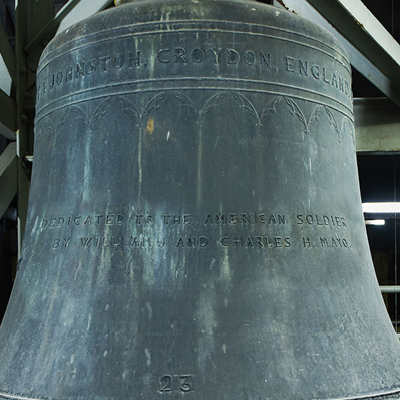 A carillon ("care-uh-lawn") is a musical instrument that consists of at least 23 bronze, cup-shaped bells. The bells do not swing. They are rigidly fixed to supporting beams that are housed in a tower.
The person who plays the carillon is called a carillonneur ("care-uh-lawn-NUR"). He or she sits at a keyboard console called a clavier ("cla-VEER") that has a double row of wooden keys, known as batons, and a pedalboard.
During a performance, the carillonneur presses the batons and pedals. Clappers, pulled by wires that are activated by pressing the batons and pedals, strike the inside surface of the bells to create music.
The bells are precisely tuned by paring the interior surface, a process that involves shaving metal from various points along the bell's profile, or shape. When correctly tuned, the numerous tones that make up the bell's sound, known as its partials, are in harmony with one another to such a degree that many bells may be sounded together, in a variety of chords, with a pleasant result.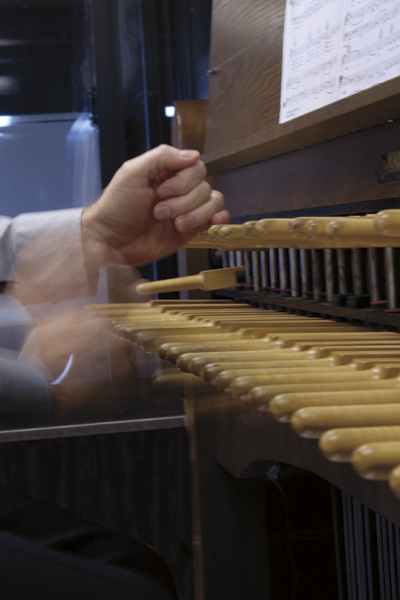 The art of playing the carillon originated more than 500 years ago in the area of Europe that now comprises the Netherlands, Belgium and northern France. While many people today associate the carillon with rich, majestic melodies, this instrument began as an accompaniment to market days and folk festivals in the Middle Ages. Therefore, popular tunes are just as appropriate as classical music in the carillon repertoire.
Though the minimum number of bells for an instrument to be considered a carillon is 23, many instruments contain a larger number of bells. Instruments with at least 48 bells are considered "concert" carillons and are suitable for the majority of music written for the instrument. The carillon at Mayo Clinic contains 56 bells. The world's largest carillons each have 77 bells. These are located at Kirk in the Hills, in Bloomfield, Michigan, and Daejon Institute of Science and Technology, in Daejon, Chungchon, South Korea.
There are more than 180 carillons in the United States and Canada. Most are located at places of worship and educational institutions.
To learn more, visit websites for The Guild of Carillonneurs in North America, The World Carillon Federation and Tower Bells for detailed information on similar instruments found around the globe.
The Carillon at Mayo Clinic
The Carillon at Mayo Clinic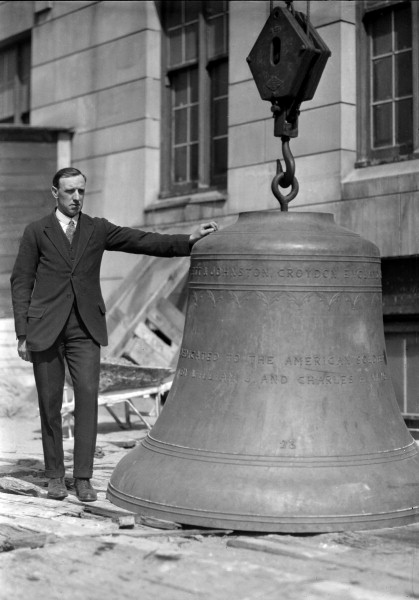 Mayo Clinic is the only medical center in North America to have a carillon.
It is known as the Rochester Carillon since the Mayo brothers intended that its music would be enjoyed by people throughout the community of Rochester, Minnesota. Today, with a web camera in the tower of the Plummer Building and Internet broadcast capability, people throughout the world can enjoy live and recorded music of the carillon at Mayo Clinic.
At Mayo Clinic, a variety of music is played during each carillon recital to reflect the diversity of our patients, staff and visitors. The carillon is an example of how the performing arts support the healing mission of Mayo Clinic. As James Drummond, the first carillonneur of Mayo Clinic, said: "Here science serves, enrobed by architecture and crowned with music." The carillon is managed by the Mayo Clinic Dolores Jean Lavins Center for Humanities in Medicine, working in close collaboration with the Mayo Clinic Department of Facilities.
At 56 bells, Mayo's carillon is one of the largest instruments of its kind in the world and is the largest carillon in Minnesota.
The original 23 bells were the gift of Drs. William J. and Charles H. Mayo. They were cast in the foundry of Gillett & Johnston in Croydon, England, and consecrated by the Archbishop of Canterbury before shipment to the United States. The largest bell is nearly six feet tall and weighs 7,840 pounds. The smallest of the original bells is 18 inches tall and weighs 168 pounds.
The carillon was dedicated on September 16, 1928, with two recitals performed by Percival Price, the first Dominion Carillonneur of Canada.
The largest bell of the carillon is inscribed "To the American Soldier." Since the carillon's installation, every official concert and recital has begun with "America," popularly known as "My Country 'tis of Thee." As Dr. William J. Mayo said:
"Today we dedicate this carillon to the American soldier, in grateful memory of heroic actions on land and sea to which America owes her liberty, peace and prosperity."
Thirty-three additional bells, along with a new clavier, practice console and glass-enclosed performer's cabin, were installed in 1977. These enhancements were made possible with gifts from Mrs. Frances G. Sheets and Mrs. Isabella Gooding Sanders, descendants of Alphonso Gooding, a Rochester pioneer. The new bells, weighing from 19 to 130 pounds, were cast at the Petit & Fritsen Foundry in Aarle-Rixtel, The Netherlands.
Now at 56 bells, the carillon covers a 4.5 octave range. The total weight of all 56 bells is 40,000 pounds.
In 2006, the smallest bell from 1928 was found to be cracked and in need of replacement. It was recast from its original mold by the John Taylor & Co. bell foundry of Loughborough, England, and installed in the same location as the original.
Through the fall and winter of 2018-2019, the carillon underwent a near-total reconstruction. The project included replacing the instrument's entire system of connections between the clappers inside the bells and the clavier, known as its transmission, converting an outdated roller bar transmission into a modern, directional square-based action.
This new system is a much simpler mechanism, offering a direct connection between the keys of the clavier and the clappers of the bells. This connection made the action of the instrument smoother, allowing performers greater control over nuances in playing technique and volume than was possible with the old action.
Each bell was remounted and re-secured to the frame, complete with new return springs to improve playability. A new system of electronic strikers for changing the time replaced the original, pneumatic system that was prone to breakages. Perhaps most significantly, the entire bell frame was raised nearly six feet, enabling the sound from the bells to reach audiences at ground level more clearly.
The Carillonneurs of Mayo Clinic
The Carillon Players of Mayo Clinic

There have been four official carillonneurs of
Mayo Clinic:
James Drummond – Originally from San Antonio, he played the carillon from its installation in 1928 until he retired in 1958. He said his goal was to play music as a way to give "peace and inspiration and a lift of spirit to Rochester visitors, which was the intent of the carillon's donors, Drs. Will and Charles Mayo."
Dean Robinson – A Rochester native, he served as Carillonneur from 1958 until his death in 2004. He studied music at Oberlin Conservatory in Ohio and MacPhail College of Music in Minneapolis. His career included performing and teaching carillon, organ and piano.
Jeffrey Daehn – Originally from Chicago, he studied music at Valparaiso University in Indiana and Union Theological Seminary in New York City. He came to Rochester in 1977 as organist and music minister at Zumbro Lutheran Church, studied carillon with Dean Robinson and other well-known carillonneurs and served as Carillonneur of Mayo Clinic from 2004 through 2016.
Austin Ferguson – A native of Longview, Texas, he led the carillon program at The University of Texas at Austin from 2011 to 2015, performing daily recitals and supervising student carillon instruction. He has been a featured recitalist around the country and is an active member of the Guild of Carillonneurs in North America. He was named the fourth Carillonneur of Mayo Clinic in February 2017.
Schedule of Events
Schedule of Events
Recitals featuring the Mayo Clinic carillonneur are scheduled each weekday throughout the year. Typically lasting between 20-30 minutes, recitals are also presented on Memorial Day, the Fourth of July and for other special events. In the summer, Mayo Clinic hosts talented guest carillonneurs from around the world. Recitals are open to the public and free of charge.
The carillon can be heard Monday through Friday at 4:45 p.m., as well as Mondays at 7:00 p.m. and Wednesdays and Fridays at 12:00 p.m. (CT).
In a live performance, carillon music is best heard about 500 feet downwind from the source – ideally, in an open area away from distracting noise. The sound is clearest during crisp, cold weather, though performances can be enjoyed at any time. Enjoyable spots to listen to the carillon on the Mayo Clinic campus in Rochester, Minnesota, include Annenberg Plaza, between the Mayo, Plummer and Gonda Buildings, and the courtyard behind the Harwick Building.
Today's Program
Today's Program
Friday, August 12, 2022 - 12:00 p.m.
America - arr. Austin Ferguson
Country Gardens - arr. Robert Kleinschmidt
Scottish Folk Song Prelude on "A Rosebud by My Early Walk" - Ronald Barnes
Le coquelicot (The Poppy), from Fleurs des champs (Wildflowers), Op. 49 - Georges Lamothe, arr. Linda Dzuris
La vie en rose (Life in Pink) - Louiguy, arr. Sally Slade Warner
Who'll Buy My Lavender? - Edward German, arr. Austin Ferguson
Four Miniatures, After Frederick Law Olmsted - Geert D'hollander
Spring Flowers at the U.S. Capitol Grounds, Pleasance in Life
The Reflection Pond at Bok Tower, A Zen Moment
A Court Dance at the Biltmore Gardens, "Chateauesque"
Central Park in the Fall, Majestic Oak Trees & Colorful, Falling Leaves
Austin's Wind Chimes - Laura Brackney
Among the Lilies - Edward H. Frey, arr. Linda Dzuris
In a Monastary Garden - Albert W. Ketèlbey, arr. Arie Abbenes
Ye Banks and Braes O' Bonnie Doon - arr. Sally Slade Warner
Summer Song - Terry Vaughn
Enjoy These Recordings
Enjoy These Recordings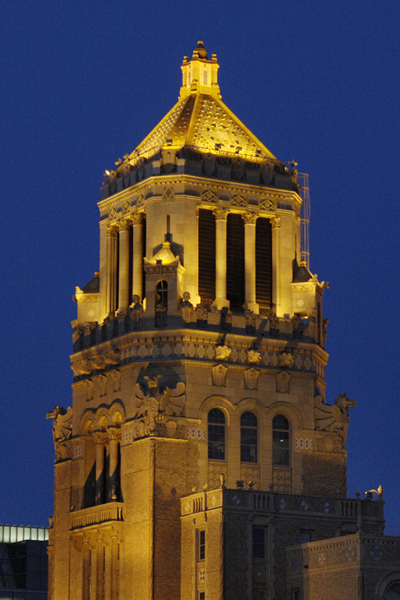 The Mayo Clinic Dolores Jean Lavins Center for Humanities in Medicine's Mayo Clinic Connect page has the scores of music commissioned by the Center for performance on the carillon.
For a list of upcoming events, visit, Mayo Clinic Connect.
"America" ("My Country 'Tis of Thee") - Click to Listen.
Since the carillon was installed in 1928, Mayo Clinic has followed an honored tradition of beginning every recital with "America," more commonly known as "My Country, 'Tis of Thee." This tradition recognizes the Mayo brothers' dedication of the carillon: "To the American Soldier."
Chimes on the Quarter Hour - Click to Listen.
Many carillons play a melody at 15-minute intervals to mark the time of day. These sequences are known as "quarters" because they play on the quarter hour. At the top of the hour, a bell sounds the appropriate number of strikes to mark the hour—for example, 12 strikes at noon. The Rochester Carillon plays the Westminster Quarters, the iconic melody associated with the clock tower at the Palace of Westminster in London, England. In 1928, Dr. William J. Mayo chose this setting for the carillon. The clock strike plays from 8:00 a.m. until 9:00 p.m. daily.
In addition to live performances by carillonneurs and the chiming of the quarter hours, an automated system for the carillon plays three daily melodies at set times.
"Mayo Clinic Chimes" - Click to Listen.
This melody was composed specifically for Mayo Clinic's carillon. It combines the work of James Drummond, first Carillonneur of Mayo Clinic, with that of Jeffrey Daehn, Mayo's third Carillonneur. The idea for a unique chime melody was proposed by David Daugherty, M.D., a Rochester native and graduate of the first class of Mayo Medical School. It plays daily at 8:00 a.m.
"Sicilian Mariners" - Click to Listen.
Selected by Dr. William J. Mayo, this tune, also known as "O Sanctissima" and "Lord, Dismiss Us With Thy Blessing" plays daily at 6:00 p.m.
"St. Clement" - Click to Listen.
Like "Sicilian Mariners," this tune, also known as "The Day Thou Gavest, Lord, Is Ended," is played each evening at 9:00 p.m. Dr. William J. Mayo requested this tune as an evening prayer, also known as a vesper hymn.
Benefactor Support
Benefactor Support
We recognize with gratitude the following benefactors, who have supported the carillon at Mayo Clinic throughout its history:
1928 - William J. Mayo, M.D., and Charles H. Mayo, M.D., donated the original 23 bells.
1977 - Mrs. Frances G. Sheets and Mrs. Isabella Gooding Sanders, descendants of Rochester pioneer Alphonso Gooding, donated an additional 33 bells along with a practice console and glass-enclosed performance cabin.
2013 - John T. and Lillian G. Mathews donated funds for a computer system to play the "Westminster Quarters," "Sicilian Mariners" and "St. Clement".
2021 - The Sisters of St. Francis, with gift funds donated by Gerald and Henrietta Rauenhorst, provided support for enhanced audio equipment for the recording and web-based broadcast of carillon performances.
Mayo Clinic Dolores Jean Lavins Center for Humanities in Medicine
Programming of the carillon at Mayo Clinic is administered by the Mayo Clinic Dolores Jean Lavins Center for Humanities in Medicine. The center supports Mayo Clinic's primary value, the needs of the patient come first, by integrating the arts and other expressions of human culture into the healing environment.
The Center engages interconnected communities of patients, families, staff, learners and the public to promote the artful and compassionate delivery of health care. Music, visual art, dance, theatre, creative writing, lectures and other educational programs all contribute to the healing environment and uniquely touch each of Mayo's three shields: Patient Care, Education and Research. Furthermore, Humanities in Medicine is a champion and ideal collaborator for Mayo Clinic initiatives such as the institution's commitment to diversity and inclusion, emphasis on innovation, encouragement of continued professional development and, most significantly, belief in caring for the whole patient. The Center for Humanities in Medicine operates throughout the Mayo Clinic with program staff in Rochester, Minnesota; Jacksonville, Florida; and Phoenix, Arizona.
The Dolores J. and Paul N. Lavins Fund in Humanities in Medicine endowed the Rochester program in 2014. Mrs. Lavins was known for her love of the arts and was a devotee of theatre, opera and dance. As loyal patients of Mayo Clinic, Dolores and Paul valued Mayo's unique ability to integrate the arts as part of the healing process. After Dolores' passing in 2010, the Dolores and Paul Lavins Foundation made a gift that names the Dolores Jean Lavins Center for Humanities in Medicine in her honor. This generous gift supports our mission to offer an engaging and reflective healing environment for patients and their families through music concerts, visual art exhibitions and beautiful architecture.
Contact Us