Heritage Days is an annual week-long event at Mayo Clinic locations in Arizona, Florida and Minnesota, as well as Mayo Clinic Health System. Its mission is to thank employees and volunteers for their service to patients, and to present Mayo Clinic values and history as an inspiration for our work today. 
In alignment with Mayo Clinic's COVID-19 policies, most Heritage Days activities in 2022 were not open to the public.  However, it is possible to view our new Heritage Film online, at any time you choose.  
"Finding Substance X: The Team That Created Cortisone"
In April of 1949, the world learned of one of the landmarks of 20th century medicine. A new drug developed at Mayo Clinic had been given to patients with rheumatoid arthritis. The astonishing results were captured on film. Patients who could barely walk were seen moving with ease after only a few days of treatment. It was the result of a 20-year collaboration between an innovative chemist, a dedicated physician and their colleagues. This film tells the intriguing story of their search for a mysterious hormone that ultimately led to new hope for patients, an important new class of medications and the Nobel Prize.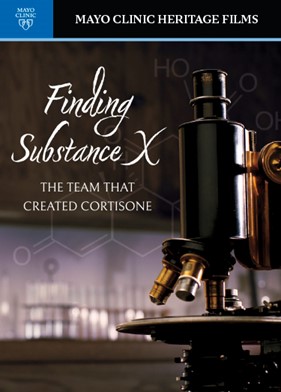 Click above to see a short preview.
The full film, along with a special "Behind the Scenes" feature and a Discussion Guide, is available here.