History of Medicine Society
Lecture Series
This scholarly program presents lectures on diverse topics by experts in the history of medicine. Lectures are free and open to Mayo Clinic employees and students, patients, visitors and the public.
---
New Mayo Clinic Heritage Film and panel discussion
Finding Substance X:
The Team That Created Cortisone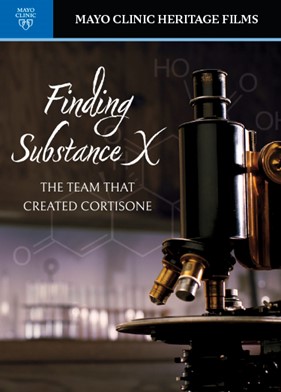 Panelists:
Eric Matteson, M.D., Emeritus Consultant, Rheumatology, Mayo Clinic, Rochester, MN
Thom Rooke, M.D., John and Posy Krehbiel Professorship in Vascular Medicine, Mayo Clinic, Rochester, MN
Kenneth Warrington, M.D., John F. Finn Minnesota Arthritis Foundation Professorship; Division Chair, Rheumatology, Mayo Clinic, Rochester, MN
Tom Williams, Writer and Director, Mayo Clinic Heritage Films
Date: Tuesday, October 4, 2022

Time: 6:00 p.m. CT

In April of 1949, the world learned of one of the landmarks of 20th-century medicine. A new drug developed at Mayo Clinic had been given to patients with rheumatoid arthritis. The astonishing results were captured on film. Patients who could barely walk were seen moving with ease after only a few days of treatment. It was the result of a 20-year collaboration between an innovative chemist, a dedicated physician and their colleagues. This 26-minute film tells the intriguing story of their search for a mysterious hormone that ultimately led to new hope for patients, an important new class of medications and the Nobel Prize.
Following the film, the four panelists will discuss various themes explored in the film, the impact of the discovery of cortisone on patients as well as the medical community, and answer your questions.
This film is made possible with leadership support from John T. and Lillian G. Mathews,
Founding Benefactors of Mayo Clinic Heritage Hall.

This lecture presentation will be delivered via Zoom.
Please click the link below to join the webinar:
https://mc-meet.zoom.us/j/91078278298?pwd=cmgrQm95aUFWVVZaSnFURXM5bU85QT09
Passcode: 317315

This webinar is one of many events taking place during Heritage Days, October 3-7. Please visit the Heritage Days page on this website for information about other Heritage Days activities.
---
Future Presentations
Additional lectures are tentatively planned for the rest of 2022. Details will be shared at a later date.
For more information contact brown.emily@mayo.edu
Phone: 507.266.7425
Check back for updates and more information.