Mayo Clinic Peregrine Falcon Program – Celebrating 34 Years
Since 1987, falcons have found a home on top of the tall buildings of Mayo Clinic in Rochester, Minnesota.
During nesting season (approximately mid-March to late June), this page features a live camera with 24/7, real-time views of where they live and raise their young. Throughout the year, this page features a film about peregrine falcons and their activities at Mayo Clinic. Questions about the program may be submitted to HeritageDays@mayo.edu

Because of COVID-19 restrictions, the weekly "Meet the Falcon" programs on the Rochester campus have been replaced by short video segments, posted below, featuring Jackie Fallon of the Midwest Peregrine Society.
---
Join us for our next Facebook Live event:

Mayo Clinic Peregrine Falcon Program
Friday, March 19
11:00 - 11:30 a.m. Central Standard Time

Join Jackie Fallon, Midwest Peregrine Society, and Tom Behrens, Mayo Clinic Facilities Operations, in this live presentation. Jackie will bring a special guest to help viewers learn more about the interesting characteristics of peregrine falcons. We hope you can join us and we welcome your questions throughout the presentation.
Download the Mayo Clinic Peregrine Falcon Program Coloring Pages!
---
News from the Nesting Box - 2021
March 6 - Unfortunately, the video of the nest box continues to be blurry. Please know that we are working with the camera vendor and we hope to resolve the issues soon.
February 23 - Orton is working on a scrape - a depression in the gravel - in the nest box. Peregrines use a scrape as a nest for eggs.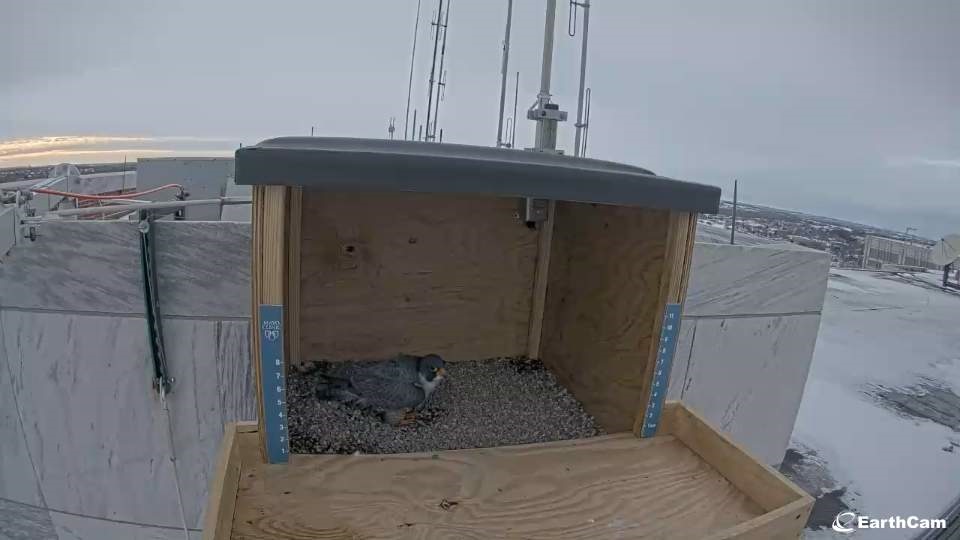 February 22 - As of 2/19/21, Jackie Fallon identified both Hattie and Orton as maintaining possession of the Mayo territory. This time of year, there can be quite a bit of change in occupancy, with the resident birds actively defending the box.
2021 Calendar
In addition to this website, here's how you can find out more about the falcons:
Monitor and informational display in the subway (below-ground) level of the Mayo Building in Rochester, Minnesota.
Patients on our Rochester campus may watch the falcon camera on the Mayo Clinic Television Network. Using the remote, select Mayo Information and scroll down to select Peregrine Falcons.
Look up! In spring and summer, falcons are a frequent sight in the skies over Rochester.
When winter turns to spring, we follow the falcons throughout their nesting season: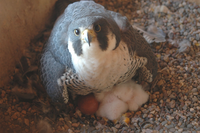 Early February: Settling In – One male and one female falcon take up residence in the nest (actually, a special box we built for them) on the roof of the 20-story Mayo Building. Between late March and mid-April, the female lays 2 to 4 eggs.
Early to mid-May: A New Generation – Eggs typically hatch 35 days after they are laid. They grow rapidly and fledge (make their first attempt at flight) at about 6 weeks of age.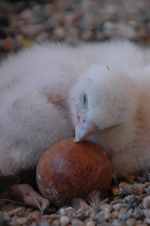 Meet the Falcon – Due to COVID-19 issues, we have canceled in-person "Meet the Falcon" programs in 2021. As an alternative, Jackie Fallon from the Midwest Peregrine Society will prepare brief videos to share more information about peregrine falcons.
May: Name those Chicks – After the eggs are hatched, it's a Mayo Clinic tradition to name the baby chicks using suggestions submitted by our patients, staff, visitors and volunteers.
Late May/Early June: Banding Day – We announce the names and young falcons receive their identification bands.
Summer-Fall: Follow the Falcon – The young falcons progressively develop under the watchful eyes of their parents, until they take flight to pursue independent lives. The parents may migrate or remain in the area.
Year-Round: Check the online database of all banded Midwest peregrine falcons at https://midwestperegrine.umn.edu/?vw=search. Type "Mayo Clinic" in the search field to find falcons that were banded at Mayo.
2021 Name the Falcon and Banding Day
Banding Day is a very special event in the lives of the young chicks. The falcon chicks are carefully removed from the nest box on top of the Mayo Building and brought to an indoor location. There, they are given a quick physical assessment, weighed, and a metal identification band is placed around each fledgling's leg. Each band is uniquely lettered and numbered so that if the falcons are observed later, they can easily be identified. Before returning the birds to the nest box, their official names are announced.
A video of the 2020 Banding Event can be found under the 2020 in Review tab.
2020 in Review
August 31 - It's difficult to share sad news: Nadya, the last of the chicks to hatch this year, was found badly injured at Carley State Park on August 25. She was taken to the Raptor Center in St. Paul, where it was determined that her injuries (severe soft tissue damage and necrosis of the left wing) were extremely serious and she was euthanized.
However, there is good news to report: our adult pair, Hattie and Orton (shown below), continue to maintain a strong bond, spending time in the nest box together and even forming another scrape (a depression in the gravel where eggs are laid). Orton is doing very well, having completely recovered from the injuries he sustained in July.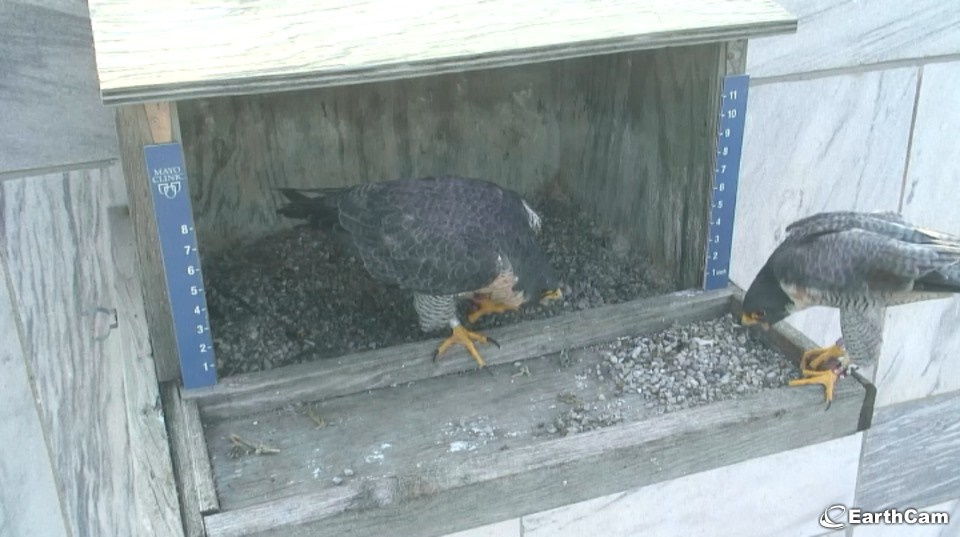 August 11 - Jackie Fallon reports that both Orton and Hattie have been seen at the nest box during the past few days, and all is well. We're happy to share this link to a video made by Axel Gumbel, Mayo Clinic Public Affairs, showing the full story of Orton's release on August 7. Enjoy!
August 7 - We are pleased to report that Orton was successfully released from the 16th floor of the Plummer Building today at approximately 11:30 a.m. Jackie Fallon from the Midwest Peregrine Society and Chet Ellingson, a wildlife photographer, carefully transported him from the Raptor Center in St. Paul this morning. As Chet drove, Jackie held Orton on her fist as he was more comfortable there than on a perch. After arriving at the Plummer Building balcony, Jackie finalized preparations for release, then handed Orton to Tom Behrens from Mayo Clinic Facilities Management. Tom, who has led the Mayo Clinic Peregrine Falcon Program for almost 30 years, released Orton, "tossing" him into the wind on the south side of the building. Orton immediately took flight, heading toward the Mayo Building. Hattie had been keeping watch from the top of the Guggenheim Building, across the street from the Mayo Building, and she immediately flew nearby to determine that Orton was not a threat. Orville, one of this year's fledglings, took cover in the nest box until he was more certain that Orton did not pose a threat. According to Jackie Fallon of the Midwest Peregrine Society, Orton's release could not have gone more smoothly.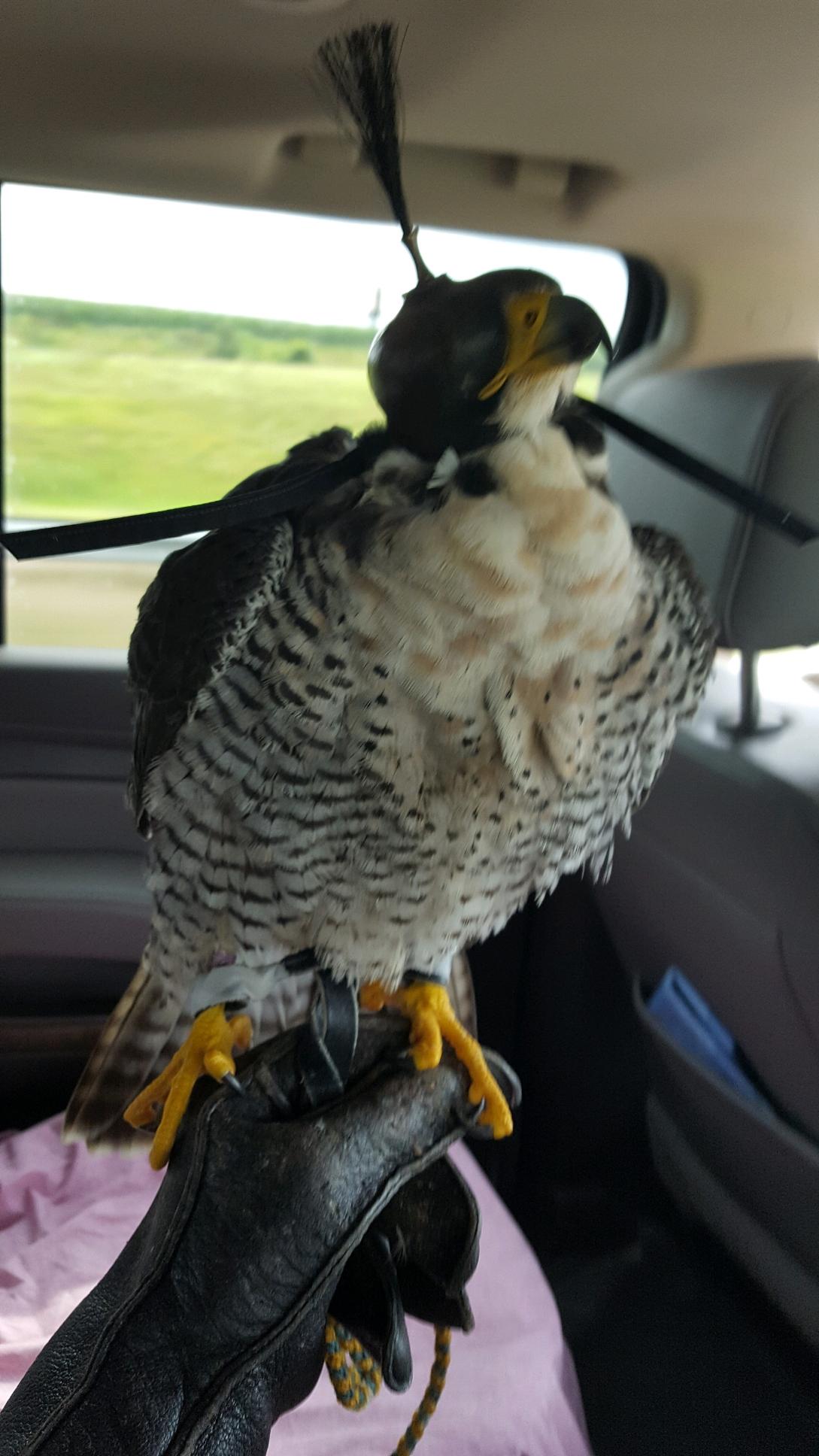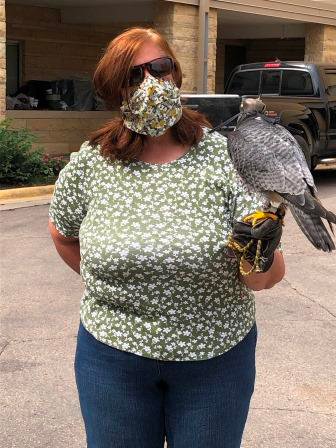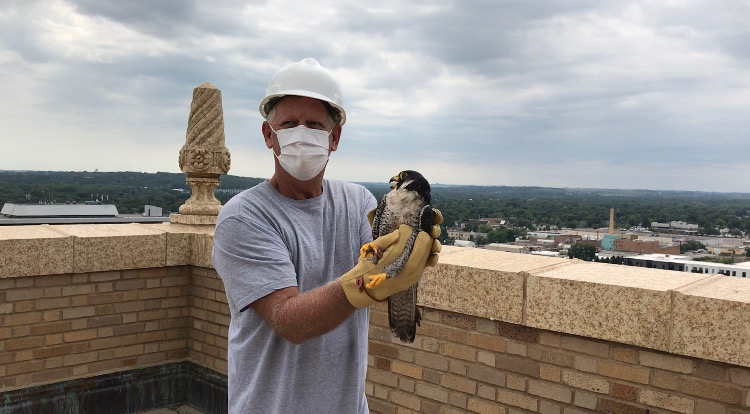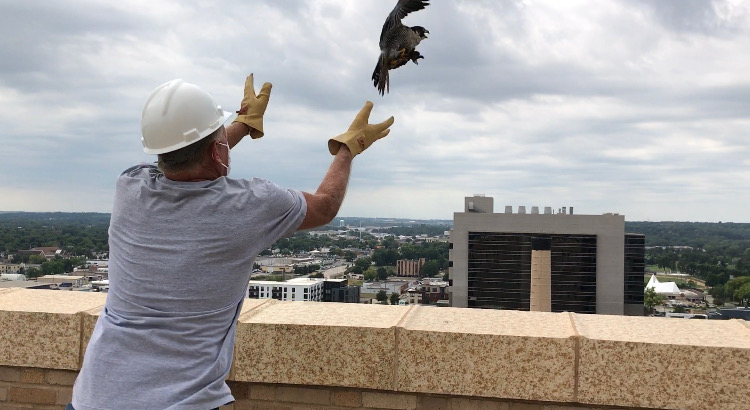 August 6 - Orton is ready to return home to Rochester and will be released from an upper floor of the Plummer Building tomorrow (August 7) at around 11:30 a.m. We will take photos of the event and will post them online as soon as possible. Keep an eye on the falcon cam during this time; you may see some activity and hear vocalizations of Hattie and the fledglings as they realize that Orton has returned.
August 5 - We are developing plans to release Orton from either the Plummer Building or the Mayo Building in downtown Rochester this Friday, August 7. We will share more details as soon as possible.
August 3 - We're happy to report that we have still not seen another adult male on territory so we're hoping that situation doesn't change. Orton is making great progress at The Raptor Center and discussions are underway regarding a potential release date in Rochester.
July 24 - Below is a photo of Nadya, taken today. If you recall, Nadya is the youngest and smallest of this year's brood.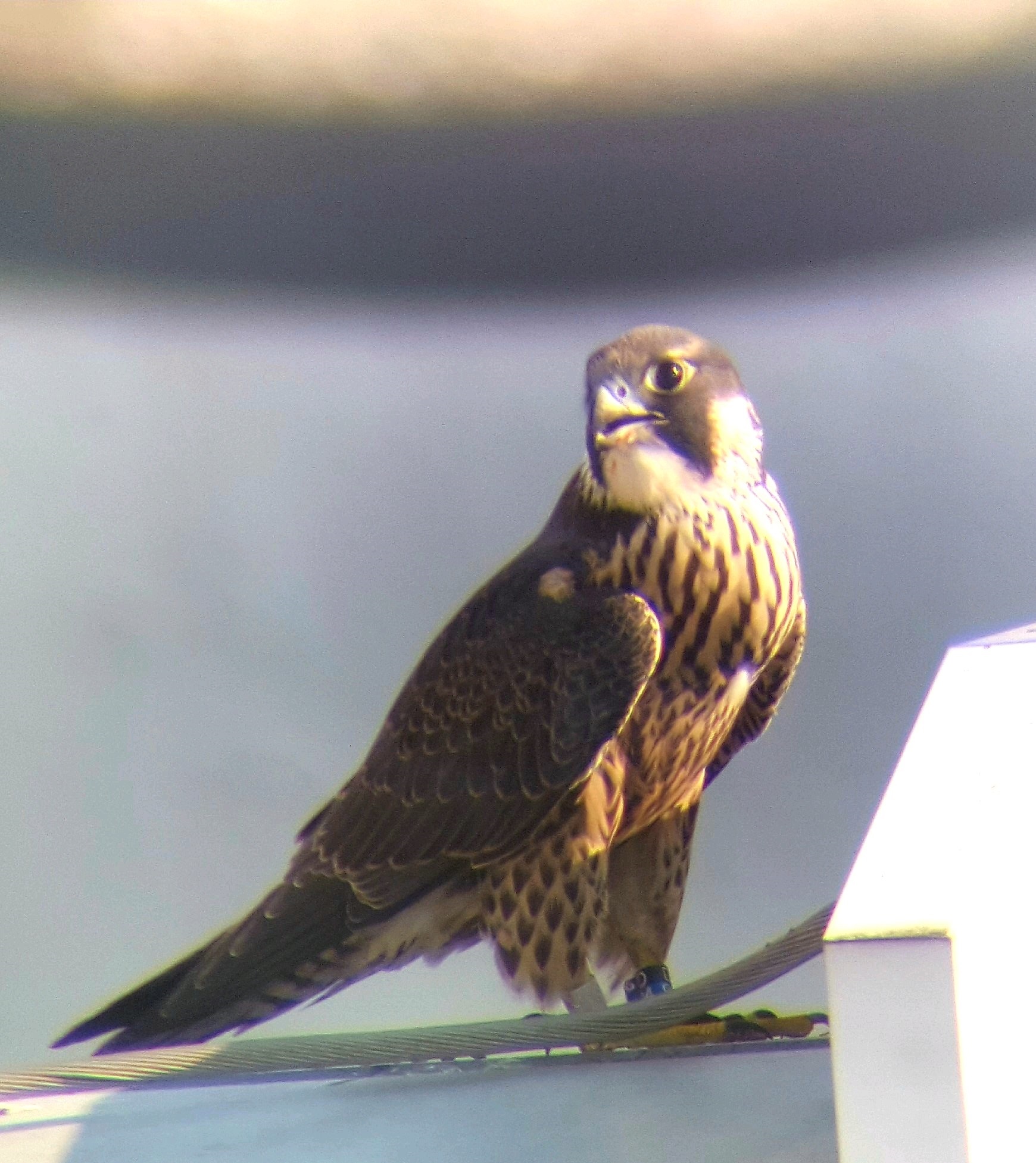 July 17 - Jackie Fallon from the Midwest Peregrine Society is closely monitoring the activity of our peregrines while Orton is recovering at The Raptor Center. With Orton away, it's possible that another adult male could try to assume this territory, and that could cause problems for the three fledglings. So far, all is well and no other adult male has been seen on territory. Jackie captured these photos today, showing Hattie overseeing the situation, and Glory, who had been begging for food.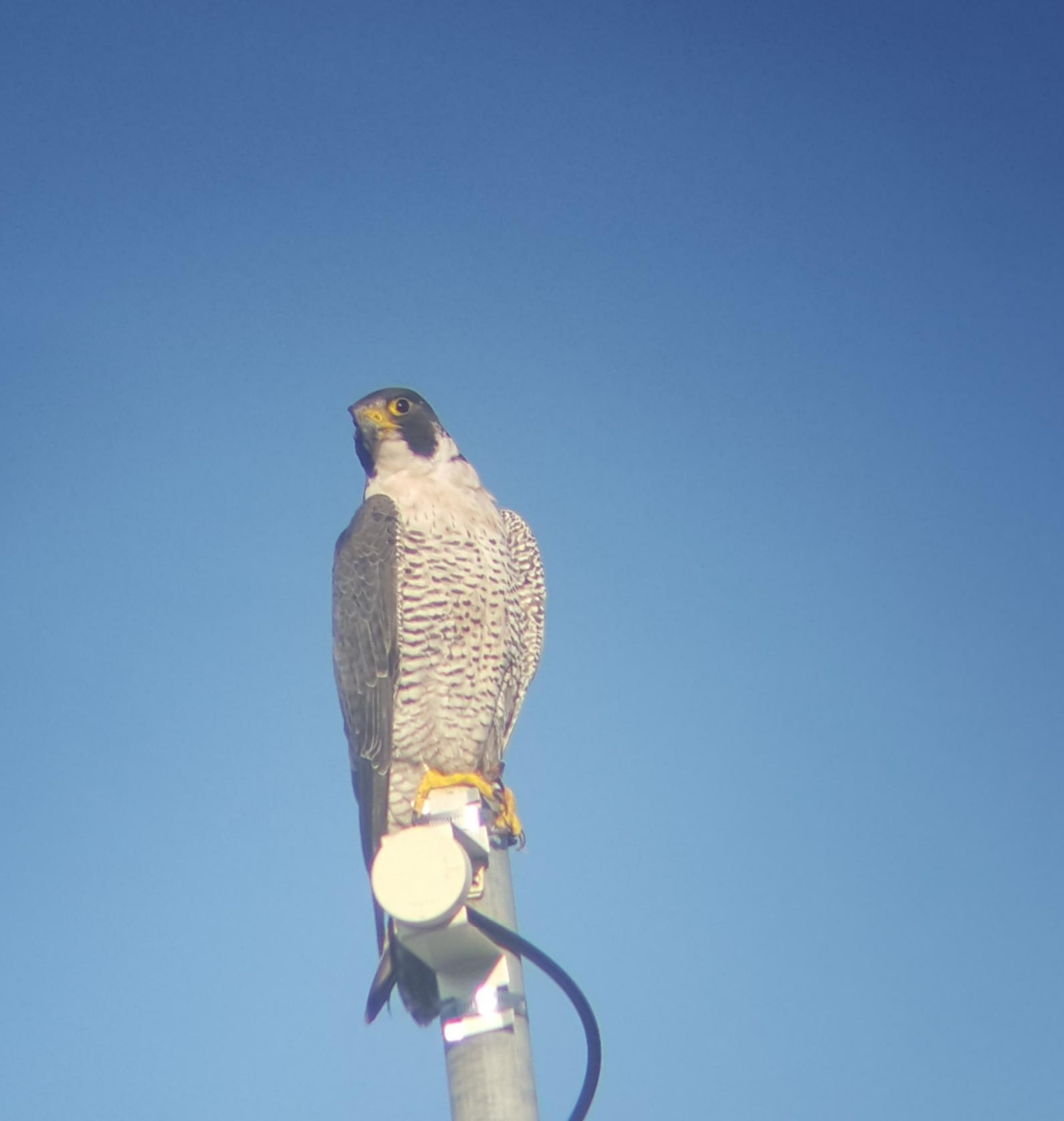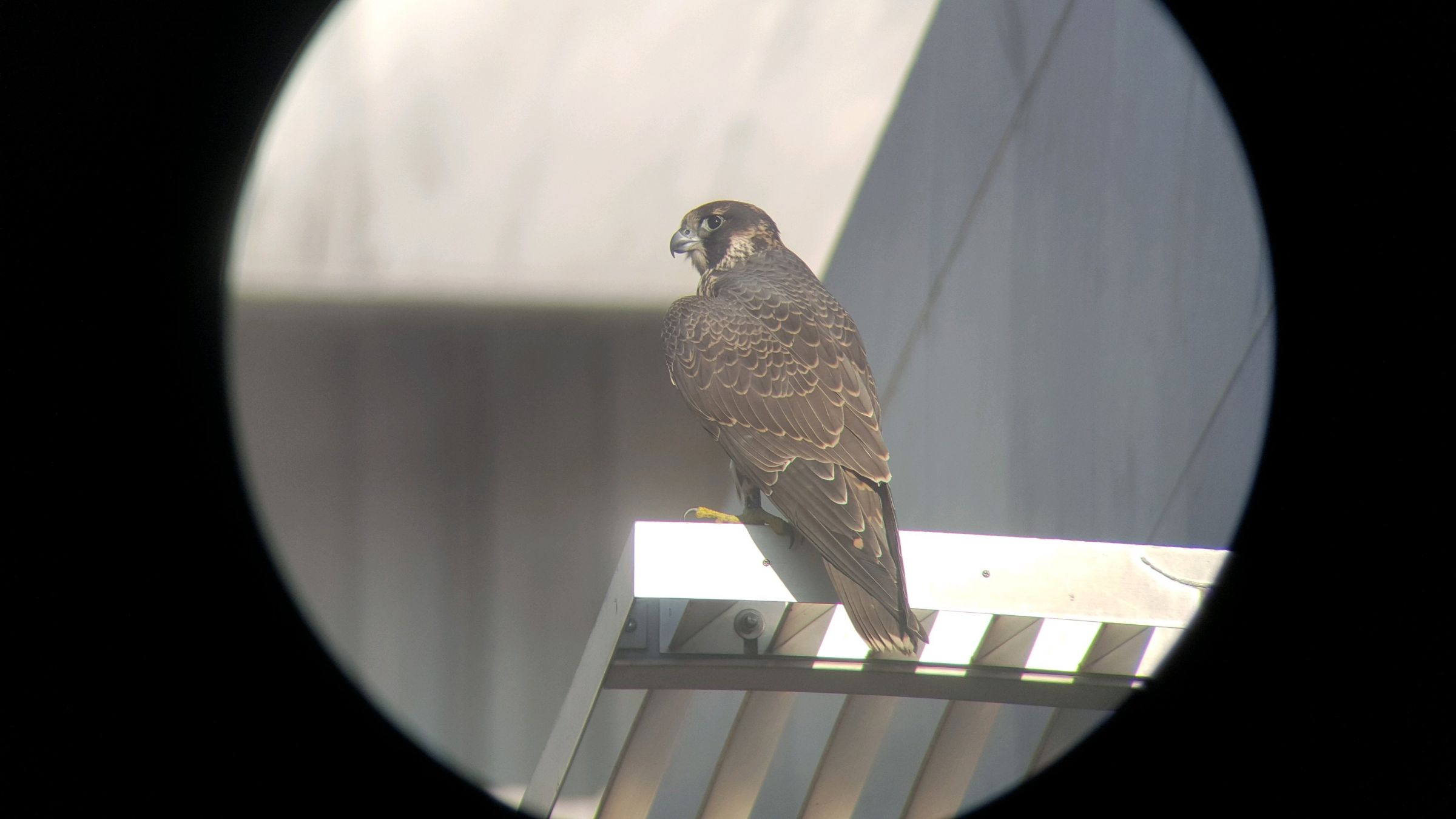 July 14 - We're sorry to share the news that Annabelle, one of this year's four fledglings, was found dead this morning on the ground next to the Mayo Building. She had a pigeon carcass right beside her, so our guess is that she was hunting and misgauged something in flight and hit the building. While this is difficult news, it is typical of the trials young falcons face during their first year. Experts estimate that three out of four falcons do not survive until their first birthday. Below are photos taken today of Annabelle's siblings (Nadya, Glory and Orville) who are doing very well.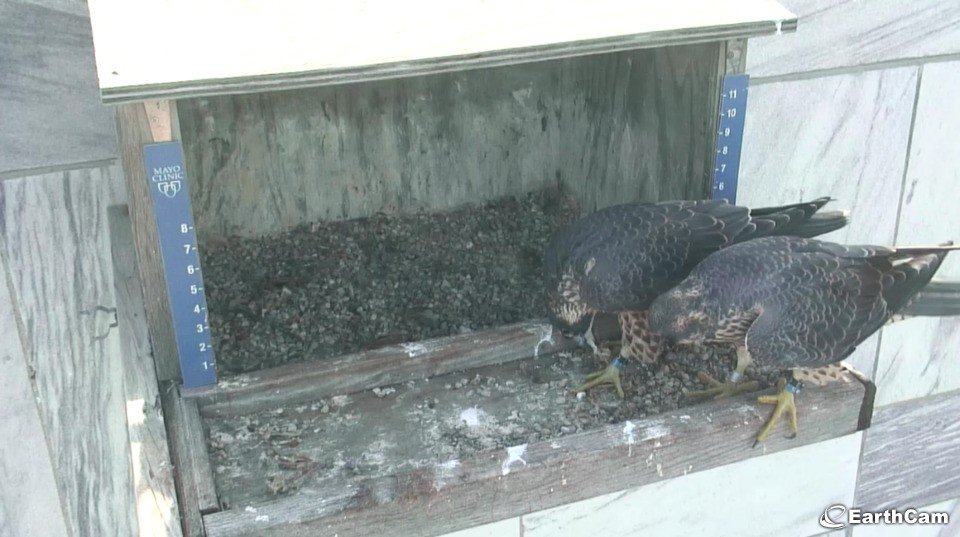 Glory and Nadya (above)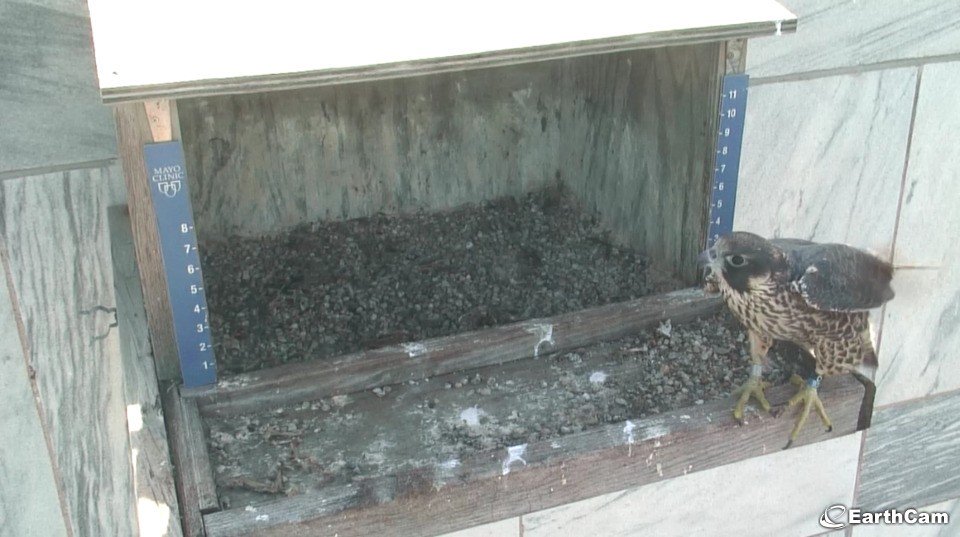 Orville
July 13 - All four fledglings have been seen around the nest box and are doing well. We have no further updates on Orton's condition but we are hopeful for a full recovery. The process will take several weeks and will eventually include exercise and careful evaluation to determine if he is well enough for release.
July 10 - We are happy to report that the four fledglings continue to do well, occasionally appearing on the nest box camera. Unfortunately, we do have some bad news about Orton, the breeding male. Orton was found Wednesday, July 8, running on the ground since he was unable to fly to the safety of a rooftop. He was captured by a local wildlife rehabber and transferred to The Raptor Center in the Twin Cities. He has suffered an injury to his keel (breastbone) and also has some soft tissue damage. Orton was very strong and healthy before his injury so it is hoped that he will have a speedy recovery and can be released in the near future. Stay tuned for more updates to be posted here.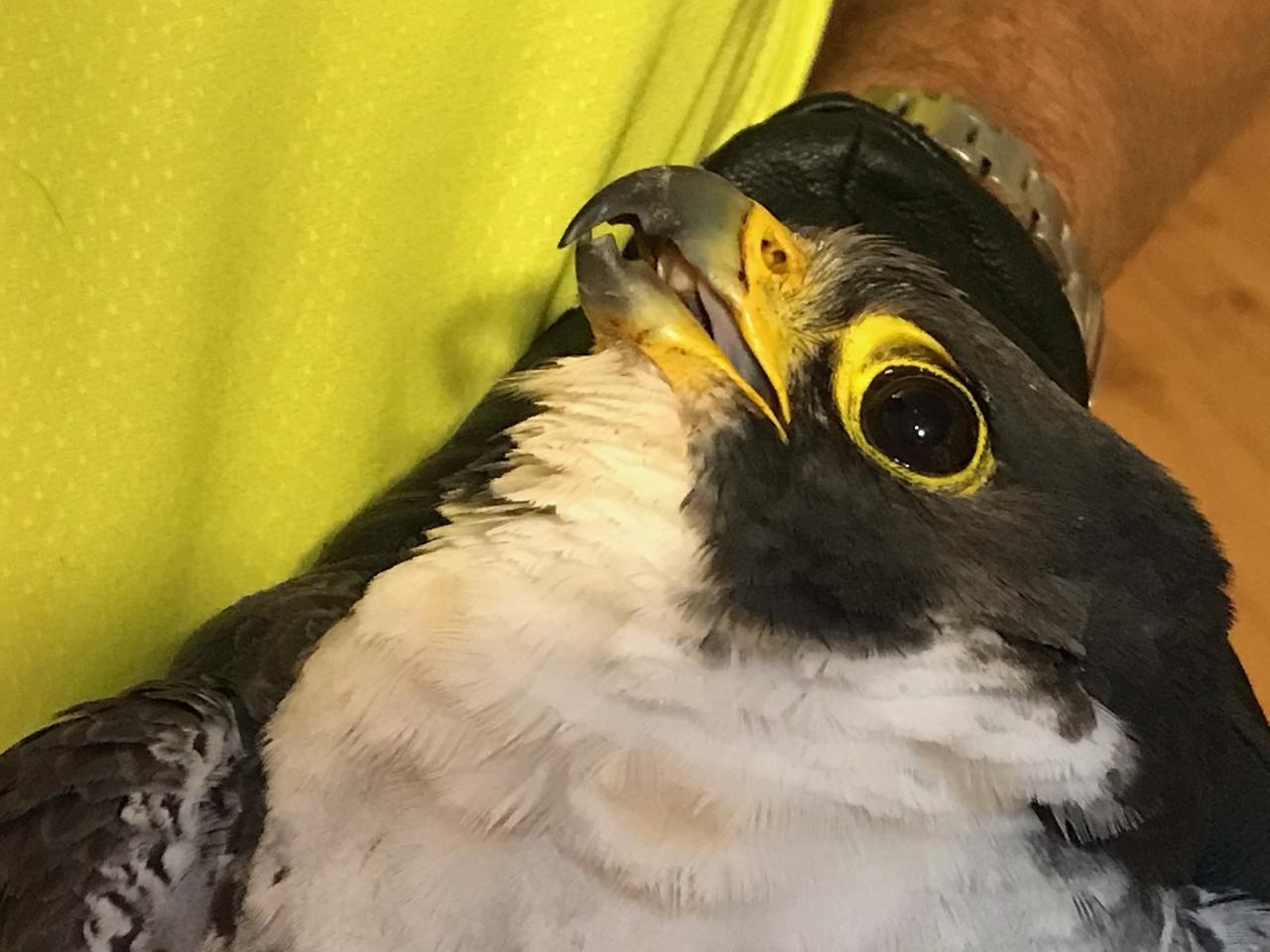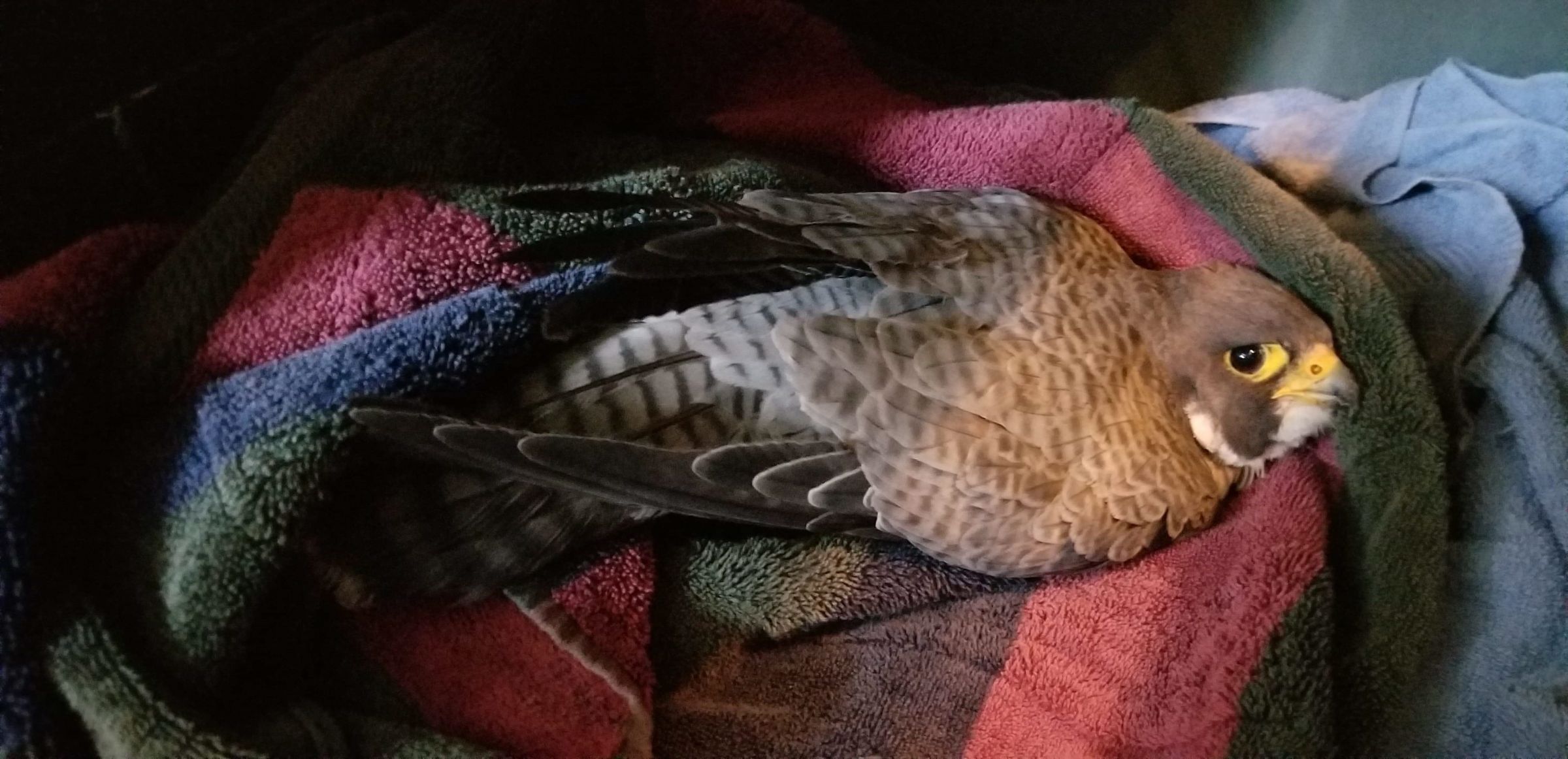 June 30 - We're pleased to share these two photos showing Nadya exploring the surroundings on the roof of the Mayo Building. She is definitely curious about her world outside of the nest box!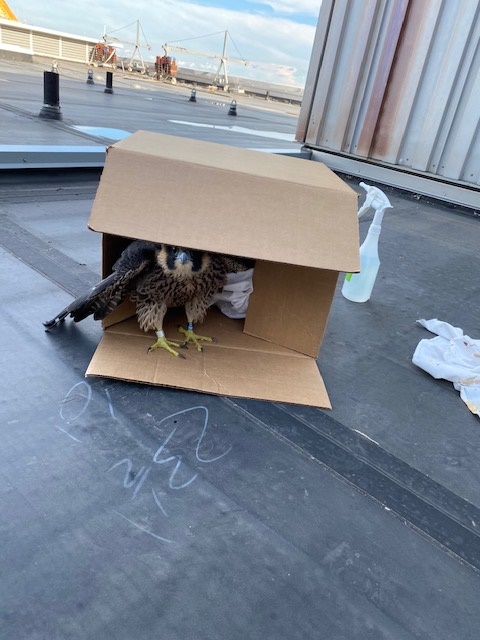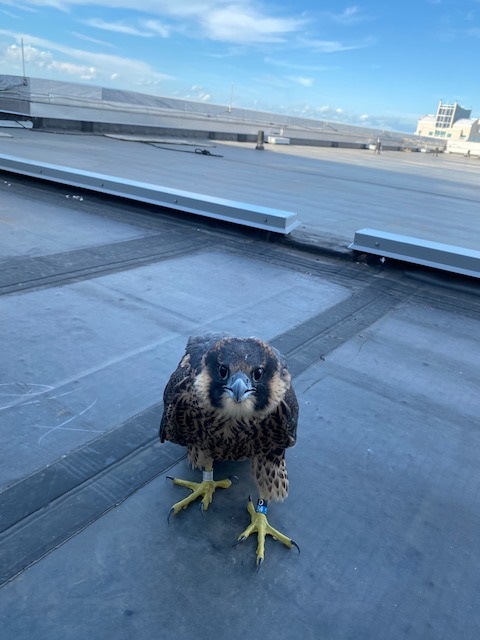 June 25 - All four of the falcon chicks have now fledged. Nadya, the last chick to hatch, was the last chick to fledge, sometime yesterday afternoon. Occasionally you may see shadows above the box and you may hear lots of vocalizations because the chicks are nearby, but they will spend less time in the box as they now learn to fly and hunt.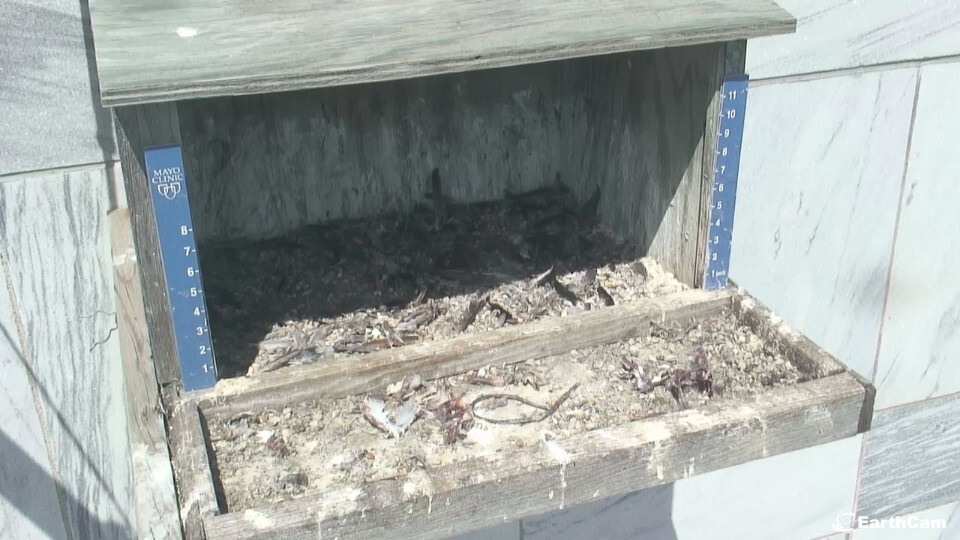 June 21 - At 7:30 a.m. today, all four chicks were in the nest box, but by 10:00 a.m., two of the chicks had fledged. Annabelle and Orville were the two chicks to leave the nest box, and one of them later returned. This photo, taken shortly after 10:00 a.m., shows Glory and Nadya still in the box, perhaps watching their brother and sister trying out their wings.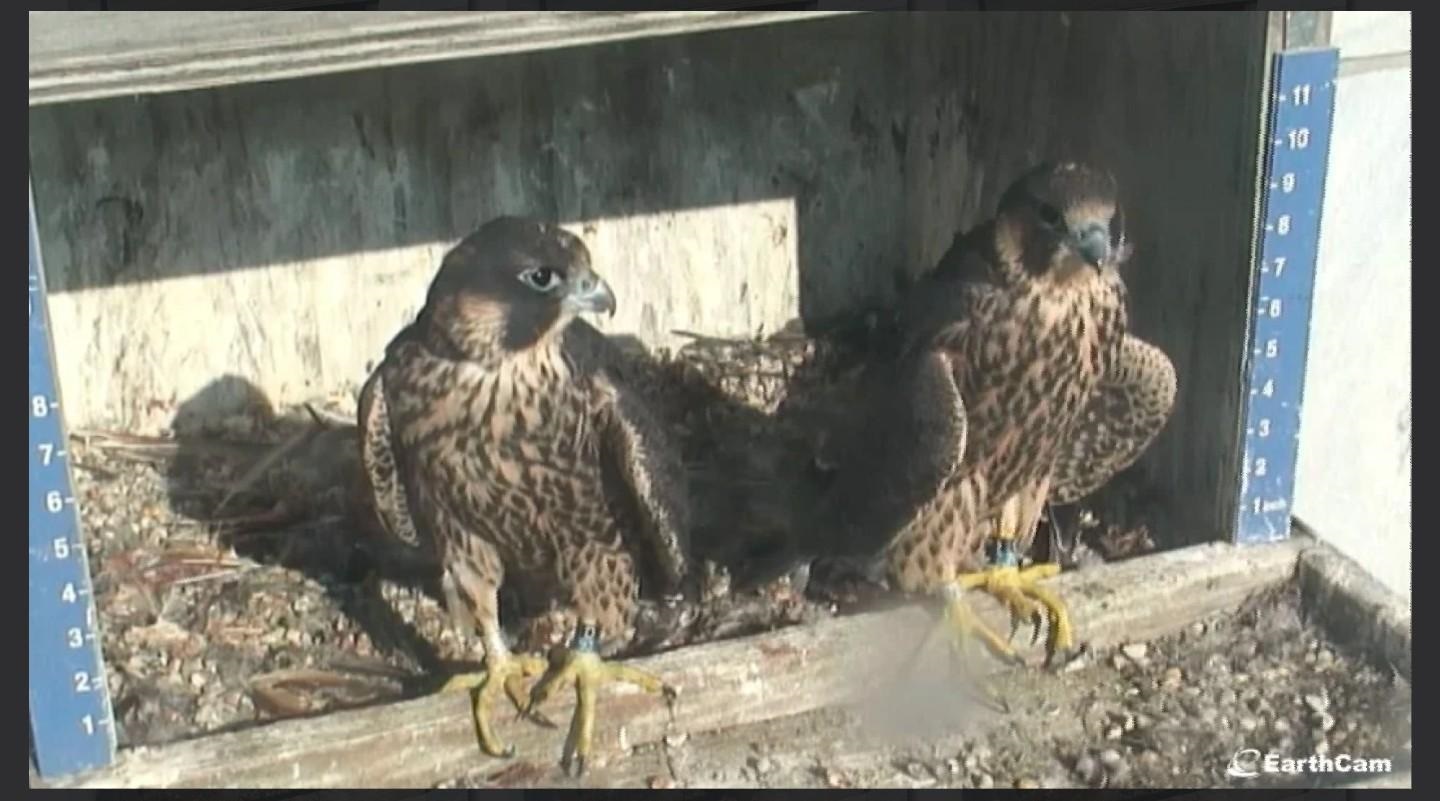 June 11 - As the chicks continue to grow, they are becoming even more curious about the world beyond their nest box. If any one of them would happen to tumble off the ledge, there is a subroof about 20 feet below. In fact, when the chicks fledge, they typically land on the subroof below before attempting to fly above the box. This is the nature of flight.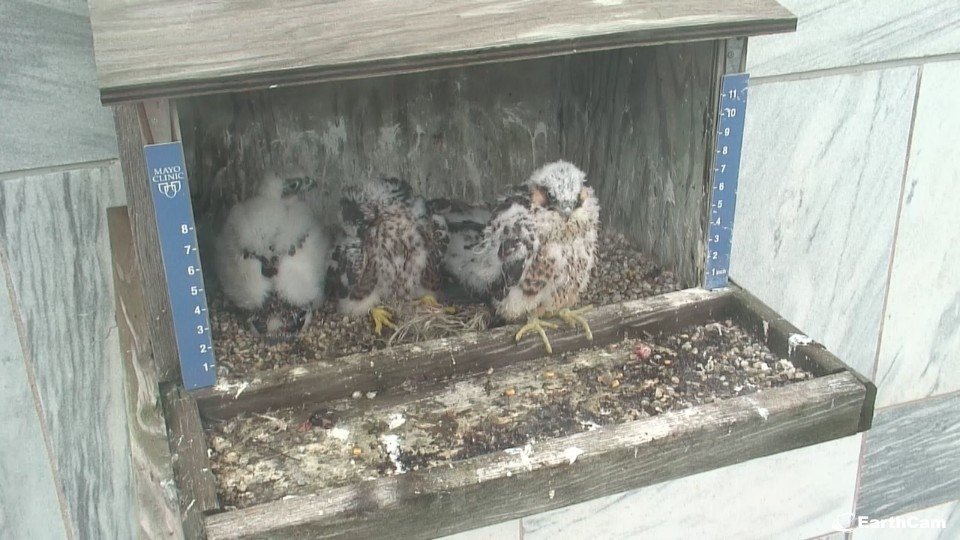 June 9 - These photos show how quickly the four chicks are growing. Every day you can see more dark feathers on the chicks. Compare the photos to the one below, taken only one week ago! When the chicks aren't huddled together, you can also see the difference in development between the older three chicks and little Nadya, who hatched just 2.5 days later.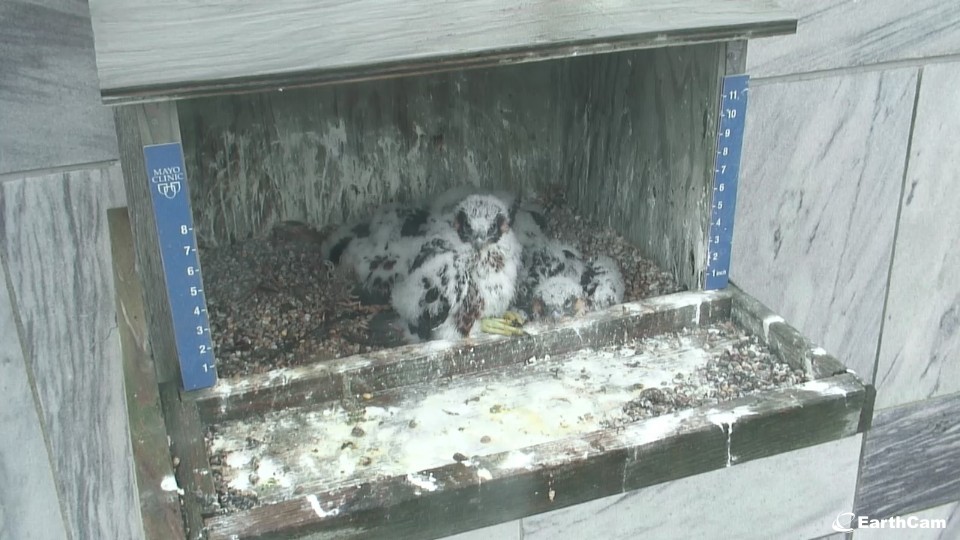 Orville (male)
Annabelle, Glory and Nadya (females)
The names Orville, Annabelle and Glory were chosen from the many names submitted to the Heritage Days email address in recent weeks. Jackie Fallon named the smallest chick Nadya, which means "hope" in several languages. Jackie, who has banded every chick that has fledged from Mayo Clinic, asked for the opportunity to name one chick to honor Mayo Clinic and all those who work here, particularly in these challenging times. Thank you, Jackie!
June 2 - This photo shows the four chicks, getting bolder each day and even venturing out onto the ledge.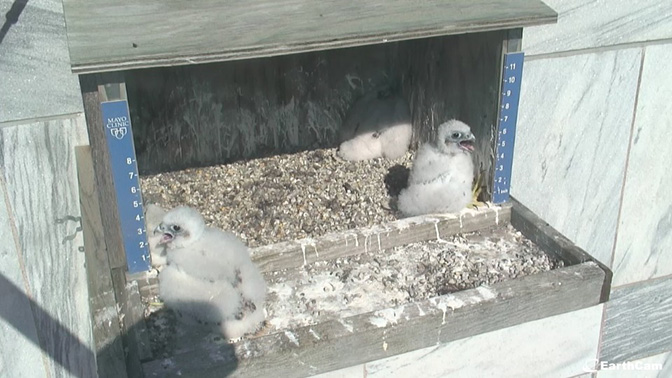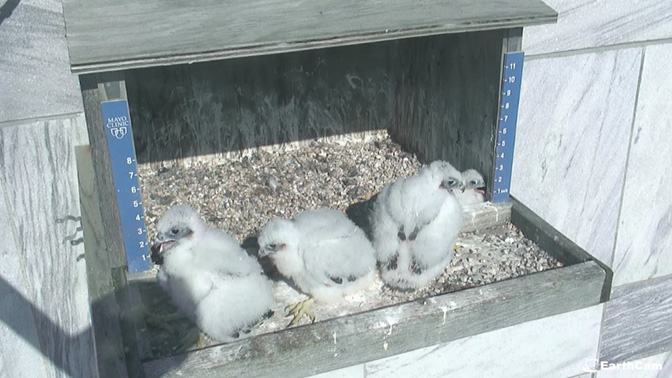 May 27 - Now that the chicks are older, they no longer need to be kept warm by their parents but they still tend to huddle together in the nest box. They are growing rapidly and will be ready for banding and naming next week.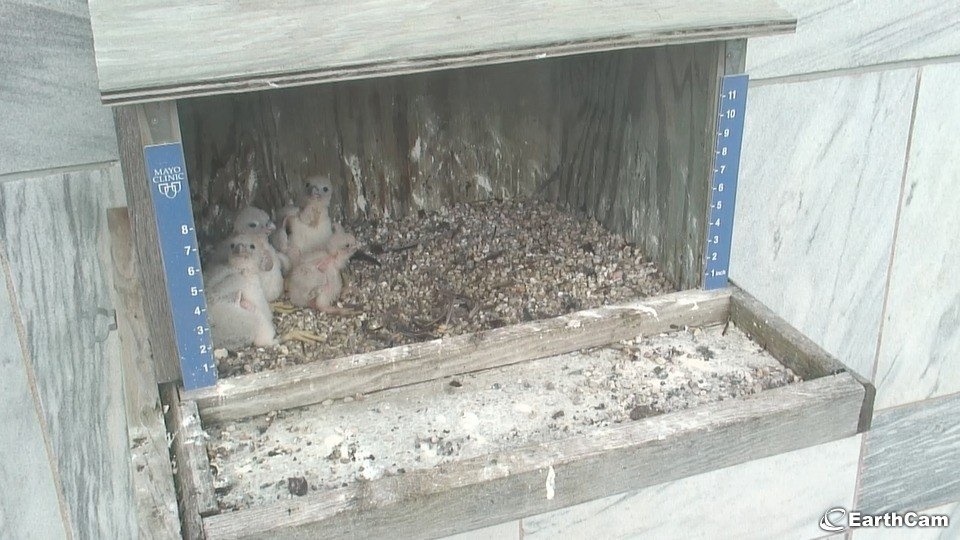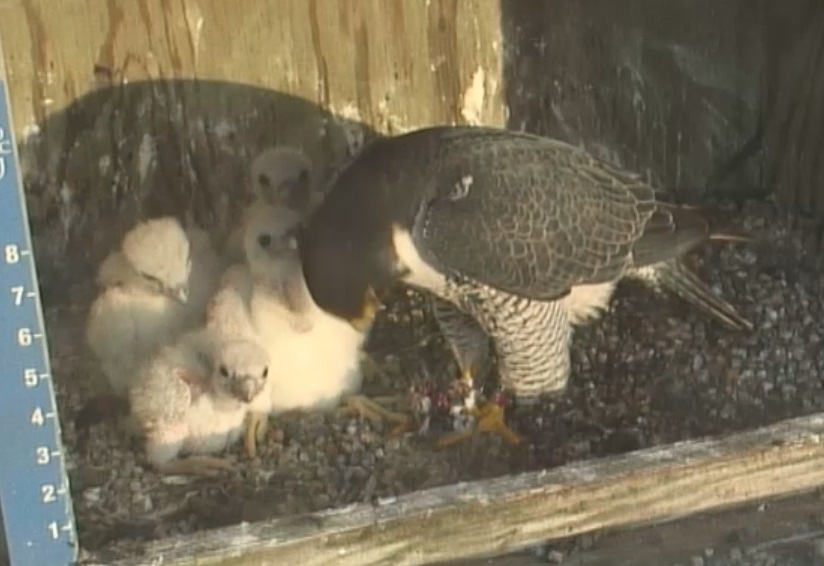 May 18 - We've had rainy days in Rochester but the falcon chicks are doing well in the nest box. Hattie and Orton are excellent parents!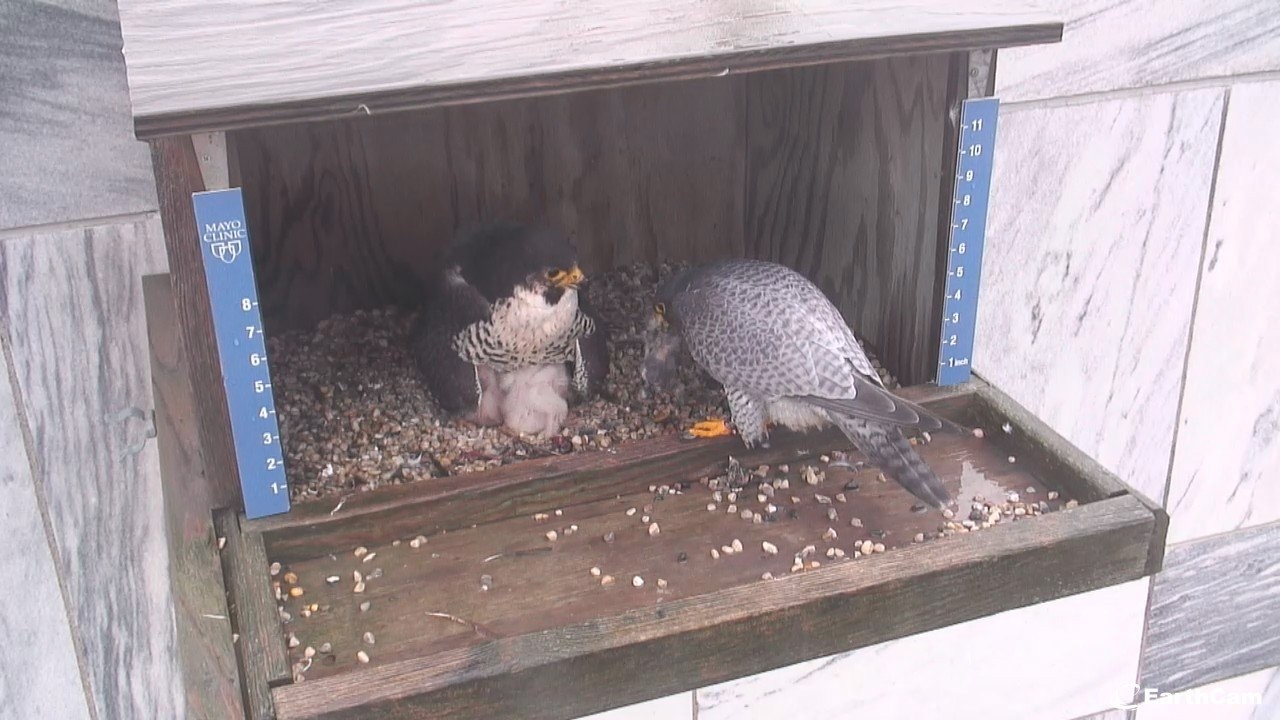 May 15 - Great news! The fourth egg has hatched and all four chicks are doing well. You will notice that the last chick to hatch is definitely smaller than its three siblings who have had several days' headstart on eating and growing. You may also notice that Orton plays a significant role in caring for the chicks. He is an excellent provider and also takes his turn feeding the youngsters.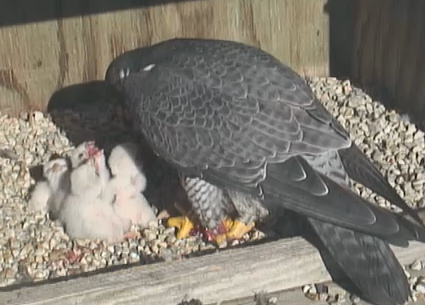 May 14 - The photo below shows the three chicks that hatched on May 12 and the unhatched egg. If that egg doesn't hatch sometime today, we can assume that hatch won't happen. You may recall that Hattie laid one egg earlier than the other three. Both Hattie and Orton had just survived some fierce territorial battles, and it's possible that the first egg was never fertilized.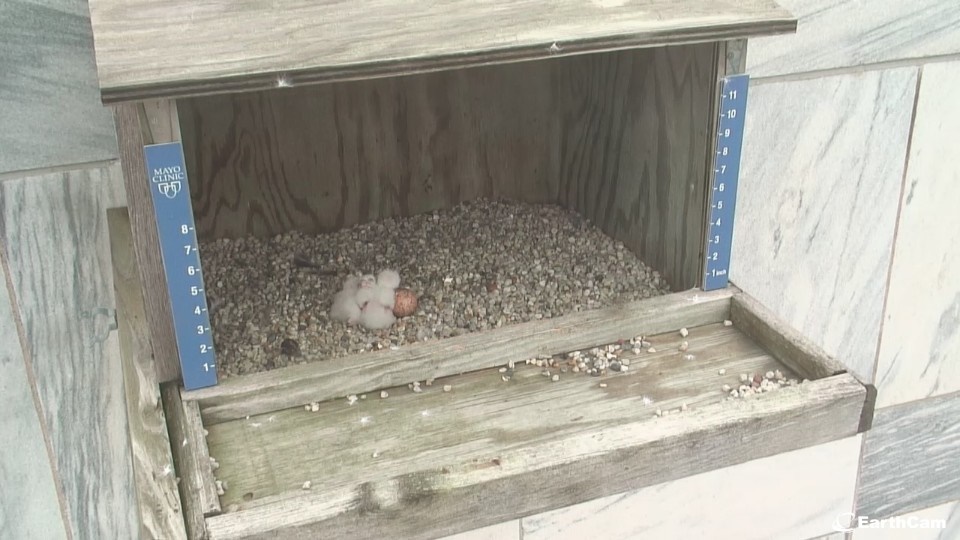 May 12 - As the sun rose this morning, we could see that three of the chicks had "pipped" through their shells, getting ready for hatch. Shortly afterward, it was apparent that one of the chicks had already hatched. The first photo below shows the empty shell, and you can see the small white fluff of the chick tucked beneath Hattie.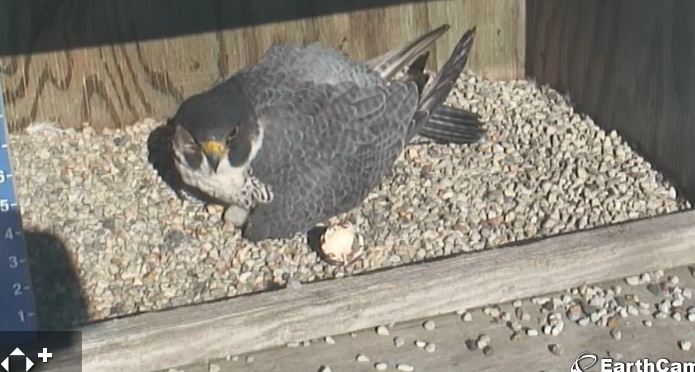 The second photo shows Hattie with the first chick at about 10 a.m.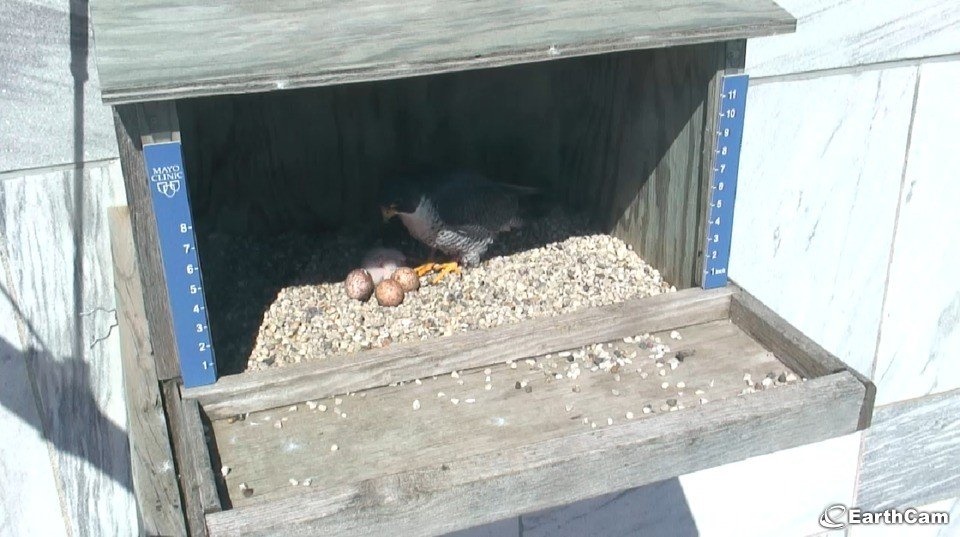 May 8 - All is well in the nesting box in spite of cold overnight temperatures in Rochester. We are looking forward to hatch any time next week!
April 27 - This photo, taken today, shows Orton rotating in the nest box, trying to keep the four eggs covered with his petite body. Remember, adult male peregrines are one-third to one-half the size of adult females.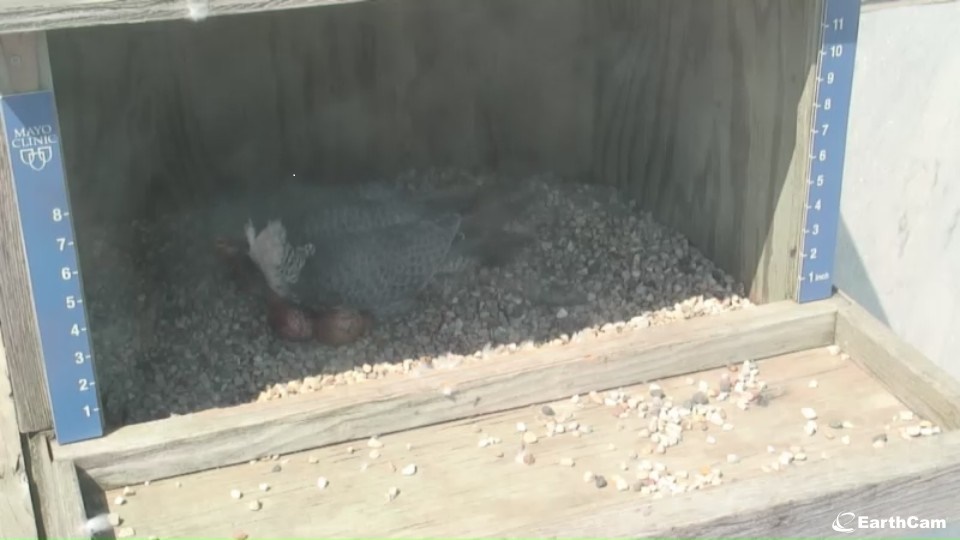 April 13 - Hattie and Orton are taking turns caring for the four eggs in the nesting box. We anticipate hatch around May 13, so mark your calendars and keep an eye on the falcon cam.
April 11 - Sharing the good news that we now have four eggs in the nesting box.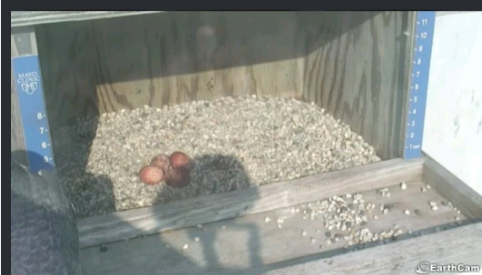 April 8 - We have a third egg as of about 9:15 a.m.! This photo shows Orton standing guard.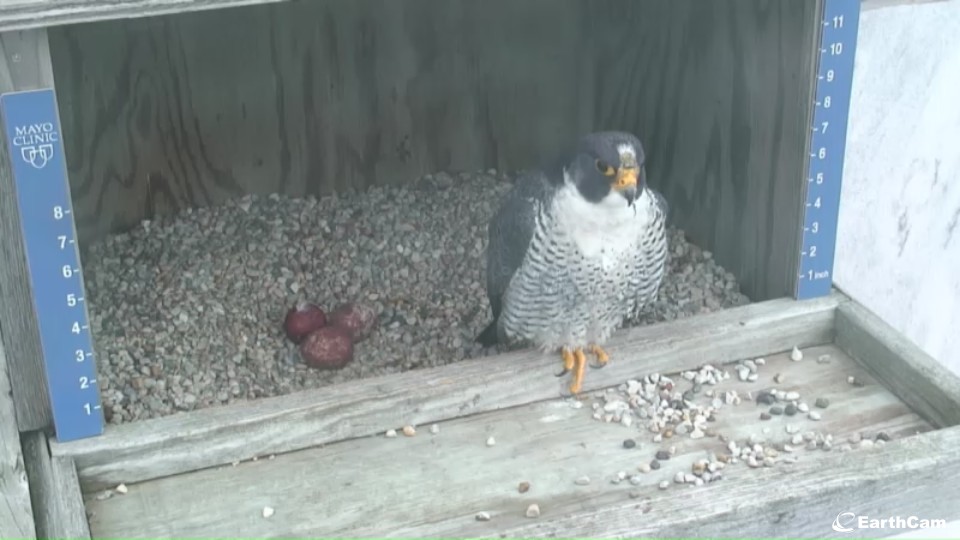 April 5 - Hattie laid a second egg this evening at about 7:20 p.m.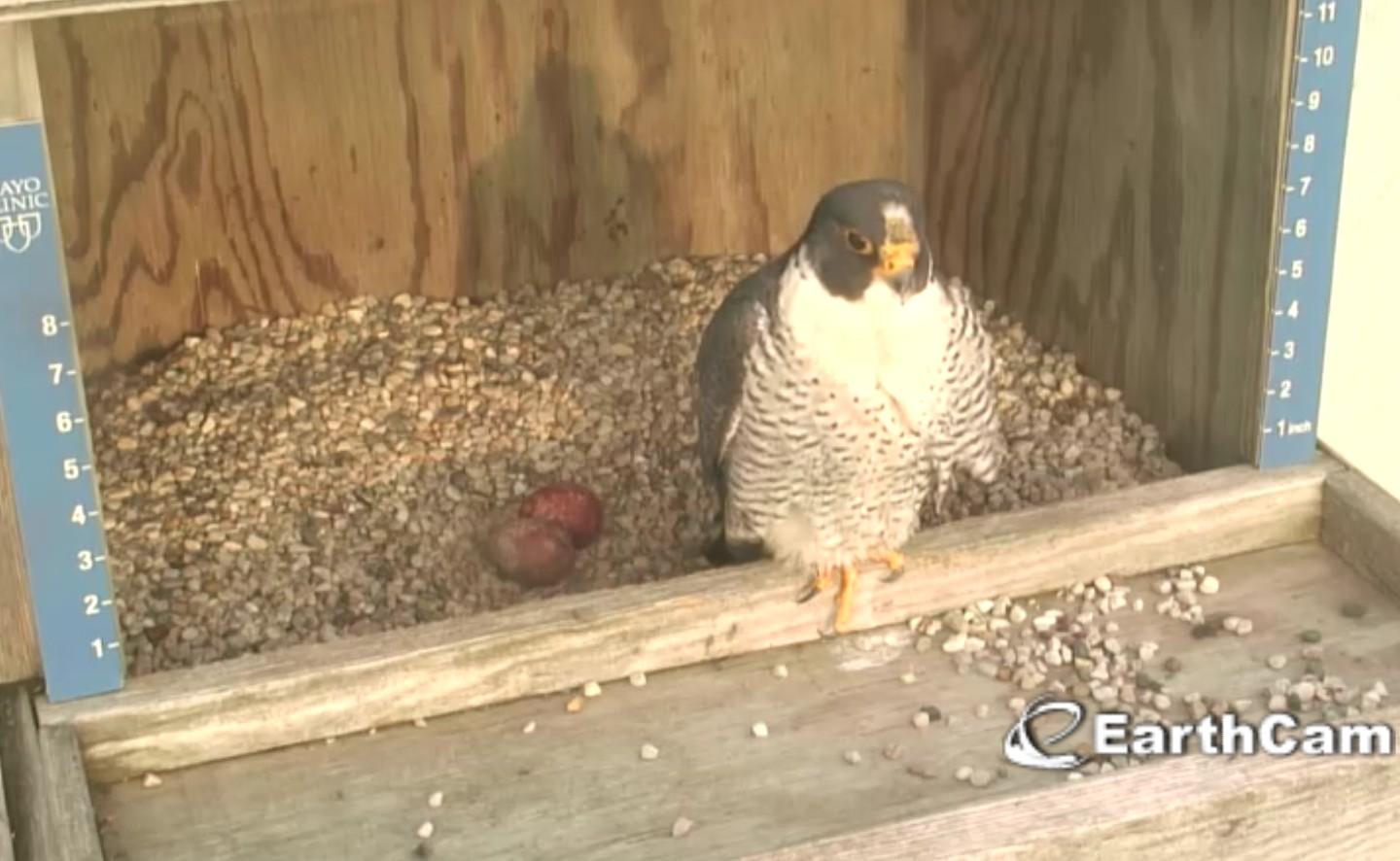 April 3 - Typically falcons lay eggs every other day. There are several possible reasons that Hattie has laid only one egg so far. 1) The first egg may have been an anomaly and she will actually begin to lay again this weeked. 2) The stress of the fierce territorial battles may have taken a toll on the hormones of one or both of the adults. At this point, we are taking a "wait and see" attitude.
March 30 - Hattie has laid her first egg! The egg is brown/maroon in color and is situated near the front of the box. Hattie and Orton will not brood (incubate) the eggs until the second to the last one is laid so don't be alarmed if you see that the egg(s) are exposed at this point. Keep an eye on the falcon cam and visit this website often for more updates.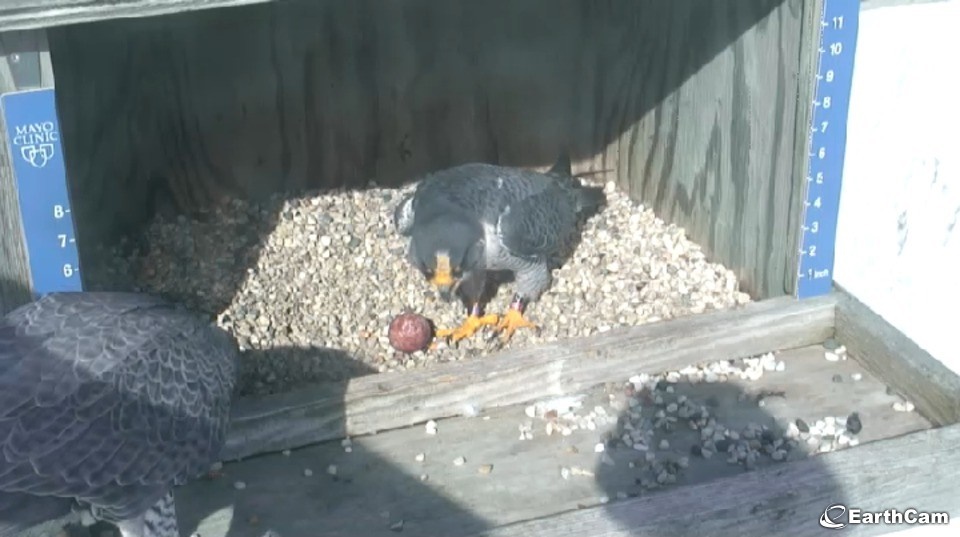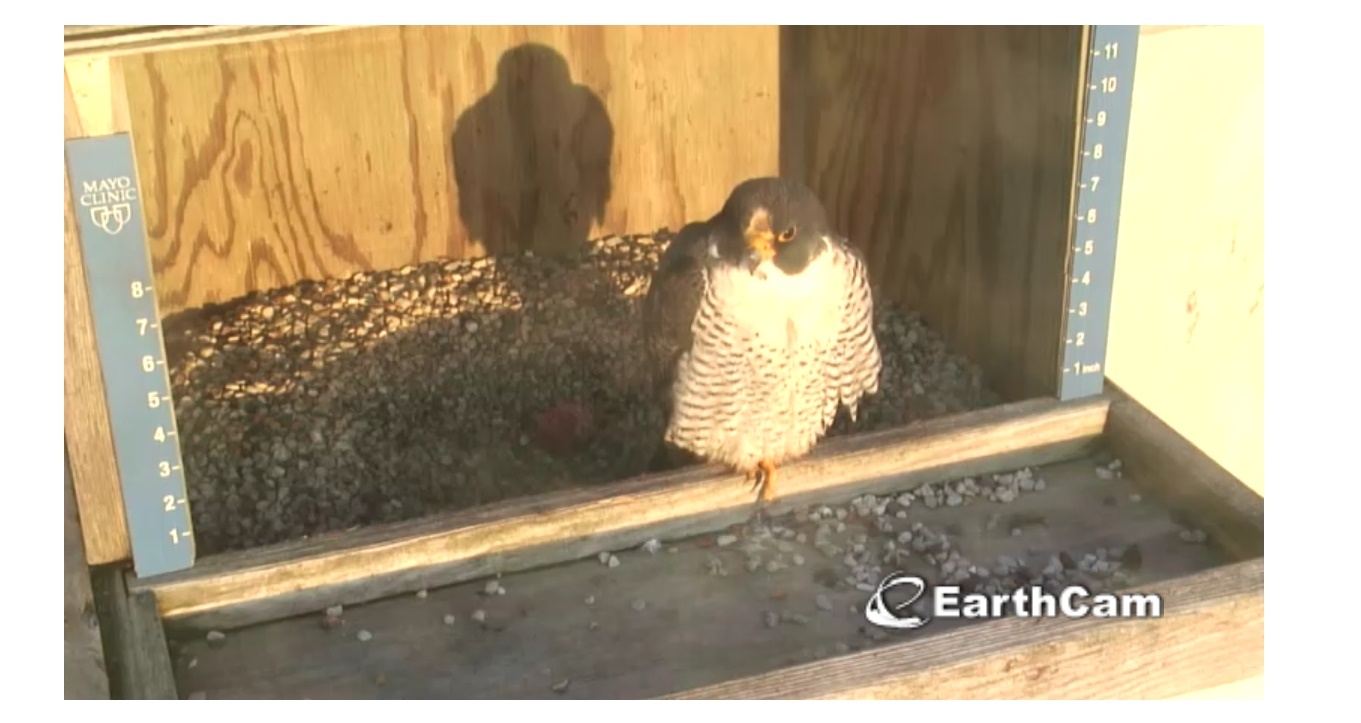 March 24 - This photo shows Orton at the nest box with a laceration above his beak. It was inflicted during the territorial battle last week. We will do our best to observe him to learn the severity of the laceration. In the past week, territorial battles in the upper midwest have resulted in injuries to several peregrines, including one injury that was fatal.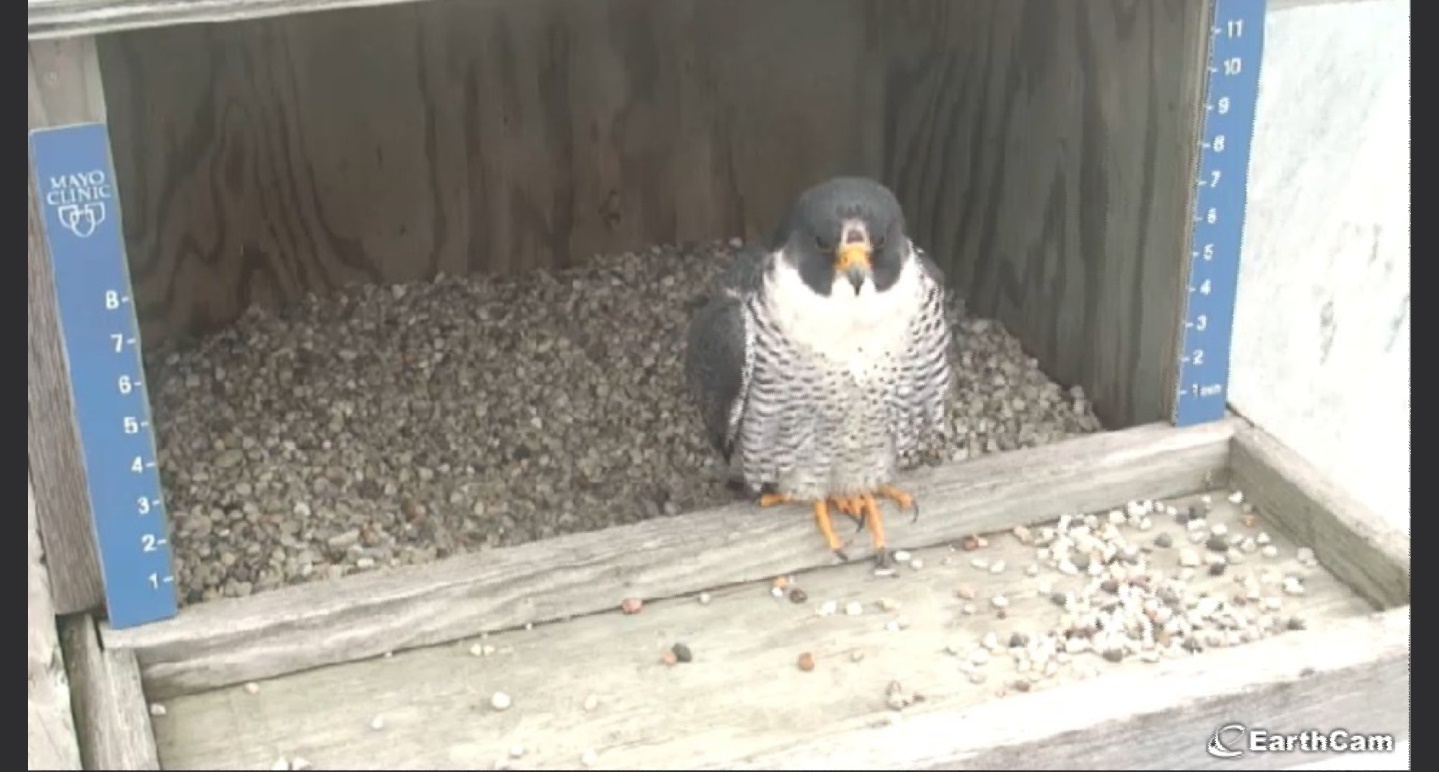 March 16 - Orton and an unidentified young male were engaged in a fierce territorial battle on March 14. The aerial battle lasted for about 1.5 hours. Orton was exhausted after the battle but it appears that he has won the territory. Orton and Hattie were both observed in the nest box on March 15.
March 6 - Orton (below right) has been seen often at the nest box. Hattie is more easily identified because she has scarring near her right eye from territorial battles in 2019. Female peregrines are also larger than males.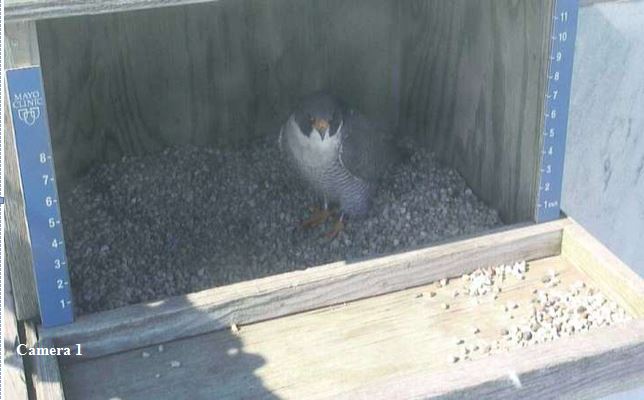 February 28 - Hattie and Orton spent the winter in the Rochester area and have been seen in and around the nest box.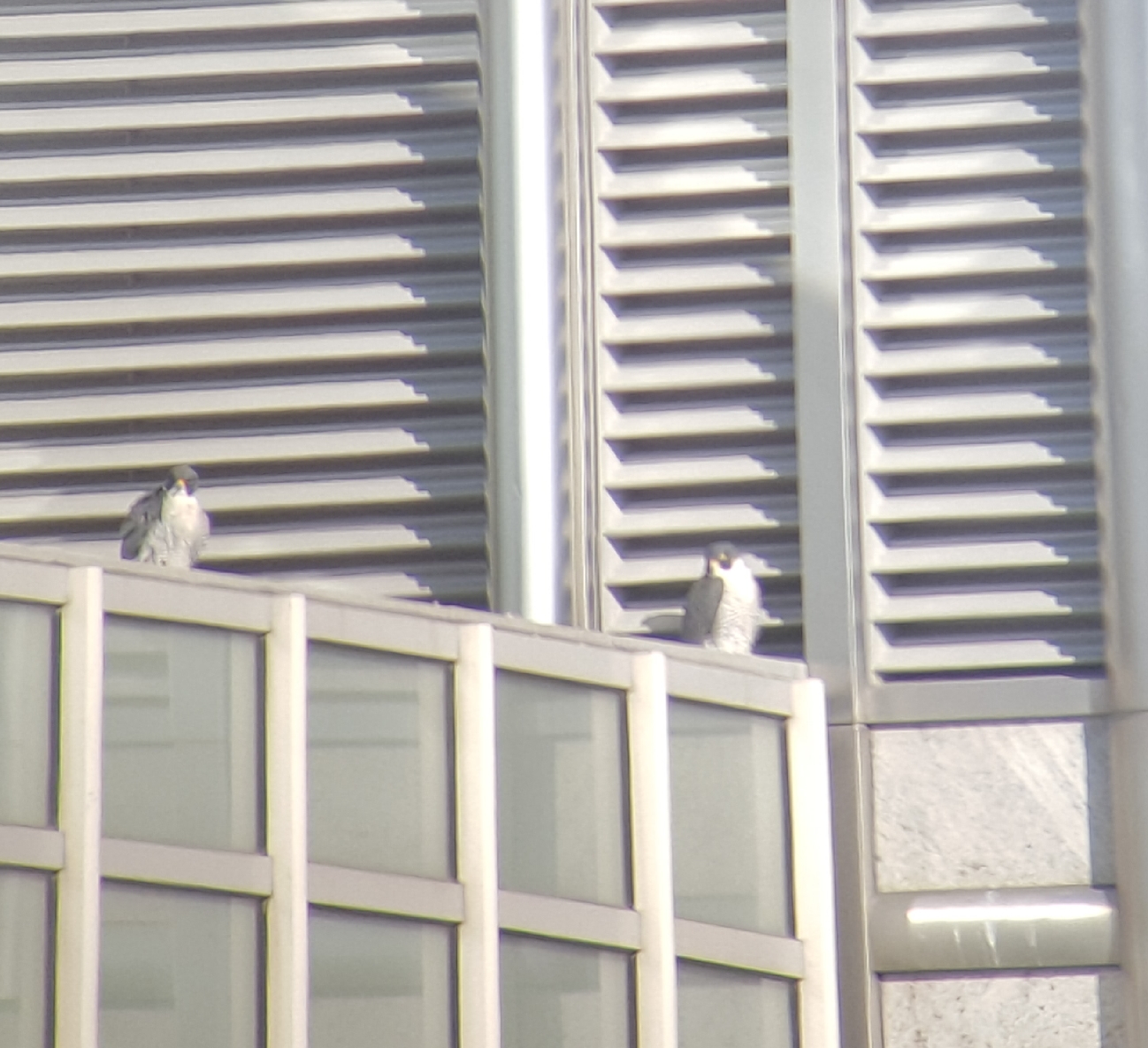 The photo shows them on the Gonda Building this morning.
Orton (below) has also been working on a scrape -- a depression in the pebbles where eggs can be laid.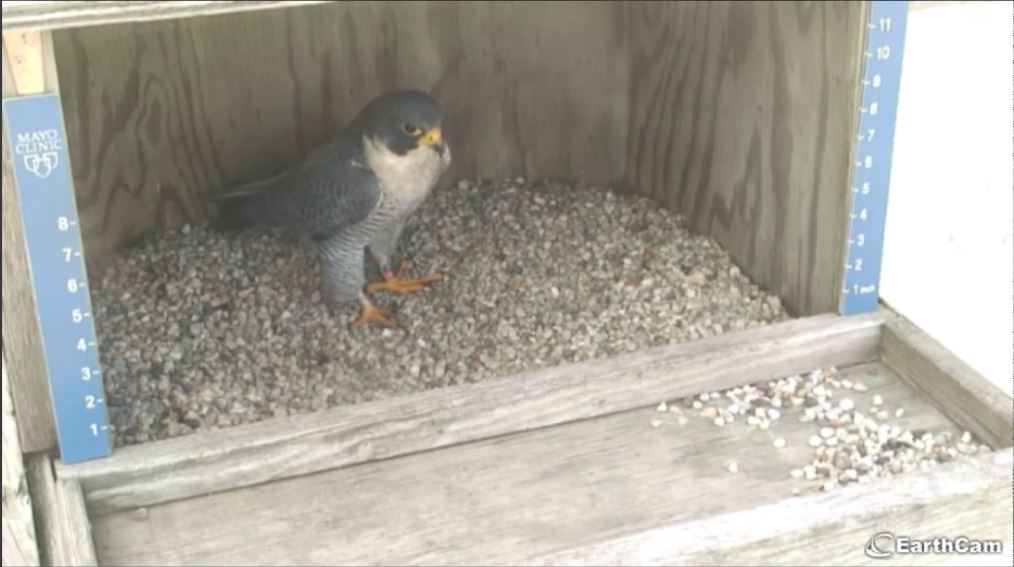 Another female has been seen on territory and may be vying with Hattie for the nest box.
Please check this website often for more updates.
2020 Meet The Falcon Episodes
2019 in Review
The entries below recap the events of the 2019 nesting season at Mayo Clinic in Rochester, Minnesota.
The adult peregrine falcons are named Hattie and Orton, the resident pair since 2016. Hattie is four years old and is named in honor of Hattie Damon Mayo, the wife of Dr. William J. Mayo. Her name means "keeper of the hearth and ruler of her household." Orton is a 5-year-old male. He fledged from City Hall in Minneapolis and is named for the Minnesota town where the rose granite used in City Hall was quarried.
June 20 - Blizzard was seen on the roof of the Mayo Building mid-afternoon, doing just fine and in close proximity to her parents.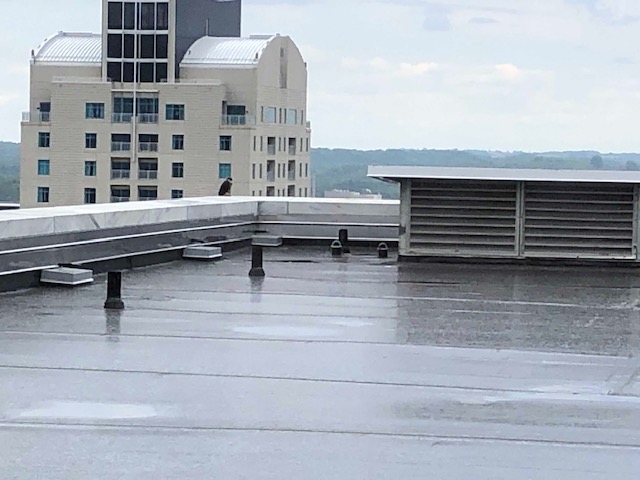 June 19 - At 42 days old, Blizzard left the nest box at 7:30 p.m. for her first flight. During the past few days, Hattie and Orton had been working with her to prepare her for this adventure. We won't see the birds on camera as often now, but we may hear them as they teach Blizzard to fly and hunt for herself.
June 18 - Blizzard is often venturing out onto the ledge of the nest box and testing how the wind feels underneath her wings. She may attempt flight later this week.
June 12 - It's amazing to see how much Blizzard has grown and changed in color during the last week. Within the next week to 10 days, it's very likely that she will make her first attempts at flight.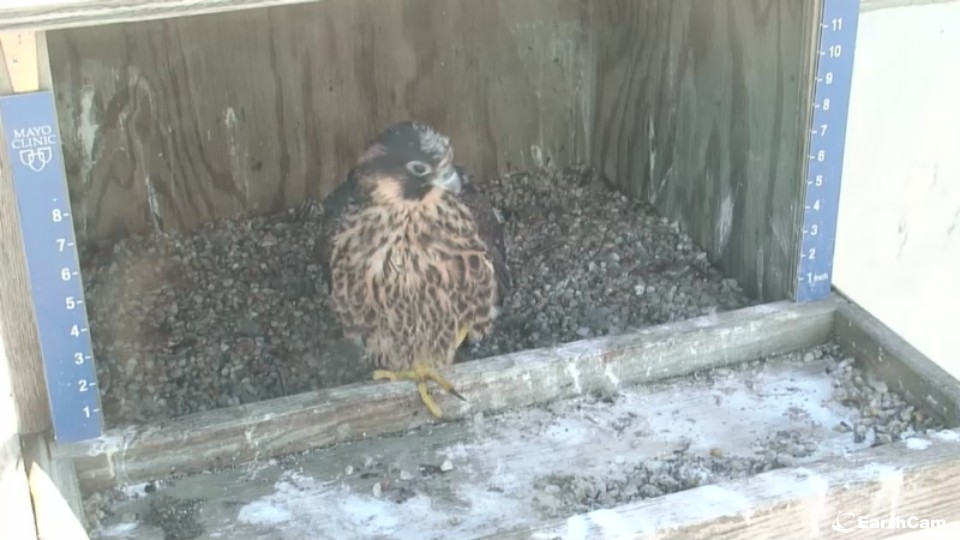 June 5 - Blizzard is changing every day, and is curious about what is beyond the nest box. Don't worry; there is a ledge beneath the nest box that is not seen on camera. If Blizzard tumbles off the ledge, she won't fall very far.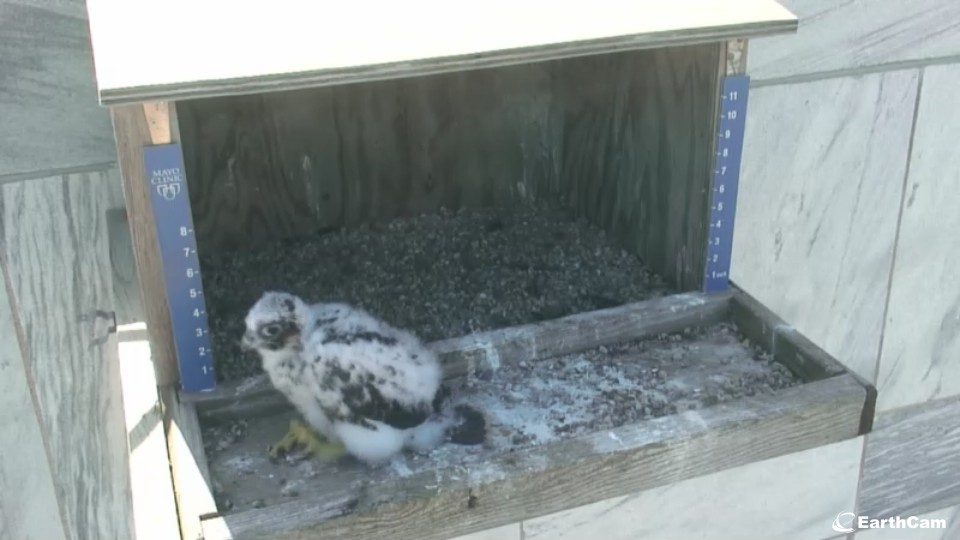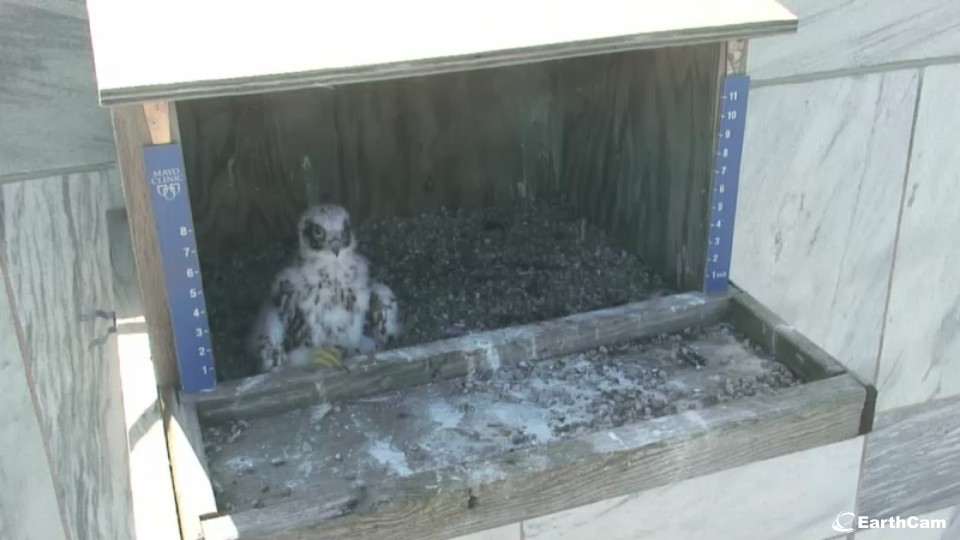 June 3 - Blizzard is growing quickly! She is more speckled now and will become more brown in color over the next two weeks.
May 29 was a big day in the life of our falcon chick. At 21 days old, it was time for the chick to be banded and named. The chick was removed from the nest box and brought to Geffen Auditorium in the Gonda Building.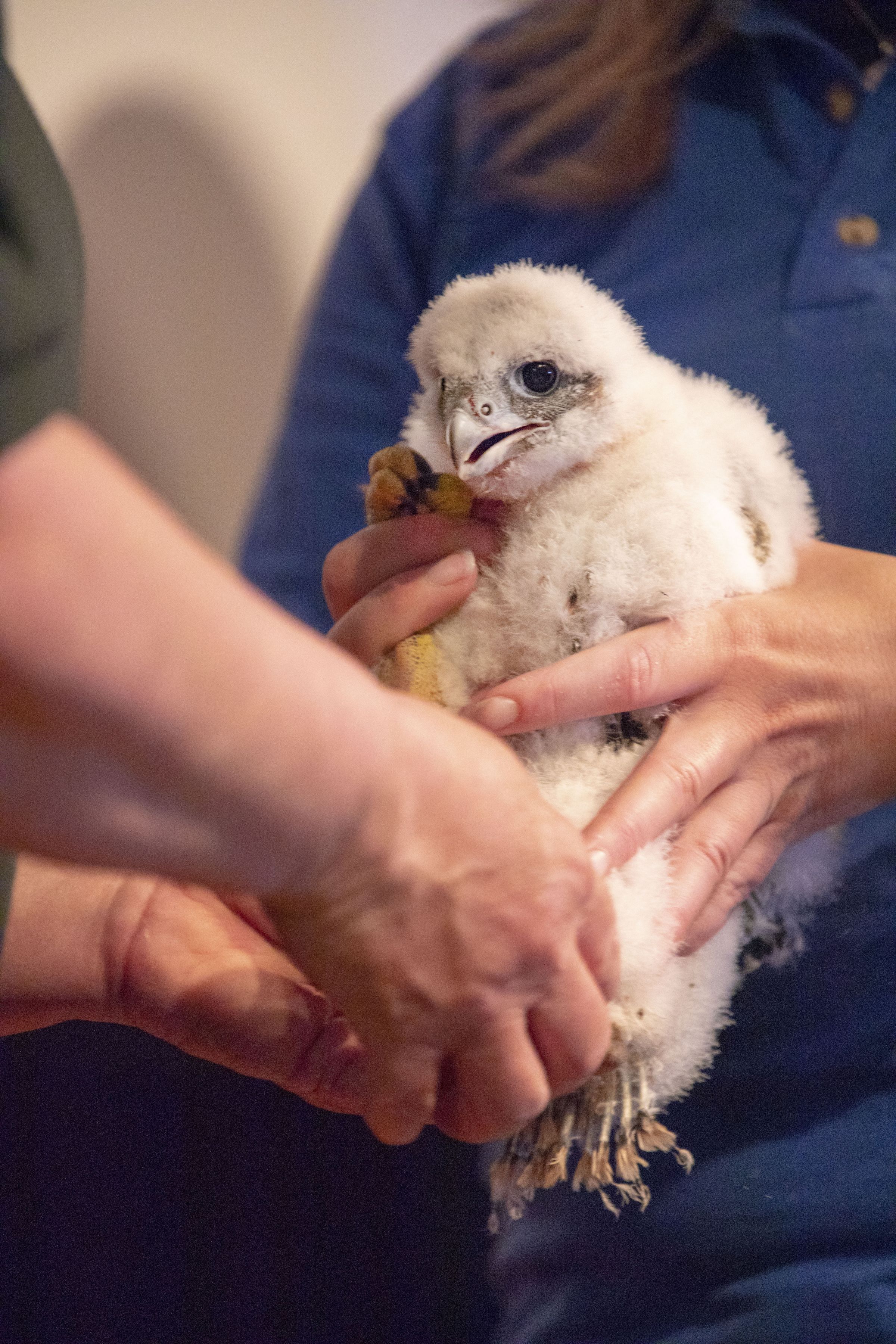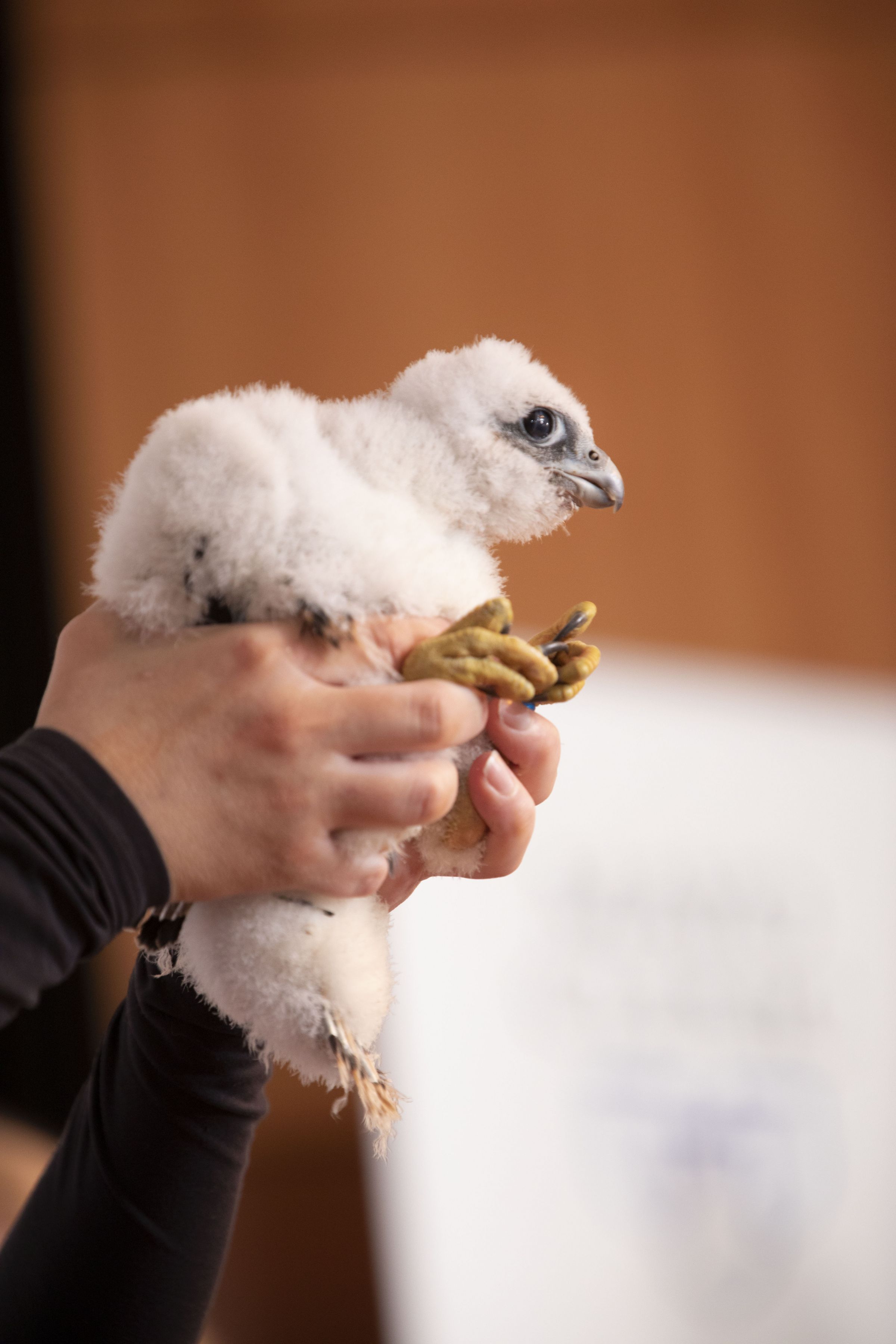 The audience watched as Jackie Fallon from the Midwest Peregrine Society attached an identification band to each leg of the chick. Jackie announced that the chick was a strong, healthy female. Logan Allison, a young falcon fan from Waterloo, Iowa, was invited on stage to draw a name from the more than 500 suggestions submitted, and the name "Blizzard" was chosen for the young chick. Blizzard was returned to the nest box where Hattie and Orton will continue to provide food as she prepares for fledge.
The chick is no longer in need of being brooded so Hattie and Orton are spending less time in the nest box now, except for times of feeding. Blizzard is also in less need of frequent feedings and we will begin to see her self-feed within the week.
May 22: The past few days have been windy and rainy, but Hattie and Orton are keeping the chick well-protected from the elements. Here's a look at feeding time at 9 a.m. today.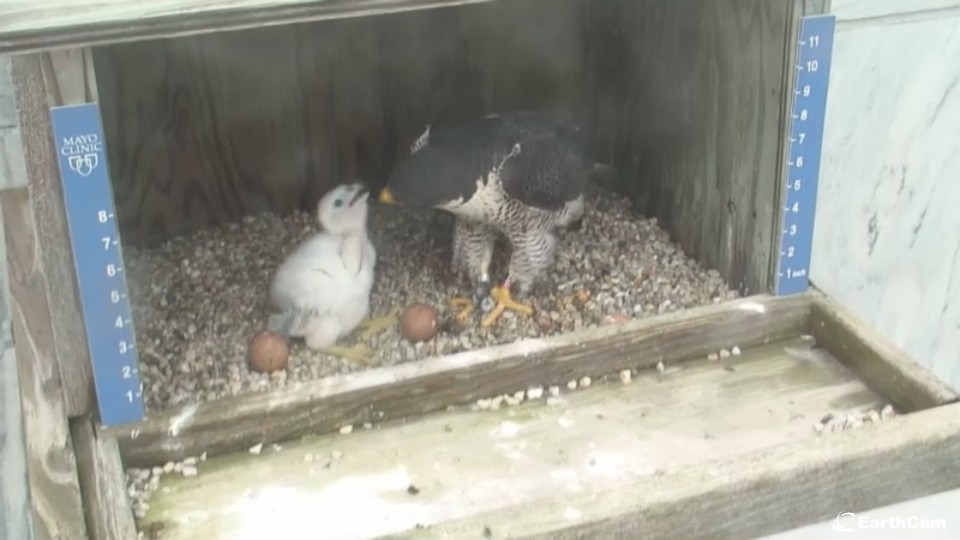 May 20: Our little one is growing fast. At 13 days old, the chick can be seen much more often on the camera as Hattie and Orton will sometimes leave it unattended in the nest box for short periods of time. The chick is quite curious about its surroundings!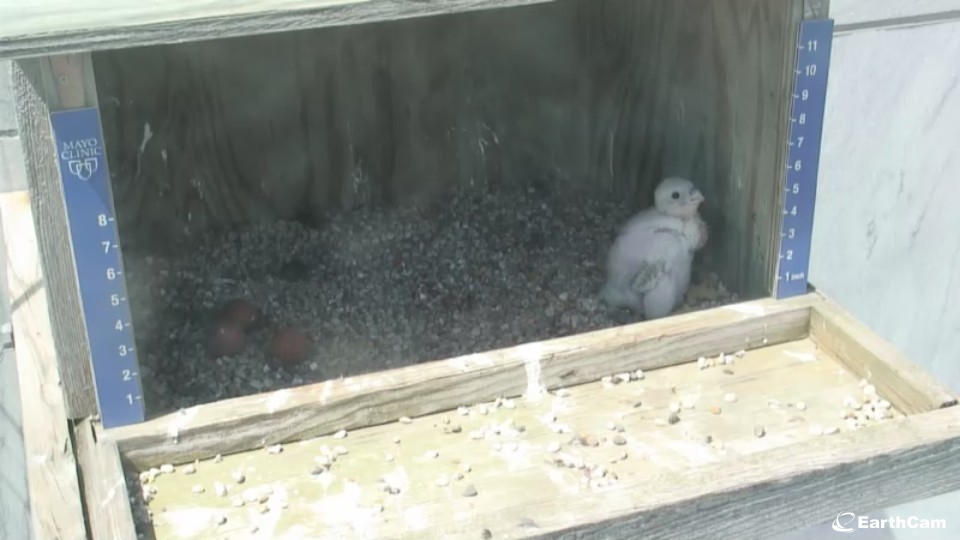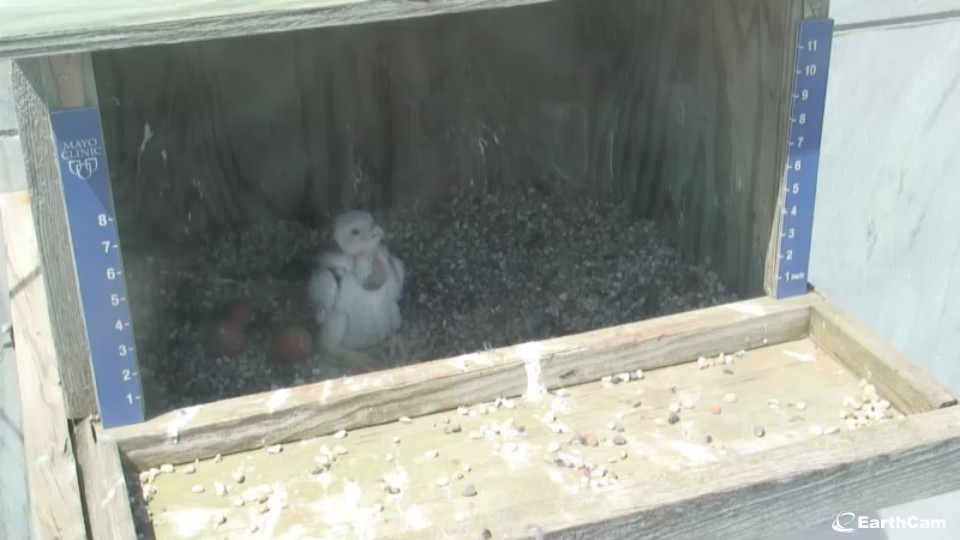 May 13: It's been nearly a week since the first egg hatched and that chick is doing very well. Hattie diligently cared for and protected the young chick throughout the cold, wet weather we had last week. It appears that the other three eggs will not hatch; the eggs will be removed from the nest box on the date of the Banding Event, May 29.
May 7: The first egg has hatched!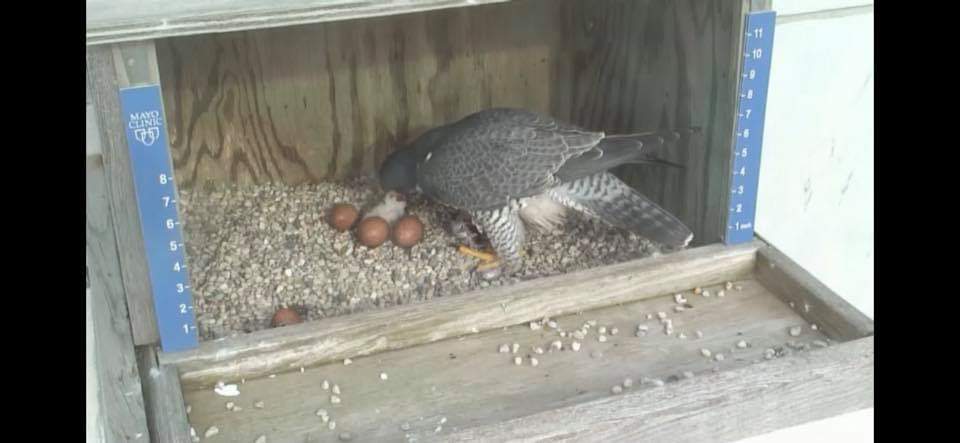 April 29: Hattie and Orton are diligently caring for their four eggs, taking turns around the clock. If all goes well, we can expect hatch to begin around May 6.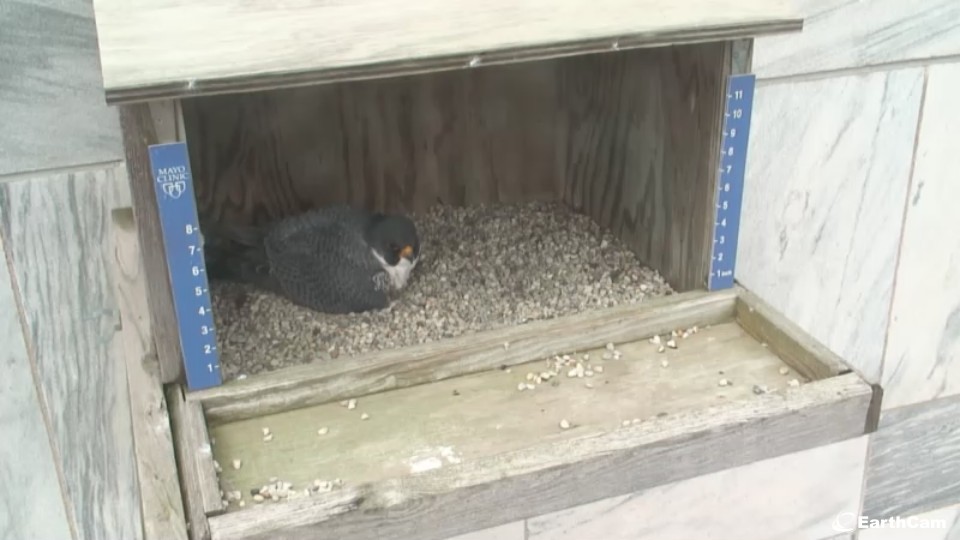 April 4: Hattie and Orton now have four eggs to care for.
April 2:
We now have three eggs in the nest box.
April 1: The second egg was laid over the weekend.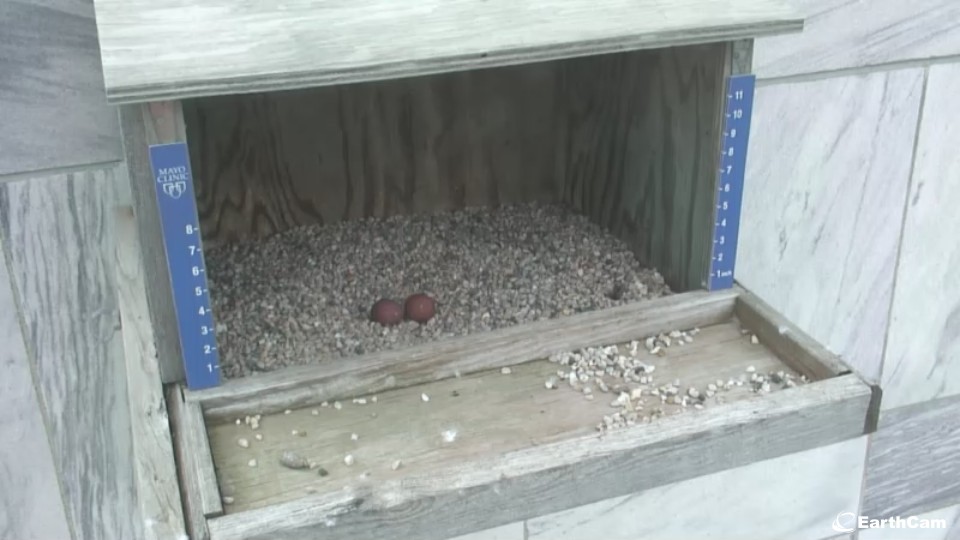 March 28: We have the first egg!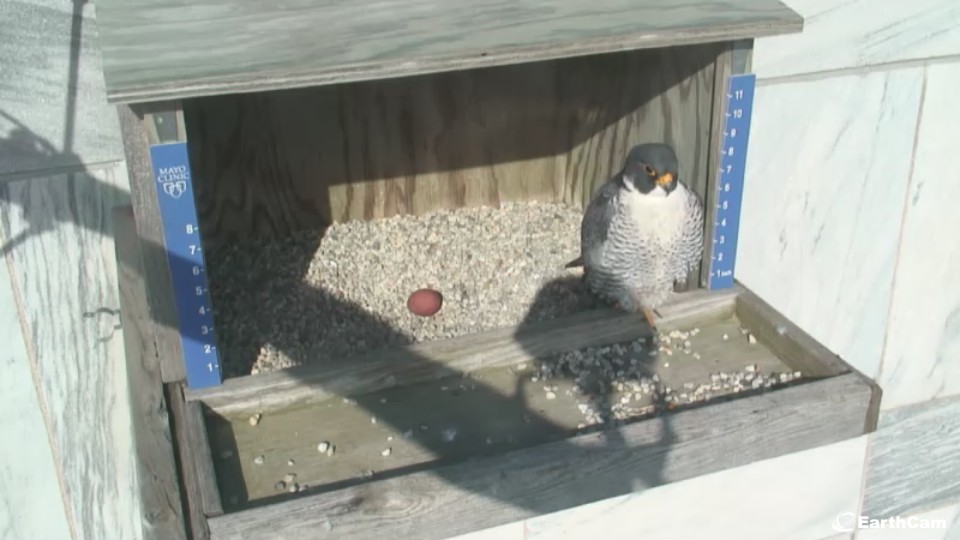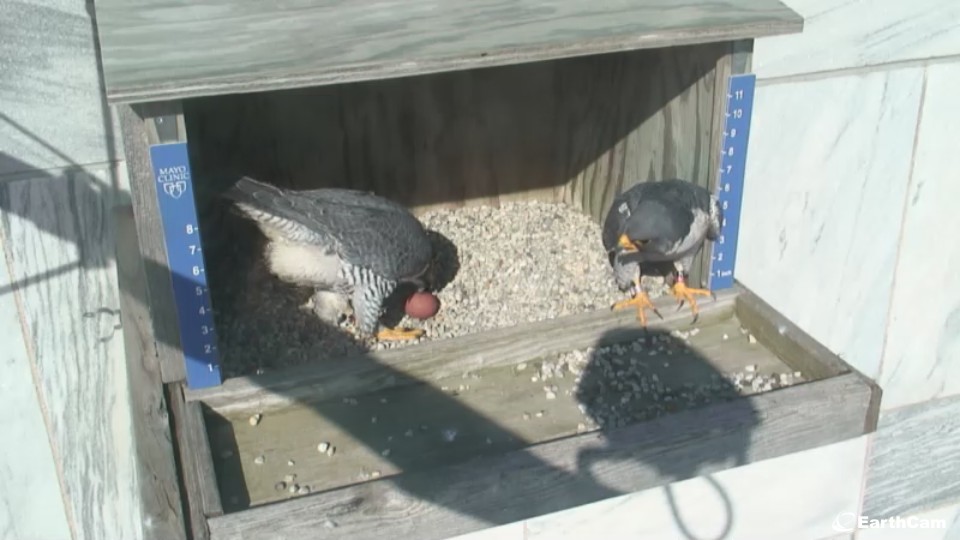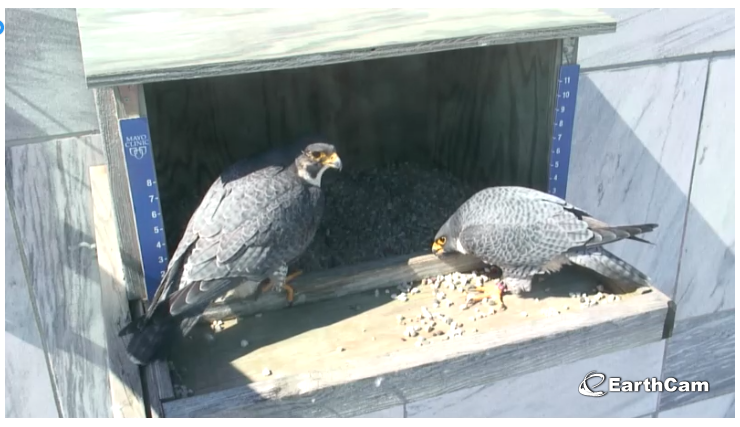 March 25: This photo (right) was taken around noon, showing Hattie and Orton at the nest box. We could see the first egg any day.
March 19: It appears that there are now only two birds on territory. Jackie Fallon from the Midwest Peregrine Society has confirmed that the female is Hattie and the male is Orton.
February 20: Three birds were observed on territory. Hattie and Orton were both back and actively defending the site from a third bird.
Falcon Facts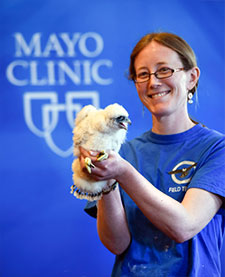 The peregrine falcon is a raptor – a bird of prey that hunts and feeds on other animals, typically birds.
The peregrine falcon is a crow-sized bird (1-2.5 lbs.) with long, pointed wings. Young birds, which are brown and cream colored, are heavily marked with streaks. Adults have a blue-gray back with a light, striped underside and

a dark-colored head.

Its Latin name, Falco peregrinus, means "wanderer."
The male is about one-third to one-half smaller than the female.
The birds typically mature at two years and can live to nearly 20 years old.
Peregrine falcons can migrate more than 15,000 miles per year.
The peregrine falcon is the fastest member of the animal kingdom, able to reach speeds over 200 mph in spectacular dives called a "stoop." It lives on every continent except Antarctica.
The falcon has long been associated with European and Middle Eastern royalty. Records of the sport of falconry (using a trained raptor to hunt wild game) date back more than 4,000 years.
Historically, the peregrine falcon preferred to nest on high cliffs near water. Today, the bird is also found on towers, bridges, and tall buildings such as those found on the Mayo Clinic campus in downtown Rochester.
Where are they now?
A look at some friends from the Mayo Clinic Peregrine Falcon Program
Epic - Epic is one of two females that hatched from Mayo Clinic in 2017. (The male was named Lucky Lindy.) Epic was seen at The Colonnade in Golden Valley, Minnesota, in February 2020 but was displaced when the resident female (unbanded, approximately 7-8 years old) returned on March 1. Epic is now nesting at the Anoka-Champlin Mississippi Bridge in the Twin Cities area (see below).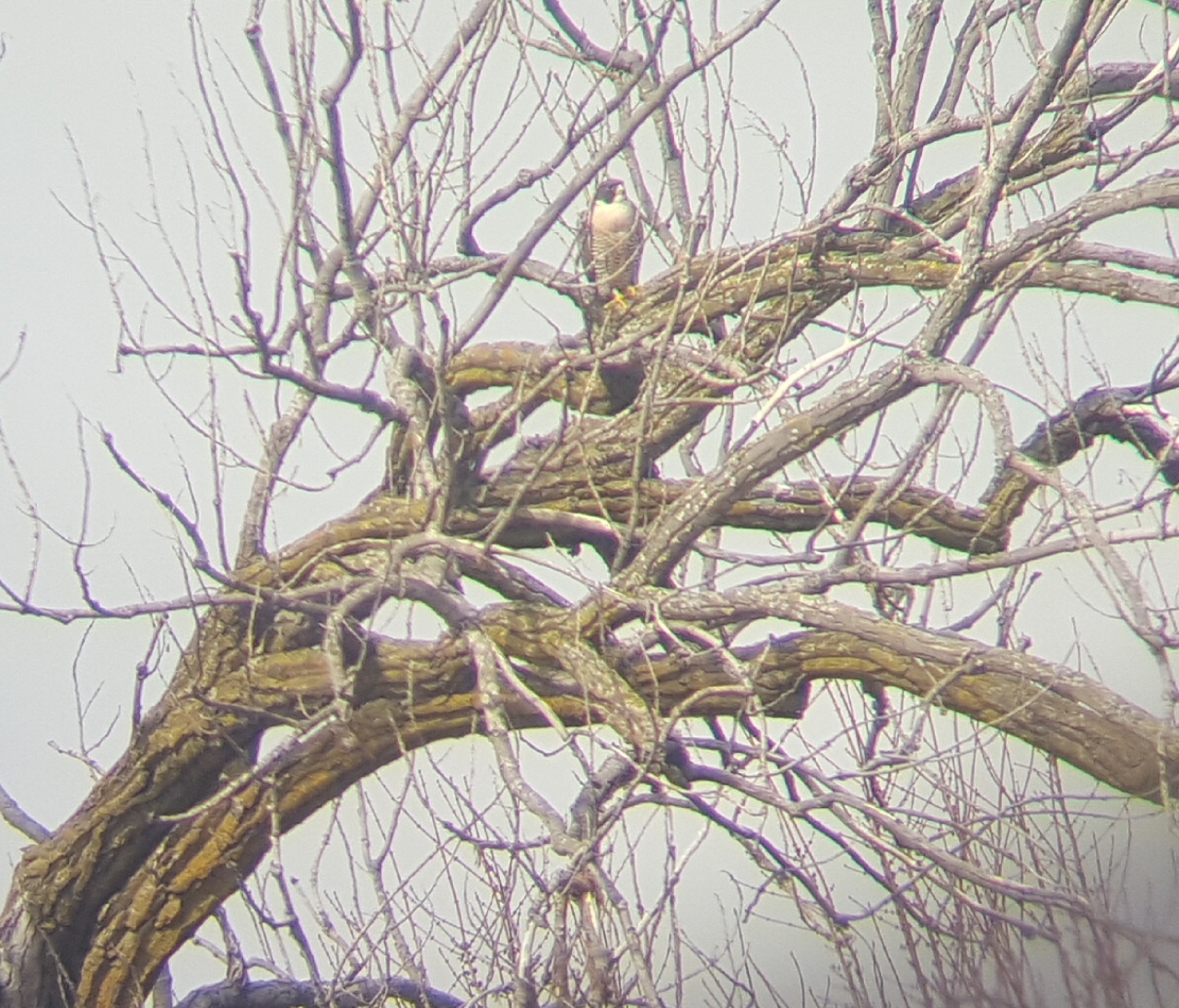 Sota - Hatched from Mayo Clinic in 1994, he was found in downtown St. Paul, Minnesota, in 1998, nesting with a female named Meg. They stayed together until 2005.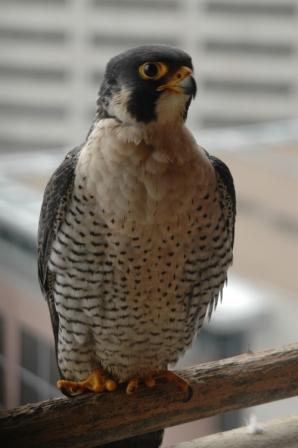 Then Sota partnered with Jill (at right) from 2006-2012. In his lifetime, Sota produced 34 chicks. Along with being a pro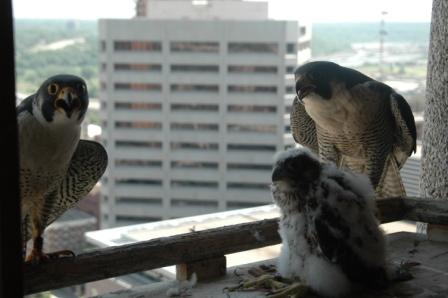 lific father, he was quite a survivor, since when he was found in 1998 he was missing four of his eight toes (and doing just fine).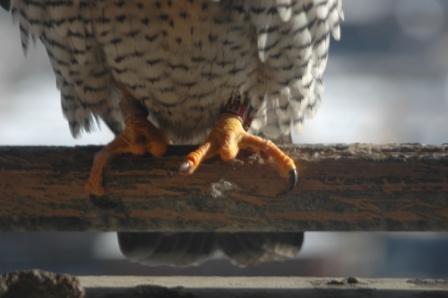 We suspect that frostbite caused the loss of the toes since he was known to spend winters in the city. The loss of the digits didn't cause him any difficulties. He was an excellent provider to his mate and offspring. Sota lived to be nearly 19 years old. (Photos copyright Midwest Peregrine Society and used with permission)
Triumph -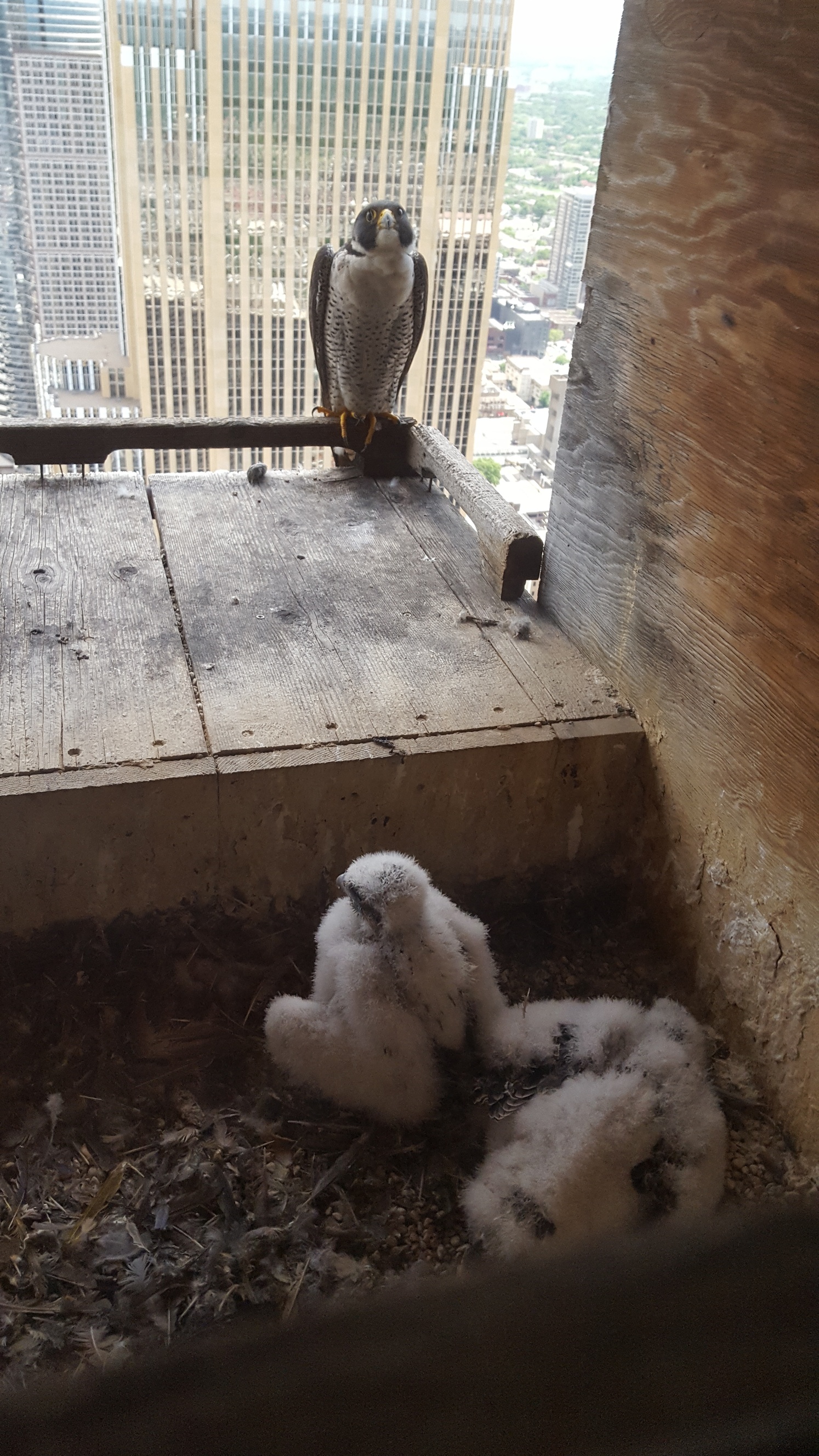 Fledged at Mayo Clinic in 2013, Triumph was the father of three chicks (shown at right) in 2018 in the nest box at 33 South Sixth Street Tower (formerly International Multifoods Tower) in Minneapolis. Triumph had been spotted in downtown San Antonio, Texas, during the winter of 2017, and then he journeyed back to Minneapolis, where he and Genie had nested since 2016.
Generose - A 2017 fledge, Generose was found deceased in Marshalltown, Iowa, in October 2017.
Aurora - Fledged in 2008, Aurora has been the female on territory at the Washington University Medical Campus in St. Louis, Missouri.
Check the online database of all banded Midwest peregrine falcons at https://midwestperegrine.umn.edu/?vw=search. Type "Mayo Clinic" in the search field to find falcons that were banded at Mayo.
Mayo Clinic and the Stewardship of Nature
The Mayo brothers, Dr. Will and Dr. Charlie, often said they grew up in medicine "the way farm boys are taught to farm." All their lives, they shared a deep appreciation of nature. Dr. Will was an early advocate of efforts to clean the Mississippi River. Dr. Charlie made Mayowood, his country home, a preserve for many species of wildlife. The Sisters of St. Francis, who founded Saint Marys Hospital and are active in many activities at Mayo Clinic and beyond, uphold a reverence for nature.
Following World War II, the widespread use of pesticides, especially DDT, put many species of wildlife at risk. When DDT was banned in 1973, recovery efforts began for many threatened species, including the peregrine falcon. At the invitation of the not-for-profit Midwest Peregrine Society, Mayo Clinic began hosting the falcons in 1987. Mayo's Peregrine Falcon Program is a popular annual activity, involving the support and collaboration of many colleagues. Some patients tell us they schedule their medical appointments in order to be on campus when the falcons are in residence!

Enjoy this film about the falcons of Mayo Clinic: