Dr. Plummer planned the house with traditional design and innovative technology
Dr. Will said that hiring Henry S. Plummer, M.D., was "the best day's work" he ever did. A renaissance man with interests in medical science, the arts, engineering and architecture, Dr. Plummer designed many systems, such as the unified medical record, that are still in use at Mayo Clinic today.
This home, on a hill overlooking southwest Rochester, evokes the distinctive personality of Dr. Plummer and his beloved wife, Daisy.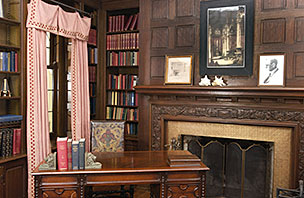 Fine craftsmanship is a hallmark of the home.