Research Information Center
Learn how research at Mayo Clinic is creating the future of health care
Location:
Gonda Building, Street Level Lobby, Mayo Clinic, Rochester, Minn.
Available to:
Mayo Clinic patients and their companions; employees
Open:
8 am-5 pm Central Time, Monday-Friday; closed on holidays
Contact:
Call toll-free 800-664-4542 or email clinicaltrials@mayo.edu

Today's research is tomorrow's treatment and cure. This center will introduce you to the many types of research taking place at Mayo Clinic.
Discover how Mayo scientists are finding new and better ways to predict, prevent, diagnose and treat a wide range of illnesses. Learn how you could volunteer to join one of our clinical trials.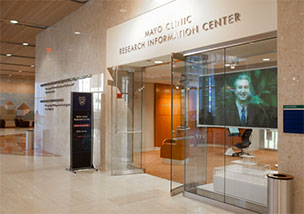 The center is located in the lobby of the Gonda Building, Rochester, Minn.